Some of the country's biggest developers in line to develop this site.
Decision on development partner due this month.
Decision looms for CIE on Dublin dockland schemes
Developer Sean Mulryan's Ballymore Properties, Johnny Ronan's Ronan Group Real Estate (RGRE), and Tony Leonard and Paddy McKillen's Clarendon Properties are understood to be among six parties with proposals for the development of the Boston Sidings site, which will be considered by the board of CIE. Located next to Grand Canal Dart Station, the 0.87 hectare (2.15 acre) site is expected to accommodate up to 11,148 sq m (120,000 sq ft) of office space upon completion.

Boston Sidings derives its name from the site's use by CIE over many years as sidings for its train services. With the State transport group no longer requiring the land for that purpose, it decided last year to seek a developer partner with a view to unlocking its development potential.

While the site's proximity to the operations of tech giants Google and Facebook, Accenture, and law firm Mason Hayes & Curran makes it attractive to potential occupiers, the developer will be required as a condition of building the scheme to provide CIE with a premium rent which could amount to more than €1m per annum, a 10pc share of the rent roll, or whichever is the greater.

CIE has already been involved in several successful partnerships in the Dublin docklands with developer Johnny Ronan. It is also partnering with RGRE on the development of the Aqua Vetro Tower next to Tara Street station.

While Ronan's proposal for the 22-storey building was rejected last year by Dublin City Council, the developer is awaiting a ruling from An Bord Pleanala on his appeal of the decision.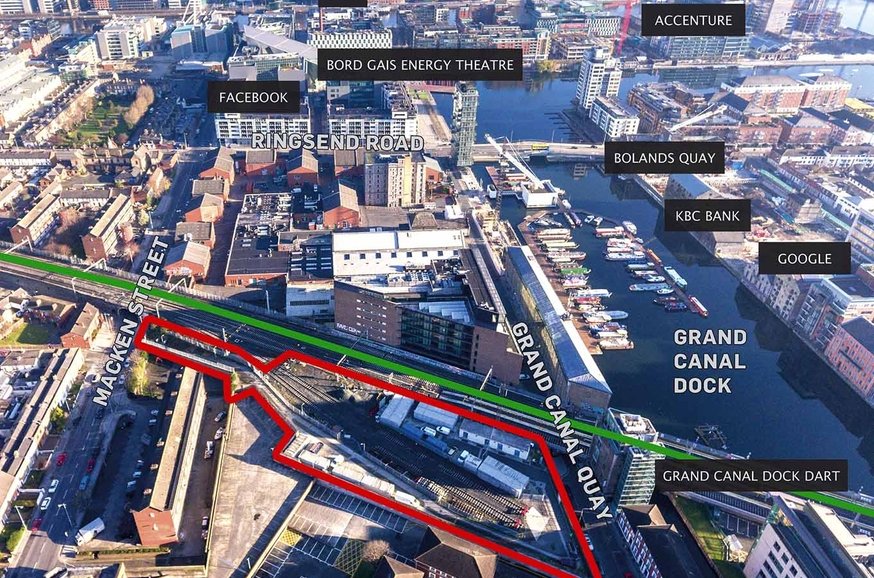 Edit: First visual