Discussion Starter
•
#1
•
Building a vision for the city centre
Plans are afoot to make a one-way loop of buses and taxis on Princes and George Streets, which will free up space to extend the northern pavements to improve the environment for pedestrians.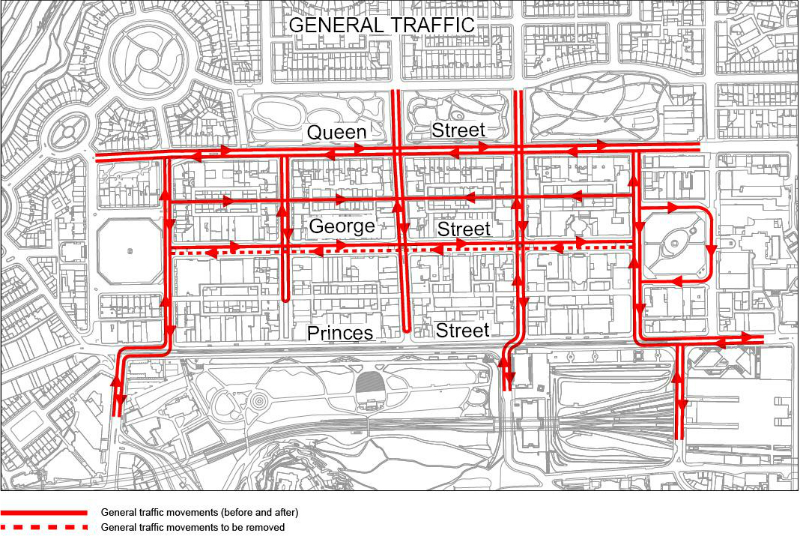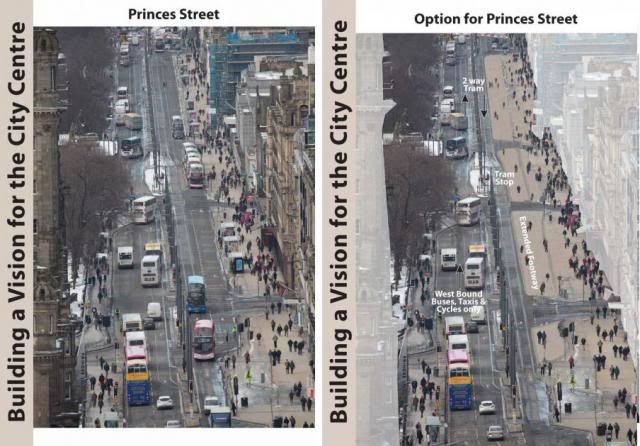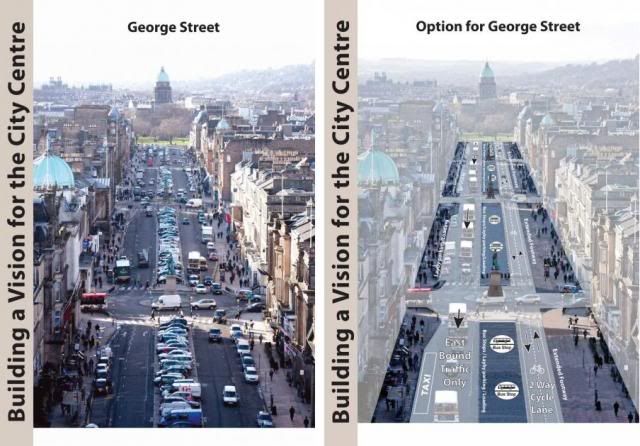 After the inevitable 'fears', 'anger' and 'fury'-type articles from the Evening News (which is normally ridden with pro-motorist agenda), a traffic ban of sorts was trialled on George Street during the Fringe. Thankfully, it seems to have gone well.
George Street Festival car ban a success Evening News

- 30 August 2013 12:00

THE car-free Festival zone on George Street has been declared a resounding success – paving the way for new pedestrian-friendly projects in the city centre.

The number of people visiting George Street leapt by a third compared to last August and also halved the amount of traffic. The George Street shake-up – that saw cafes replace vehicles along large stretches of the road – now looks set to continue for at least the next three festivals.

City leaders also believe their controversial bid for a one-way loop in the centre has been vindicated by George Street's success as a "people space".

The pedestrian-friendly master-plan would see buses and public transport run along the north side of George Street and westbound on carriageways on Princes Street – to allow pavements to be extended for pedestrians.

Planning shackles would also be lifted from Princes Street with a night-time economy of bars and restaurants expected to emerge in a new pedestrianised environment.

It is thought a one-year pilot would be launched when the trams finally hit the Capital's streets next year.

Environment convener Lesley Hinds said the George Street trial had inspired confidence to expand pedestrian spaces throughout the city centre. She has been inspired by figures, released by Essential Edinburgh, which represents 600 traders, which show the sophisticated George Street Festival – dubbed the "antidote" to the Royal Mile frenzy – has provided a boon across the city.

Shopping areas outwith George Street saw footfall rise by up to 21 per cent compared with last year, while the hub experienced a 30 per cent jump.

Councillor Hinds said: "Most people I have spoken to have said how fantastic George Street was this festival. The weather helped but it had a really nice feel to it with the Book Festival at one end, St Andrew Square at the other and entertainment throughout. "An increase of 30 per cent footfall is massive and shows when the council works with businesses and the community, we can deliver together." She added: "Pedestrianisation seems to have worked and at the moment I feel reasonably pleased that it appears to have worked but I will wait until we get all the reports back."

A bid to introduce a sweeping city centre traffic shake-up has been put on ice until October, as the city seeks to allay traders' concerns over parking provision and introducing bus routes through George Street.

One of the concept's greatest supporters is Essential Edinburgh, which devised a similar proposal in February and saw its plans tweaked by the city following public consultations. Chief executive Andy Neal said the George Street experiment had "gone better than expected" and backed plans to test it further. He said: "The figures speak for themselves. We have seen the BID [Business Improvement District] area show big increases through the five footfall counters that provide a direct comparison with the figures for the previous year. The BID area has not only seen a big increase, but it has outperformed the rest of the city centre by some distance, showing conclusively that the project has been a terrific success. "Essential Edinburgh is strongly in favour of the partial pedestrianised model that has been running over the festival. I'd like to see it extended throughout the summer months or even for a year to allow it to be fully assessed. However, it's very important that parking spaces and access on George Street would be maintained which was achieved in the model used during the Festival."

[More quotes in

original article

]...