Discussion Starter
·
#1
·
The World Islands, Dubai


​

Dubai es uno de los siete Emiratos que conforman los Emiratos Árabes Unidos en la península arábiga. La riqueza que proporciona las explotaciones de gas natural y petróleo del país, hace que su nivel de vida esté muy cercano al de las grandes potencias europeas. El gobierno ha seguido una política de diversificación de sus riquezas para evitar tener una dependencia absoluta de sus explotaciones petrolíferas. Debido a esto su economía se ha orientado a la explotación del turismo, principalmente de lujo.

El éxito de esta estrategia se ve reflejado en las espectaculares construcciones, generalmente hoteleras, que hay en el país.

Lo último, después de la intención de construir los impresionantes complejos de las Palm Islands es The World. The World es un complejo de más de 300 islas que se están construyendo enfrente de la costa de Dubai.

Las islas se están haciendo acumulando arena y representan el mundo en miniatura, es decir, desde el aire el complejo tiene la apariencia de un mapamundi. Las más de 300 islas tienen una superficie de entre 25.000 y 80.000 metros cuadrados cada una, y están separadas entre sí por unos 50 o 100 metros de agua.

Cuando termine su construcción se podrán comprar estas islas desde siete millones de dólares dependiendo de su tamaño. Ya se rumorea que algunos famosos, artistas o deportistas ya han adquirido alguna de estas islas, como en el caso de Rod Stewart que se comenta ha comprado la equivalente a Gran Bretaña.

De momento se está construyendo el complejo ya que el proceso es lento, de hecho las Palm Islands aun no están terminadas. Supuestamente cada una de las islas contará con un chalet de lujo y un embarcadero ya que The World, a diferencia que el proyecto de Palm Islands no está unido a tierra por ningún sitio.

El lujo que transmite Dubai puede llegar a parecer extravagante, pero dado que se trata de un país totalmente desértico y son conscientes de que las reservas petrolíferas no son infinitas, han sabido aprovechar su dinero para reorientar su economía hacia el turismo de lujo y no depender de sus reservas petrolíferas.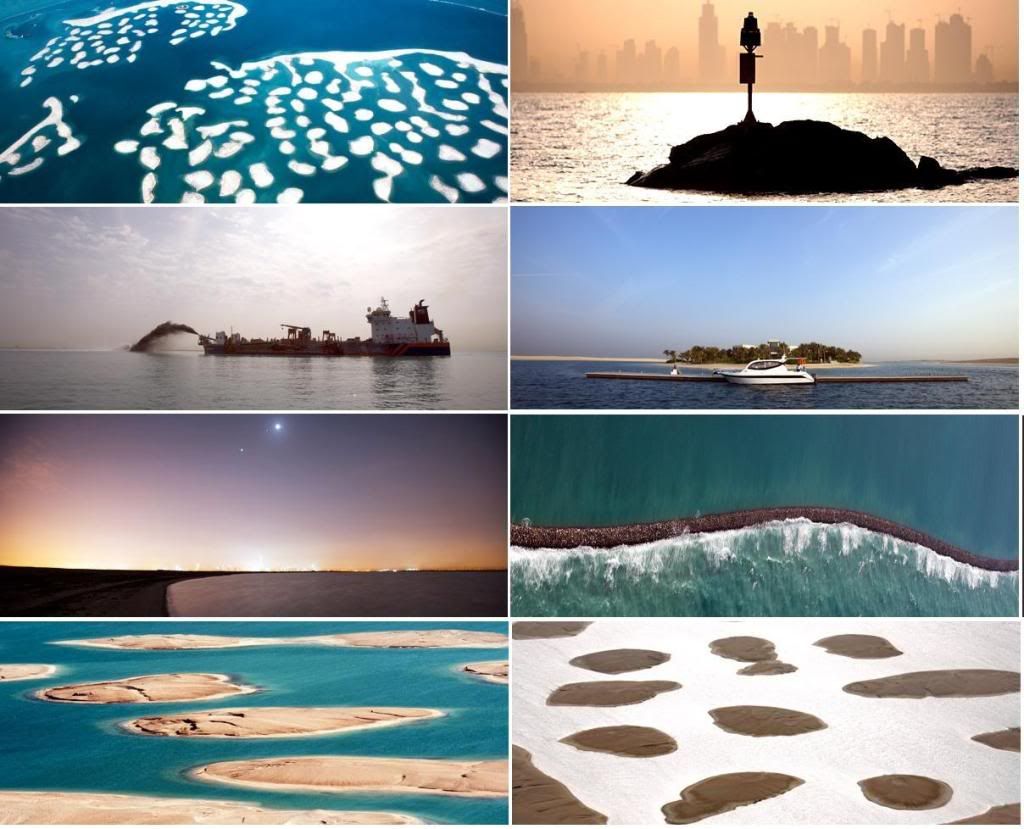 _________________________


The World Islands, which is sometimes mistakenly referred to as the Palm World or Globe Islands, are a collection of man-made islands shaped into the continents of the world, located off the coast of Dubai in the United Arab Emirates. It will consist of 300 small private artificial islands divided into four categories - private homes, estate homes, dream resorts, and community islands.


The World Islands will be located 4 kilometers off the shore of Jumeirah, close to the Palm Jumeirah, between Burj Al Arab and Port Rashid at approximately 25°13 North and 55°10 East. The AED 6.6 billion (US$ 1.8 billion) project will cover a total area of 9 kilometers (5.4 miles) in length and 6 kilometers (3.6 miles) in width, surrounded by an oval shaped breakwater. The only means of transportation between the islands will be by marine or air transport and boat transportation from the mainland will be from the umm suqeim and jumeirah fishing harbours.


Each island of The World will range from 250 to 900 thousand square feet (23.2 to 83.6 thousand square meters) in size, with 50 to 100 metres (164 to 328 feet) of water between each island. Each island will be sold to selected private developers and are expected to have pricing beginning at AED 25 million (US$ 6.85 million). Individuals who own on an island in The World Islands include Formula 1 World Champion Michael Schumacher.

​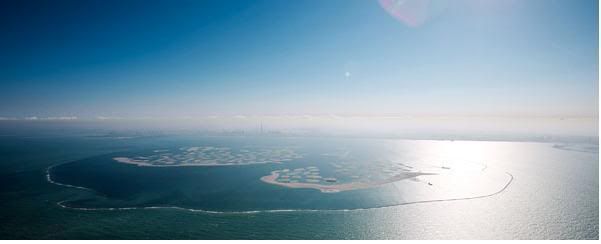 Oqyana-World
Oqyana will comprise of 19 islands of The World, covering the islands of Australasia (Australia and New Zealand).

​
Perseus Resort and Spa
The two islands of Rostov and Orenburg, that are regions in Russia and part of the Euro-Asia segment of The World, will be occupied by the exclusive island based spa hotel and residence development. Rostov will contain 44 villas, each with private beaches/pools, and Orenburge will contain 220 one, two and three bedroom apartments with sea or marina views. The islands will have Greek Mediterranean Island style of architecture and where purchased by dubai-based Perseus Property Management Ltd.


Jasmine Gardens
The five star residential island resort will occupy the Thailand island of The World and designed with the inspiration of traditional Thai architecture. It will contain 56 studio and 1-bedroom suites as well as 4-bedroom stilt houses and beach villas.


​
​
Learn more about The World Dubai by watching the video.
​
​

Quicktime [5Mb] __ Windows Media [6Mb]



​