EMERALD MONKEY by Preferred Hotels & Resorts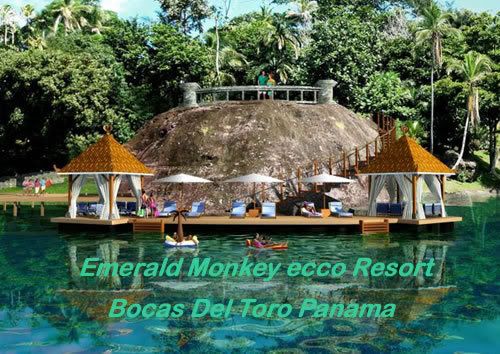 Emerald Monkey embraces a traditional design found in similar near- equator island communities across the globe -- from Sri Lanka to Trinidad, French Polynesia to Bali. These rich island traditions have evolved over hundred of years and are perfectly adapted to life on a tropical island.
Hotel Management
Preferred Hotels & Resorts are exceptional 4 and 5 star properties located in the world's most desirable cities and resort destinations. Preferred hotels range in design from the classic and historic to more modern and contemporary, and each hotel caters to both business and leisure travelers looking to experience the finest in modern luxury travel and hospitality. Preferred hotels and resorts are those that meet and exceed our award winning 1600 point Preferred Standards of Excellence™ Quality Assurance criteria.
Location:
Shepherd Island is a secluded island close to the mainland of Panama in the Archipelagos of Bocas Del Toro in the Caribbean Sea.
Rolling hills, lush tropical foliage, natural springs and prehistoric boulders create an exotic landscape with views of the surrounding turquoise waters.
Balinese Bungalows:
The Balinese Bungalows home design choice was inspired by the Balinese way of life. Their lifestyle of the last 1500 years has adapted to live harmoniously with nature. All home structure materials are made of sustainable materials and are hand carved and cut by 5th and 6th generation Balinese wood craftsmen. Each home, meticulously fitted, is more a piece of individual art than as a structure.
Each home is designed to take full advantage of the rainforest with large open verandas and plenty of outdoor seating including your choice of a saltwater plunge pool or a mediation courtyard. The villas are designed with a 3 bedroom 2 bath, 2 bedroom 2 bath, or a 1 bedroom 1 bath. Bathrooms are designed both indoor with an outdoor features of outdoor baths and or showers. Step into your private enclosed outd
▪Five-Star Restaurant & Bar Reception Butterfly Farm

▪PADI Water Center with Scuba Certification Sun Temple Stone Trails & Maintained Tropical Gardens

▪Full-service Anti-aging & Rejuvenation Spa Laguna Serena Adult Saltwater Pool

▪Family Saltwater Pool Two Private Beaches Private Marina Organic Vegetable and Produce Farm