The "Fabulous Fox" Theater opened on December 25, 1929 on the corner of Peachtree Street and Ponce de Leon Avenue in Midtown Atlanta. The theater's Moorish design and lavish grandeur set it apart from Fox Theaters in other cities. Preservationists saved the Fox from demolition in 1974, and today it hosts cultural and artistic events such as the Broadway Series, the Atlanta Ballet, concerts, a summer film series, and many others. The U.S. Department of the Interior named the Fox a National Historic Landmark in 1976.
The original architecture and décor of the Fox can be roughly divided into two categories:
Islamic architecture - the building exterior, the auditorium, the Grand Salon, the mezzanine Gentlemen's Lounge and the lower Ladies Lounge.
Egyptian architecture - the Egyptian Ballroom, the mezzanine Ladies Lounge and the lower Gentlemen's Lounge.
Peachtree Street/Main Entrance/Ticket Kiosk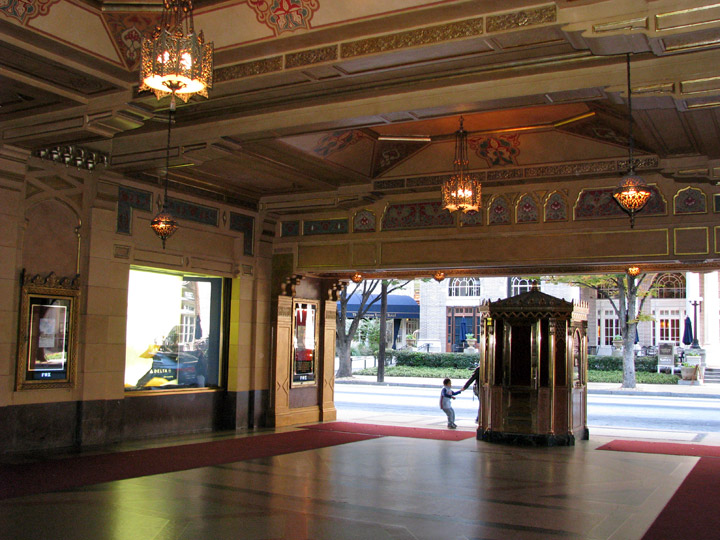 http://www.bing.com/images/search?q...cb3125124f8cafa5c904fe7ab1a46059o0&ajaxhist=0
Peachtree Entrance/Minarets/Marquee
http://www.flickr.com/photos/

[email protected]

/755391517/sizes/m/in/photostream/
South Elevation/Ponce de Leon Ave./Onion Dome/Ponce de Leon Exit
http://www.flickr.com/photos/mikeschinkel/256407704/
http://www.flickr.com/photos/hanneorla/86206469/
1. Ponce de Leon Exit/Outer Staircase 2. Southeast Corner/Peachtree and Ponce de Leon intersection
http://www.flickr.com/photos/hanneorla/86206554/in/photostream/
http://www.flickr.com/photos/robertlz/1176291632/
Single Minaret/Southwest Corner
http://www.flickr.com/photos/justanuptowngirl/1356056251/
http://www.flickr.com/photos/pixbybill/227991438/
http://www.flickr.com/photos/mandyandjeffg/123685559/
Arcade Entryway and Ticket Kiosk, 1. looking out to the street 2. looking in toward the Entry Doors
http://www.flickr.com/photos/pixbybill/199039711/in/photostream/
http://www.flickr.com/photos/pixbybill/199039675/
1. Front Entry Doors 2. Aerial View
http://www.flickr.com/photos/robertlz/1176458166/
http://www.flickr.com/photos/stellarlux/39352160/