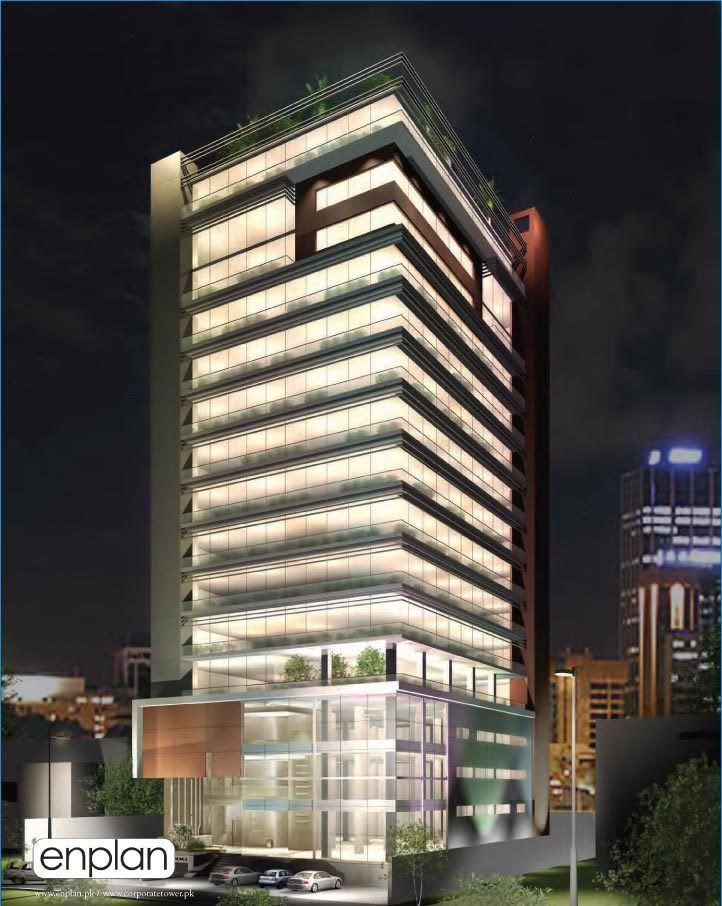 Corporate Tower, a unique 15 (site office person told me its 18) storied building designed and constructed exclusively for the corporate sector in an endeavor to transform the art of doing business in an executive style.
A place where productivity is important, decisions made and deals finalized.
Situated at an enviable location along the main boulevard it crowns the regions leading commercial empire.
Integrated in its magnificent architecture are 3 Prime corporate floors, a multi-functional conference hall and an exclusive restaurant on the 3rd floor, 11 corporate office floors, a roof top "member's only" Corporate Gym and Rooftop Restaurant, 119 car parking space, State-of-the-art amenities and round the clock highly trained security personnel with wireless CCTV monitoring.
Areas (SFT)
Total Land area 18,240
Total constructed area 194,753
Total saleable area 139,773
Total service area 62,959
Floors Description Saleable Areas (SFT)
Ground Floor 7,678
Ground Floor – Main Lobby 2,543
1st Floor 8,188 + 757 Lobby
2nd Floor 8,188 + 757 Lobby
3rd Floor 9,540 + 757 Lobby
4th – 12th Floor 8,966 + 757 Lobby (Each)
13th Floor 8,278 + 757 Lobby
14th Floor 8,966 + 757 Lobby
15th Floor (Rooftop) 8,241 + 1,482 W/T
3 Floors Basement
(112 cars parking & equipments)
48,336