Discussion Starter
·
#1
·
Metro de Guadalajara, Jalisco, Mexico
Metro de Guadalajara, Jalisco, Mexico
Metro de Guadalajara
1 Sept 1989 - Line 1 Periférico Norte - Periférico Sur (15.5 km - 6.6 km underground)
1 July 1994 - Line 2 Juárez - Tetlán (8.5 km)
Apart from extending Line 2 towards the west, and Line 1 towards the north (3km), three new lines are planned.
Line 3 from Avila Camacho towards the northeast to Zapopan (8km)
Line 4 from the northwest to the southeast crossing the existing lines at Ávila Camacho and Plaza Universidad
Line 5 from Plaza Universidad towards the south.
The total length of the network would eventually be 65 km.
Bien aqui pongo mas informacion, espero que la entiendan.
Y si no solo preguntenme y se los tradusco.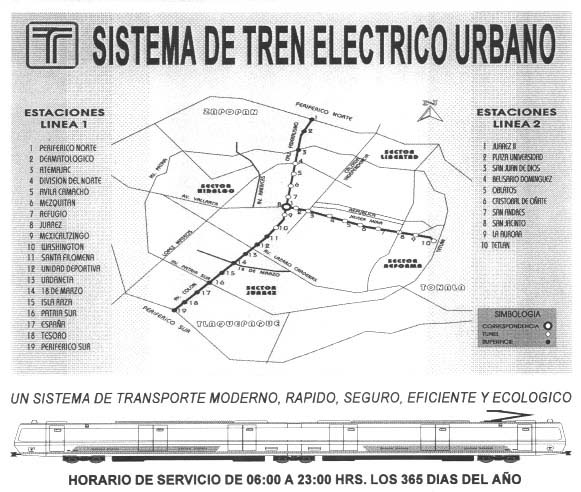 Guadalajara
LRT subway
Guadalajara's subway (Sistema de Tren Eléctrico Urbano, or "SITEUR") opened to the public in 1989. It utilized a 5.3 km, 7 station tunnel built in 1974 and used by trolley-buses up until 1988.
There are two lines, 24 km, and 22 stations. Line 1 runs 6.5 km and 7 stations underground, while the newer Line 2 is completely underground. Parts of Line 2 are still under construction, including an elevated portion. Three more metro lines are planned.