Discussion Starter
·
#1
·
Not all these are skyscrapers but each has historic or architectural significance. Hope you enjoy.
The Old State House
Built 1796, this building sits on the site where General George Washington first met French General Rochambeau. Together they planned the Yorktown Campaign that won the Revolutionary War. The building itself was the site of the Connecticut Convention and the first Amistad trial.
The Colt Building
Former armory, rebuild in 1865, site where American industrialist Samuel Colt produced the Colt 45 among other weapons. Many myths surround the rooftop blue onion dome but no one knows the its true origin. Currently being turned into apartments
The Connecticut State Capitol.
Started in 1871 and finished 1879, its architectural style is described as high Victorian Gothic. Amazingly detailed building is the seat of government.
The Mark Twain House
Built in 1873, parts of the house were modeled after a Mississippi riverboat. Twain lived here for 20 years and wrote many of his most important works in that time. It is currently a museum.
The Travelers Tower.
Constructed in 1919, it was New England's tallest building and the world's 7th tallest building when completed. It was the first building taller than 500 feet (527) built outside of New York. Still home to the insurance company that bears its name.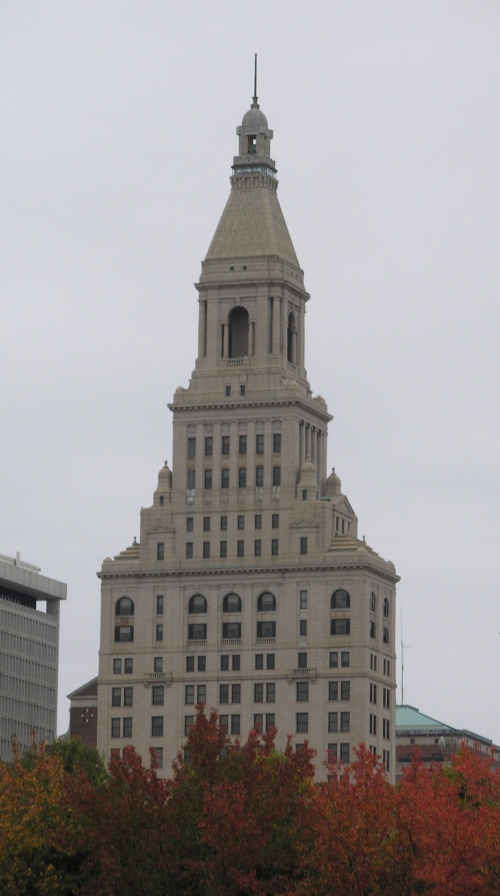 The Phoenix Mutual Building. (The Boat Building)
The world's first two-sided skyscraper was finished in 1963. It tops out at over 215 feet but the alternating blue and green glass accents the building horizontally making it look shorter. The boat faces the Connecticut River which is a five-minute walk from its doors.
One Corporate Center. (The Stilts Building)
Added to the Hartford skyline in 1981, the distinctive "stilts building" breaks the concept of the glass box by setting it atop concrete piles. A skeptical city demanded a stress test that filled the 22nd floor with concrete bags before they allowed occupancy.
The Connecticut Science Center.
Finished in 2009, this glass cathedral of science features a 143-foot atrium topped by a floating "magic carpet" roof. The angles, set backs and reflections of the exterior walls give the building a sense of movement as it juts forward from its base.