Discussion Starter
·
#1
·


I embarked on 34 flights in 2013, flying a total of over 63,000 km. I was at the airport literally at the start (1 January in Toronto) and end (30 December in Chengdu) of the year. My longest flight was a red-eye from Toronto to Hong Kong at the front of the cabin, while the shortest flight was a 40-minute hop from Phnom Penh to Siem Reap.


Toronto - Hong Kong


This final leg of my round-the-world journey is the longest, at over 15 hours. But since I was sitting in the new Business Class, I anticipated a painless journey with good food and good sleep in a good seat. The seat was more spacious than the previous herringbone configuration, and seemed a bit more private.




I skipped the dinner service and by the time I got up, the snack menu had also finished. They offered me a beef noodle instead, which was delicious.




Breakfast was the standard fare. It didn't seem much different from Economy Class though. Congee is congee whether it is at the front or back of the plane.




Yet another agnes b bag for my amenity kit collection. It contained the typical creams, toothpaste, socks, earplugs, and the like.




The phone interface is quite high-tech.




Next time I fly to North America, it will have to be in Business Class. It's worth every mile redeemed!

Hong Kong - Taipei



Plane spotting is a lot of fun in Hong Kong, with lots of different airlines.




Too bad the winter smog ruined the take-off views.


Hong Kong - Phnom Penh



Chinese New Year is a difficult time to secure a free reward seat. Luckily, I got a break from Dragonair and secured a seat to Phnom Penh. The flight left early, so I had breakfast on board.




There didn't seem to be many highrises near Phnom Penh's airport. I was quite happy to see bright sunshine as I was planning some sightseeing later in the day once I arrive in Siem Reap.




I took advantage of the visa-on-arrival process and it was a short wait as my passport and application passed along their factory line next to the immigration counter. The international arrivals area was quiet today and with only hand luggage, I was land-side in no time!


Phnom Penh - Siem Reap


I was faced with 2 options to get to Siem Reap from Phnom Penh. The bus service was cheap but at 6 hours +, I felt it was a waste of a day to travel the short distance. I opted to try out little-known Angkor Air, the Cambodian flag carrier. With a flight time of only 45 minutes, I would arrive just after lunch and have time for a little sightseeing as well. The fare wasn't too bad at just over USD 100 all inclusive. Welcome to my first flight on an ATR.




The interiors are a lot more compact than the jets I'm used to flying. My standard hand-carry could not fit into the overhead compartment and barely made it underneath the seat.




Surprisingly, they served a snack despite the short flight. Service was given with a smile.




After a short time at cruise, we descended into Siem Reap! After all, the distance was only about 200km!




We landed on-time and parked on the tarmac after a short taxi. Like in Phnom Penh, we descended through the rear stairs and walked to the terminal for a quick exit.


Siem Reap - Phnom Penh


I originally was not planning to fly Angkor Air back to Phnom Penh, but head direct to KL for a connecting flight on Cathay Pacific home. However, Malaysia Airlines overbooked their Siem Reap - KL flight and they stranded me for a day. They could only reroute me via Phnom Penh. So I was back on Angkor Air once again.




Dry season is a great time to visit Cambodia, with wonderful blue skies. Too bad the plane's windows were not clean.




The baggage carousel is inside the terminal after a short walk across the tarmac from the plane. The terminal itself is an open-air design with a small pool. It looks quite cozy and much like airports in other tropical paradises.


Phnom Penh - Kuala Lumpur



Knowing I was very angry with how Malaysia Airlines handled by stranding, the Siem Reap people informed Phnom Penh to send someone to wait for me at the baggage carousel and escort me to their check-in counter, where they processed my check-in immediately like a premium passenger. Not bad. Their small 737's was nicely furnished with leather seats and PTV's.




It is only a short flight of 90 minutes to KL, but my day would continue to Hong Kong after a long transit.




The food was decent too - a full meal despite the short flight. This is the expectation in Asia!




Tropical weather means showers, clouds, and turbulence upon descent.


Kuala Lumpur - Hong Kong



I missed my Cathay flight on this route the day before, and got back another 737 flight on MH. Again, the interiors are nicely furnished like the inbound flight, so it felt quite comfortable despite my dislike of narrowbodies.




We took off towards the north and my window seat offered lovely views of the KL skyline. Too bad it was getting dark and I couldn't get a focused shot.




This is my 3rd meal of the day on the plane. Happy Valentine's!




Not a good start as a new oneworld member!




Service on MH is quite good, but had they not messed up my booking and the subsequent delays in re-routing me, I would be inclined to fly them again in the future. In the meantime, I'll stick with AirAsia.


Hong Kong - Nanning



Easter is a peak travel period out of Hong Kong, especially since the Ching Ming holiday is also close-by, so many people take the whole week off for a venture abroad. This year, I decided to take a shorter trip to somewhere close by - Guangxi - for some eco-tourism. Hong Kong Express is a semi-LCC so I was not surprised when the screen showed boarding at Gate 511, a remote stand.




Staff were kind to broadcast the arrival time of the aircraft and the slight delay as a result for my flight. Once boarding was officially announced, an orderly but long line snaked along the waiting lounge. Looks like a full flight today.




I was quite happy to spot this new visitor to Hong Kong. Air Seychelles connects another African island to us via Abu Dhabi.




Today's flight would be operated by its sister carrier, Hong Kong Airlines.




The A320 looked sleek and had a classy burgundy theme but the carpets were very worn for a seemingly new plane.




1 cookie for the 1-hour flight.




Yet they advertised delicious meals in their literature.




The duty free catalogue was very extensive. I didn't expect people buying a pot on a flight.




I didn't pay much attention to what they were playing on the overhead screens.


Hong Kong - Wuhan



Wuhan is a huge city on the Yangtze River, but it doesn't receive too many international flights. These go to a separate small terminal with no airbridges. Today, our Dragonair flight only has this Air France plane as company.


Hong Kong - Dubai - St. Petersburg



I was not looking forward to this long connection to Russia. Transiting in Dubai did not make geographic sense and added a lot to my journey. But I was at the mercy of the tour group. At least the PTV's were huge and the entertainment system was great.




I rarely comment there is too much food served in Economy Class, but Emirates made sure you are fed well beyond full.




Dubai's airport is crowded. Too crowded. There are not enough chairs and not enough washrooms. Why is the customer experience so bad?




1 of many Emirates A380 planes I expected to spot here.




Electronic maps are placed throughout the terminal. These machines will show the passenger's gate number after scanning the boarding pass. However, the passenger's name is also displayed, so remember to log out immediately after use!




I was surprised Emirates has older planes with tiny historic PTV's. But given it was a mostly empty plane, I was not disappointed.




My left window came in handy with spectacular views of the skyline.




There was quite a lot of nice scenery along the way, from arid desert to snow-capped mountains.




They use a mathematical route map to illustrate their huge number of destinations. Looks more like a science experiment, doesn't it?




Welcome to Russia.




The entire immigration waiting hall was full of people waiting to be processed. It was impossible to see where the lines were from the mass of humanity. While the queue didn't seem very long, I was only able to cross 90 minutes and the inspection went at a snail's pace.


Hong Kong - Nagoya Roundtrip


It is very difficult to redeem a ticket to a major tourism destination such as Japan on a long weekend unless I redeemed a year in advance. Otherwise, the next best bet would be at the last minute when they release seats that went unsold. I was lucky to have grabbed one such last-minute seat with my Avios 2 days before departure.




The new Economy seat has a lot of neat features. The TV screen is now touch-screen, while there is a small pouch below to store your phone, passport, and other small gadgets. A cup holder unfolds below so you don't need to open the table at all.




Taiwan's mountains are quite tall and imposing.




Since I did not have any checked bags, I headed straight out towards the train station, and got myself a reserved seat on the expensive express train into the city.




I rode the more modest Meitetsu train back to Chubu a few days later, saving a lot of money.




Observation decks are a typical facility at Japanese airports. Too bad there were not too many planes here today.




The Business Class Lounge - disappointing.




I sat at the last row of the first J cabin, which featured a lovely lie-flat bed and iPod connector to play media on the large TV screen. I noticed the 2 windows were not aligned with the seat so I had to stretch out a bit to get a view of the outside, but I was too lazy to swap for another window seat.




What a beautiful day.




What a beautiful dish.


Hong Kong - Shanghai



China Eastern offers rock-bottom fares for one-stop trips within Northeast Asia. I picked up a cheap fare to Korea and Japan, but need to endure likely ATC delays inside China. Nevertheless, I was quite satisfied today's flight was only delayed by less than an hour.




I tend to have more confidence in catering out of Hong Kong, even for mainland carriers. The rice seemed OK.




It's only a 2-hour flight, so after eating, flipping through the reading materials, and looking at the views, it was time to descend.


Shanghai - Jeju



The next morning, I connected to Jeju, which is only a short 1-hour flight away. As expected, there was a delay. Luckily, it was also under an hour and we boarded quite quickly at the remote bus gate.




Why would we need pillows and blankets for a 1-hour day-time flight?




Illustrative safety cards




We landed from the west and got to see some views of Jeju city during final approach. But the highlight of Jeju is outside the city, where I was heading.


Fukuoka - Shanghai



A great part of my cheap ticket is the open-jaw. I arrived in Jeju but departed from Fukuoka. The airport is only 2 (two) subway stops from Hakata train station, but if you fly international, it is an additional bus ride to the dedicated terminal. It looked empty today, and passengers were stopped from entering the check-in area until the flight was called.




The plane was already sitting at the gate and I breathed a sigh of relief.




It was a light load, unlike the Jeju inbound, signs of tensions between China and Japan these days. We took off towards the north and I got lovely views of the skyline.




The skies over Kyushu were clear today so I got a lot of nice aerial photos until we reached the open ocean.




Even the meal looked decent - seems Japan catering!


Hong Kong - Beijing


I chose Cathay's early flight for a chance to ride on the 747, which is being slowly phased out. Yes, it was worth waking up early on a Sunday.




Air Astana has launched a fairly new direct service to Hong Kong. Some tour groups use them for exotic trips to Kazakhstan and even Turkey.




These old planes still have the herringbone configuration, which will not likely change as they will retire soon.




We took off heading towards the east, and I was ready to capture some aerials.




Breakfast consisted of premium yogurt, fruits, and a Western selection. It was a standard menu but tasted good. It's hard to vary breakfast foods anyway.




I try to capture as many different types of photos as I could on these 747's while they're still in the skies.


Beijing - Hong Kong


With thick smog today, I had concerns my flight could be badly delayed. The view was already quite scary from the hotel. I could barely see anything outside the terminal.




I could see the smog trying to get in as the haze dissipated around the check-in counters.




787!




More scary smog.




Nothing but grey in the middle of the afternoon.




Who would have thought a Business Class lounge would serve cup noodles?




But the focus should be on the in-flight meal!




No smog problem in the skies to watch the sunset!


Hanoi - Hue



With a pre-booked taxi, it only costed USD 12 for the long drive to the airport. Today, I take a short hour-long flight to Hue, bypassing a painful and long overnight train ride.




The down-side is a remote bus gate.


Danang - Hanoi



I make my way back to Hanoi from Danang after a few days in Hoi An. Danang's airport looks quite modern.




Regional tensions are evident in this PR campaign.




I'm not a big fan of turboprops, so I was especially glad to find out this would not be my aircraft today.




I would fly on an A321 instead.




In an hour, I will be back in dry season.


Hanoi - Hong Kong


Today's return trip to Hong Kong marked an interesting first. My boarding pass was written by hand, which lengthened check-in wait times considerably. I did notice another flight also had hand-written boarding passes as well.




With a delayed departure once again, as expected thanks to so many news reports on Hong Kong Airlines recently, I took the last opportunity to spot VN planes.


Hong Kong - Chengdu



Time for a year-end break! Today I head to Chengdu - panda land - for a mix of city and eco-tourism.




Chengdu is about 2 hours from Hong Kong only, but seems they're well-equipped in the bathroom for a much longer flight.




Chengdu is a major Air China hub.




The IFE on mainland carriers don't usually inspire me. Nowadays, there are plenty of small devices that can be used for entertainment anyway.


Chengdu - Hong Kong



Don't bother going there too early to check-in. The counter opens fairly late - not the typical 3 hours you would expect. The domestic side seems far more bustling with a local carrier - Sichuan Airlines - based here.




Looks like another quiet international terminal. There weren't too many planes to spot.




A very open prayer room.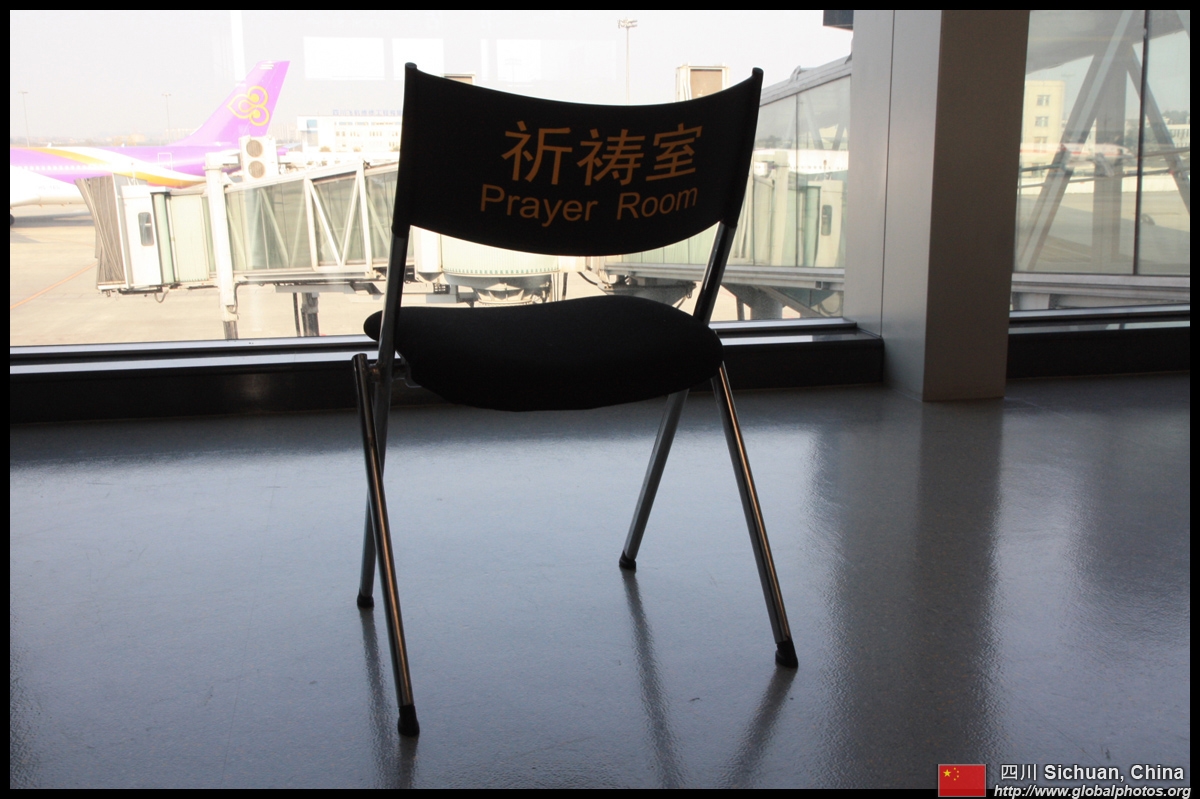 The List :
YYZ-HKG (http://www.globalphotos.org/roundtheworld.htm)
HKG-TPE
TPE-HKG
HKG-TPE
TPE-HKG
HKG-PNH
PNH-REP (http://www.globalphotos.org/angkorair.htm)
REP-PNH
PNH-KUL
KUL-HKG
HKG-NNG (http://www.globalphotos.org/uo139.htm)
NNG-HKG
HKG-WUH
WUH-HKG
HKG-DXB (http://www.globalphotos.org/ek-hkgled.htm)
DXB-LED
DME-DXB
DXB-HKG
HKG-NGO (http://www.globalphotos.org/hkgngo.htm)
NGO-HKG
HKG-PVG
PVG-CJU
CJU-PUS
FUK-PVG (http://www.globalphotos.org/mu-fukuoka.htm)
PVG-HKG
HKG-PEK (http://www.globalphotos.org/cx-pek.htm)
PEK-HKG
HKG-TPE
TPE-HKG
HKG-HAN
HAN-HUI
DAD-HAN
HAN-HKG
HKG-CTU