This sunday I got back from a tour I've planned / dreamed of for a long time. I'm very interested in both icehockey (NHL), arena architecture, big north american cities and highways so what would be better than going on a big hockey roadtrip in North America.
I travelled with a fellow hockey interested Dane and we drove 3000 km in 10 days and saw 6 NHL games and even more cities.
This isn't my normal phototread, actually I didn't even bring my camera. Most photos are taken with my travelmates Tobias' camera, by both of us, and some also with his mobile phone.
First up our route from Google Maps: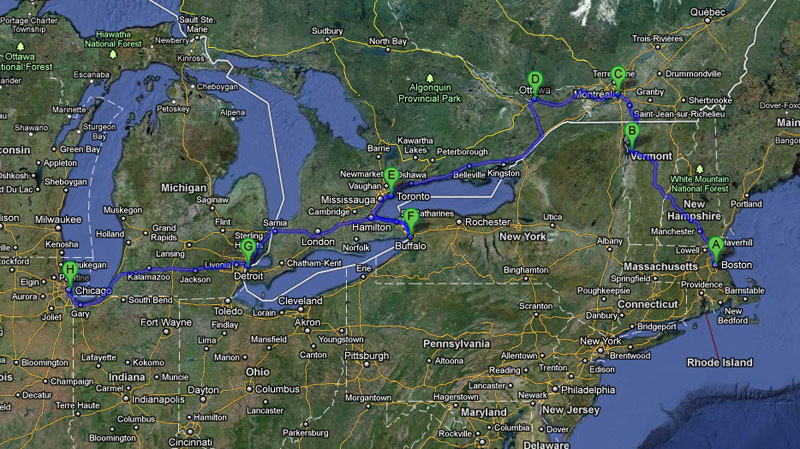 We did rent a Ford Focus sized car, "unfortunately" this Chevrolet Traverse was all they had so that's what we got.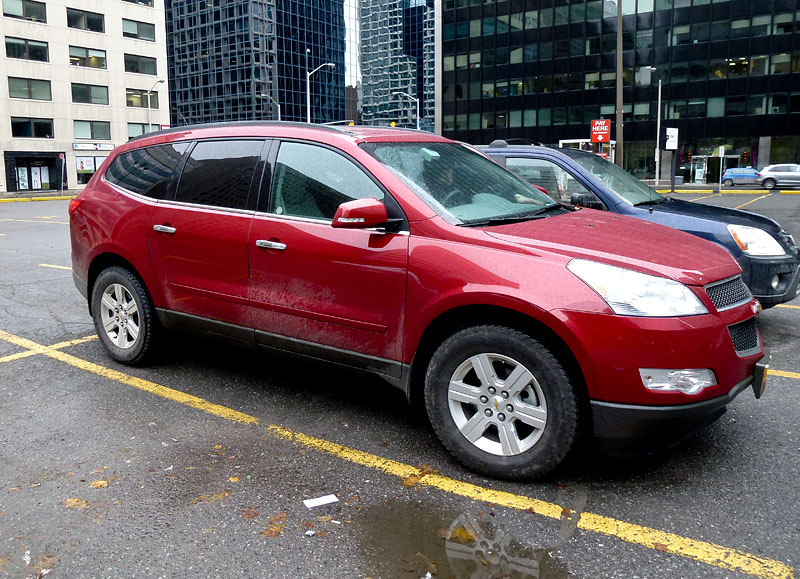 First game on our trip was Detroit @ Boston on a special "2011 NHL Thanksgiving Showdown".
Game facts:
Friday Nov 25th 2011
Detroit Red Wings @ Boston Bruins 3-2 SO
Attendance: 17,565 @ TD Garden, Boston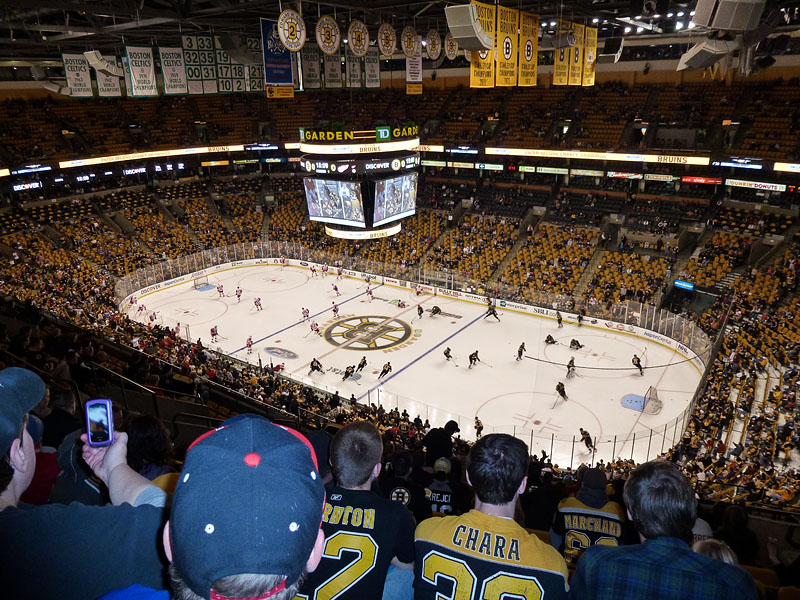 Next up was Montreal and Canada. The city has a pretty good skyline and you get a nice view from the Mount-Royal just west of downtown: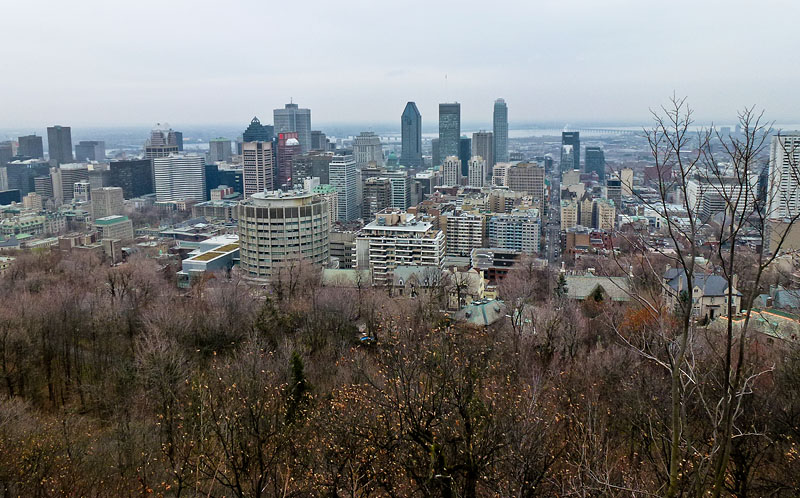 Our second game featured first Dane of our trip, Lars Eller, but also the worlds best hockey player, Sidney Crosby.
Game facts:
Saturday Nov 26th 2011
Pittsburgh Penguins @ Montreal Canadiens 4-3 OT
Attendance: 21,273 @ Centre Bell, Montreal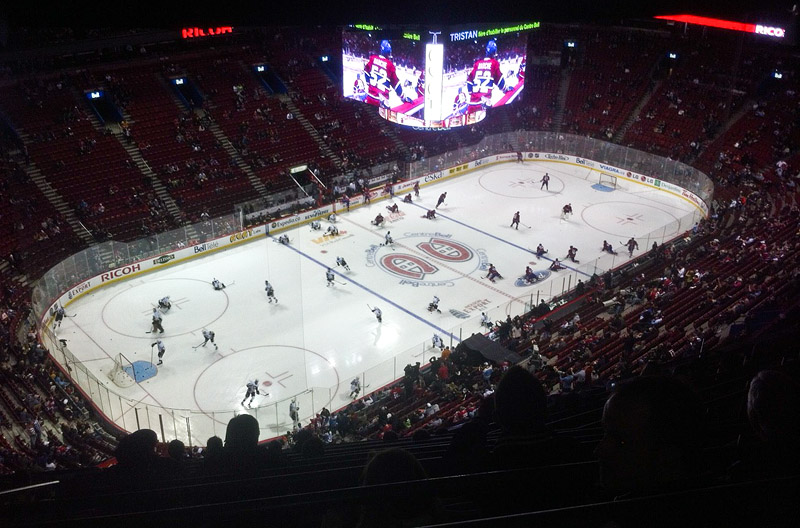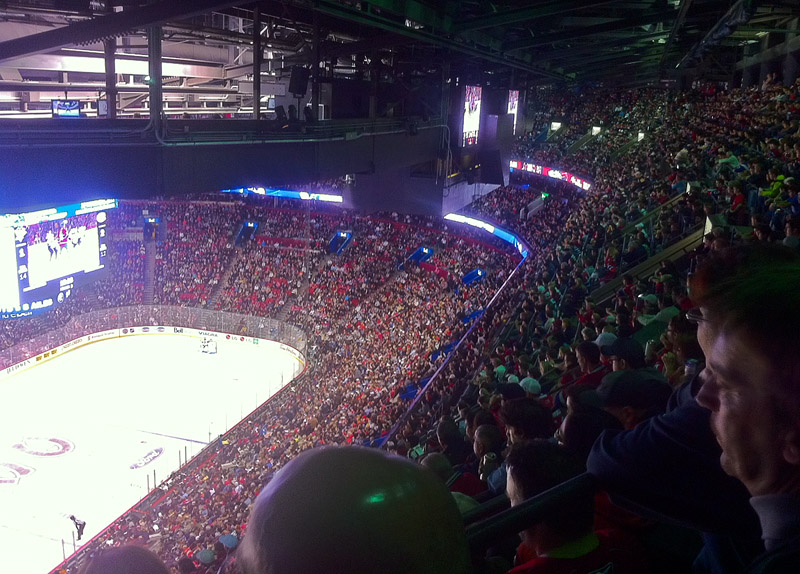 Next up was Ottawa, the capital of Canada. It was a sunday and it was raining, maybe that's why downtown felt pretty much deserted. Here I am in front of the parliament building: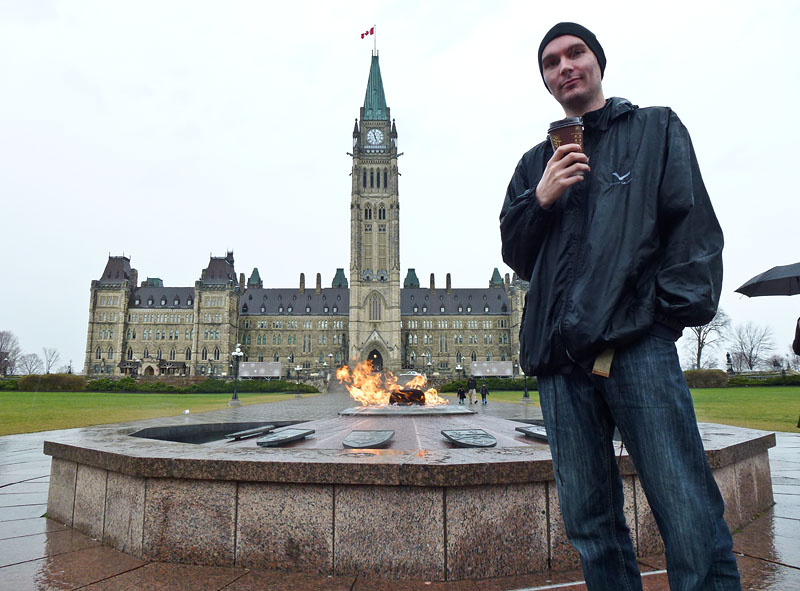 In the same evening our 3rd game was on, Carolina @ Ottawa. We included this game since Peter Regin, a local Herning hockeyplayer, is playing in Ottawa, unfortunately he got injured a few weeks before our trip. With him out of the lineup, this wasn't exactly the most exiting game of the trip.
Game facts:
Sunday Nov 27th 2011
Carolina Hurricanes @ Ottawa Senators 3-4
Attendance: 19,656 @ Scotiabank Place, Ottawa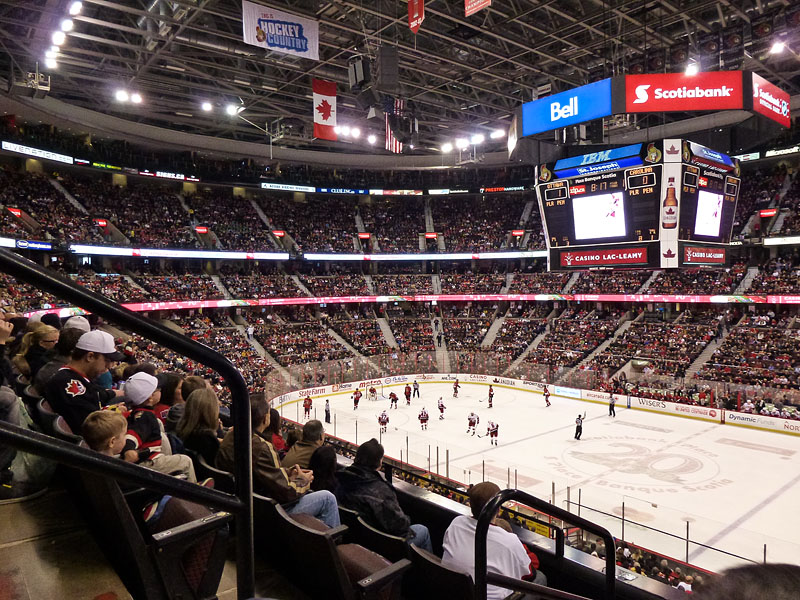 Our next game was in Buffalo back in the States, but we decided to drive via Toronto since the next day was an "off day". On our way we passed the city of Oshawa where another Herning guy, Nicklas Jensen is playing for the local Oshawa Generals of the OHL. Nicklas was drafted as 29th this summer by Vancouver Canucks....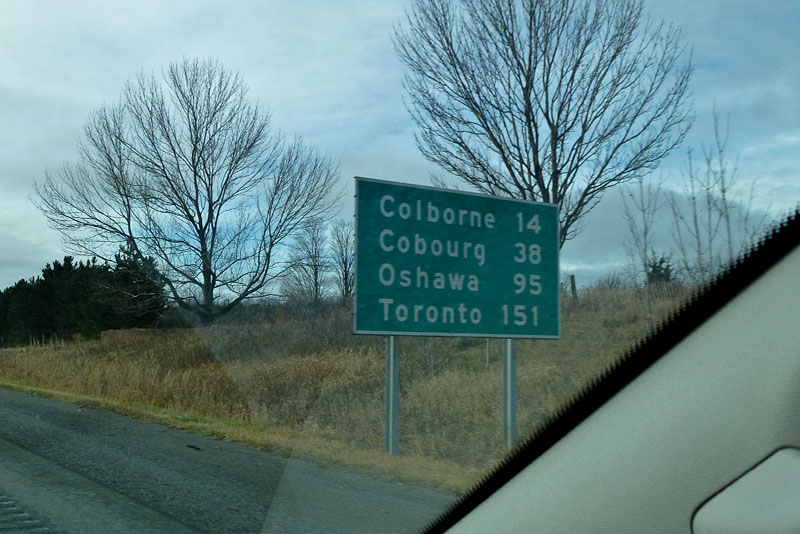 ...we decided to stop and check out this arena, the General Motors Centre. Quite nice arena for a junior team: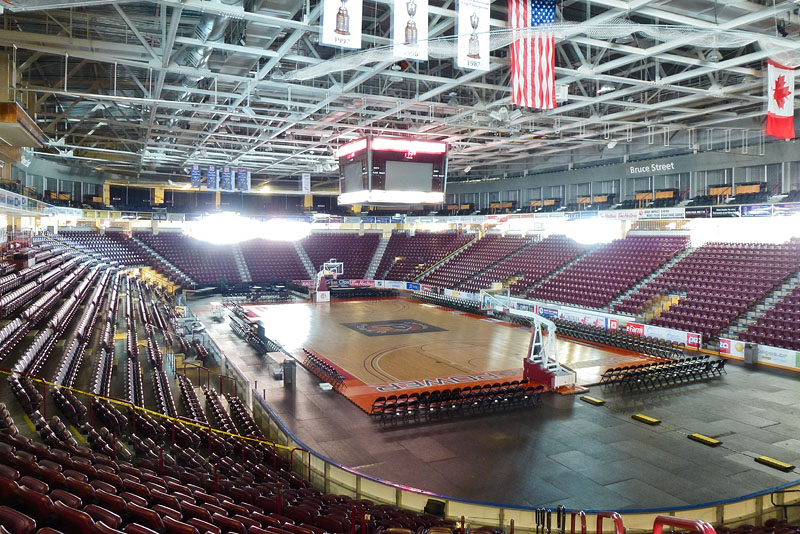 Oshawa is not far from Toronto and soon we were back on the highway. This is the famous 401 which on it's wiedest section has a total 18 lanes and an insane 400.000-500.000 vehicles on an average day: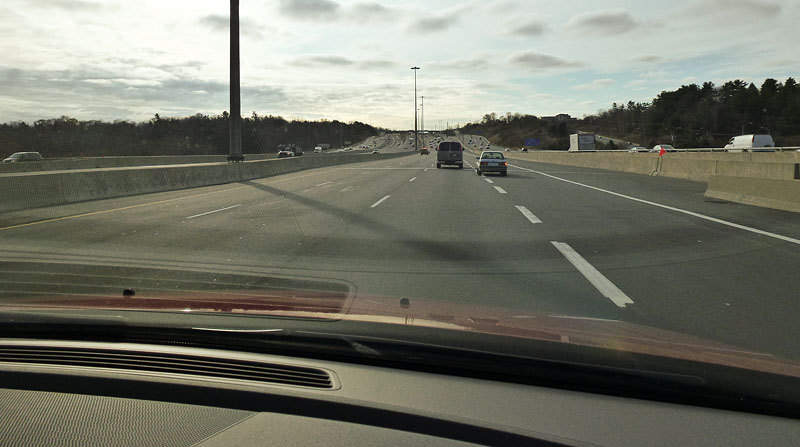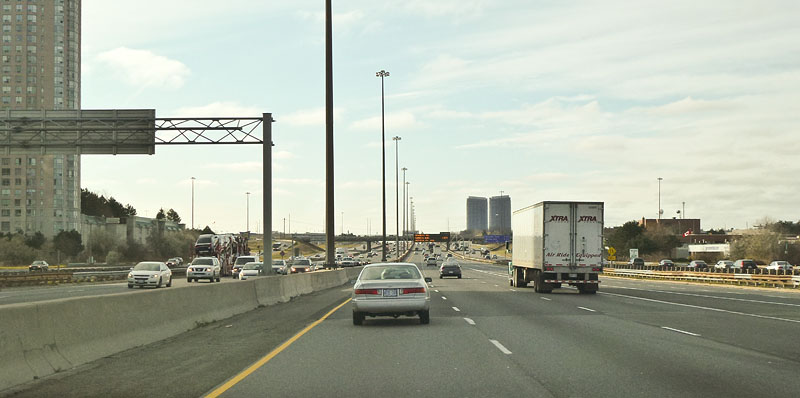 Closer to downtown Toronto we see the skyline: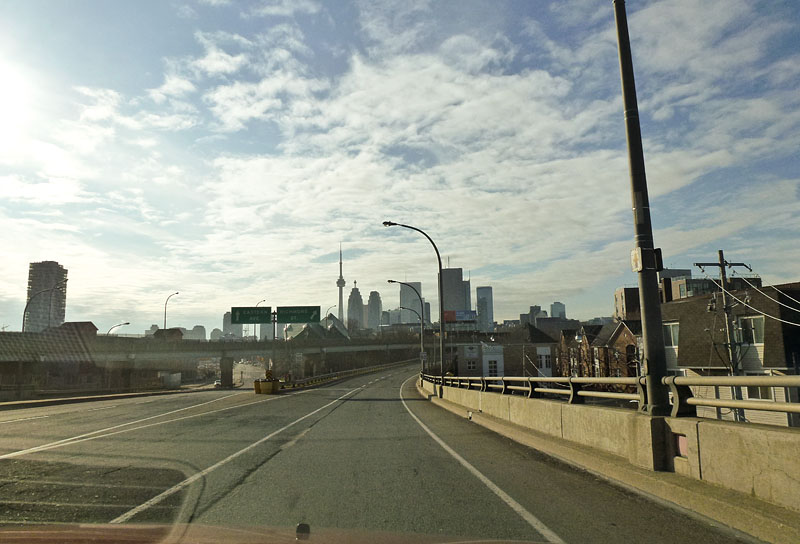 In Toronto we first went to the Hockey Hall of Fame. Here the Stanley Cup: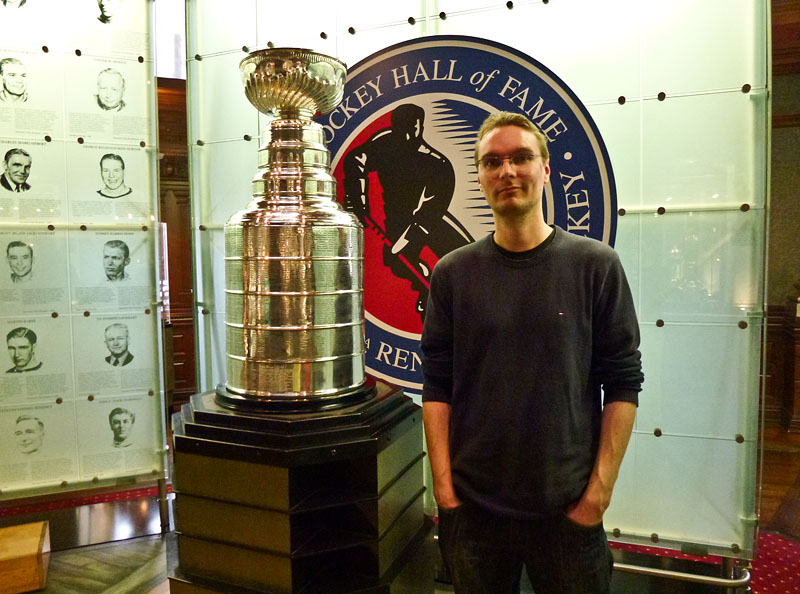 ...and secondly the 553.33 metre tall CN Tower. From the main observation level at 346 meters you get great views of Toronto: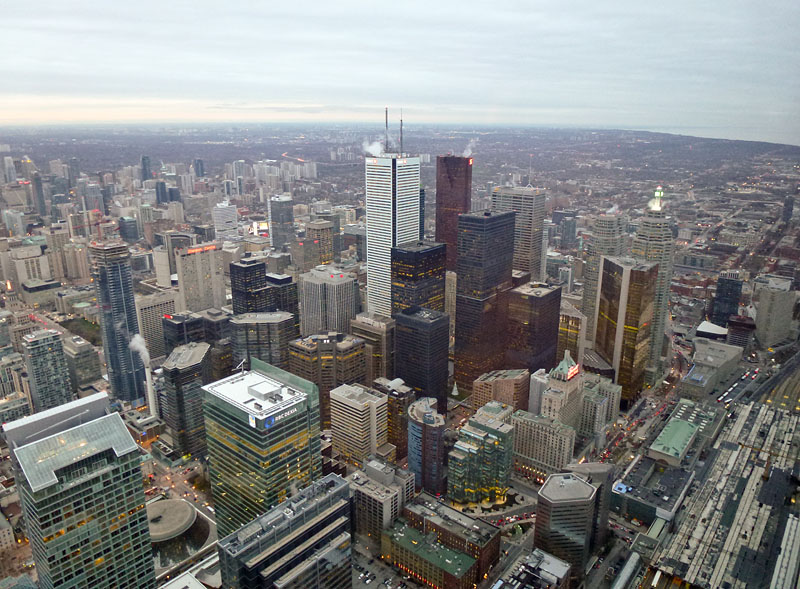 Back in the States we had the most of the day before the hockey game in the evening. We decided to go to the Niagara Fall. The weather was pretty bad, so we had the fall almost to ourself. First the American Falls: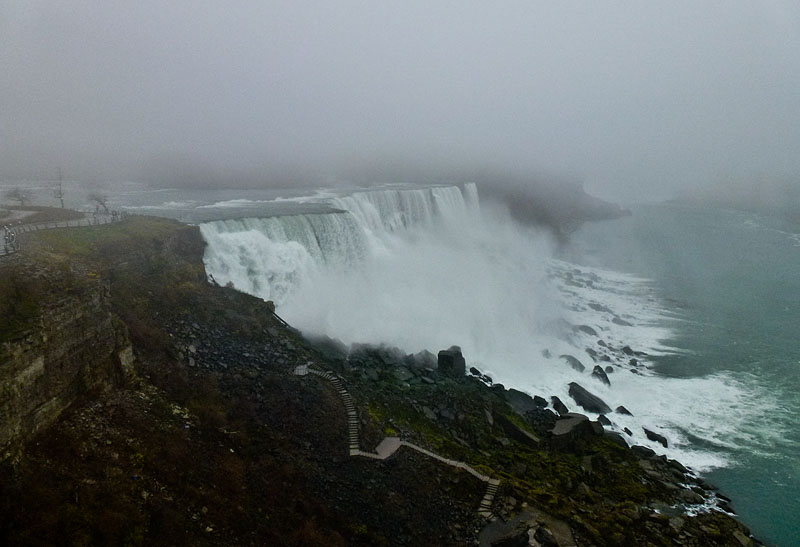 ...and me in the front of the more impressive Horseshoe Falls: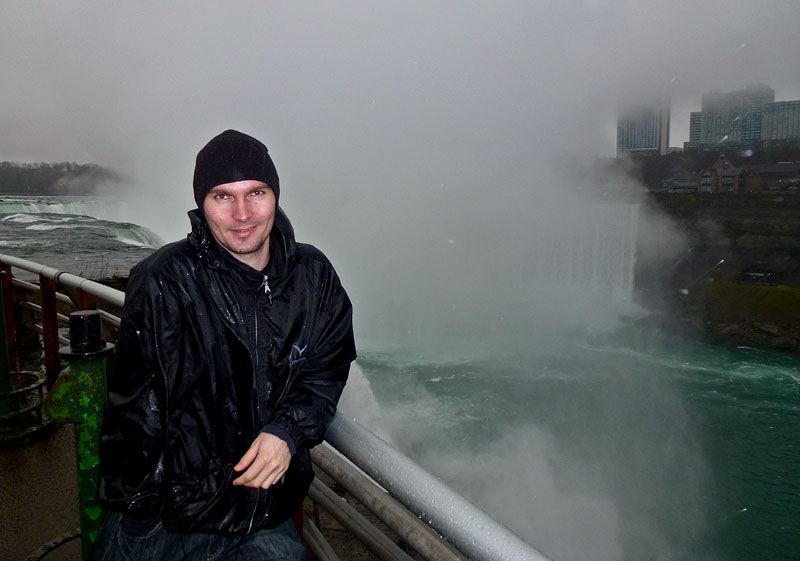 Time for the 4th game, again with a local Herning guy, #51 Frans Nielsen. He happens to play for my favoritte team, the horrible NY Islanders. Isles won their just 2nd away game of the season.
Game facts:
Tuesday Nov 29th 2011
New York Islanders @ Buffalo Sabres 2-1
Attendance: 18,690 @ First Niagara Center, Buffalo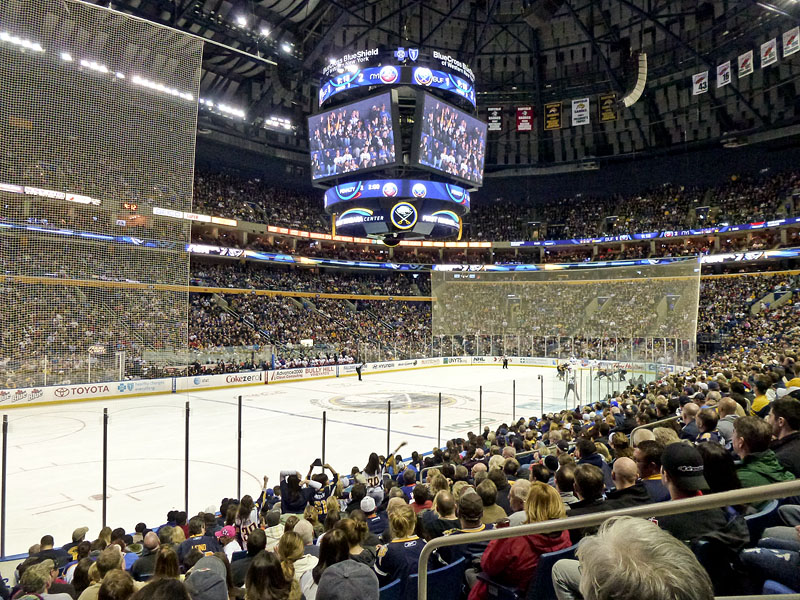 Nielsen taking a faceoff just in front of us: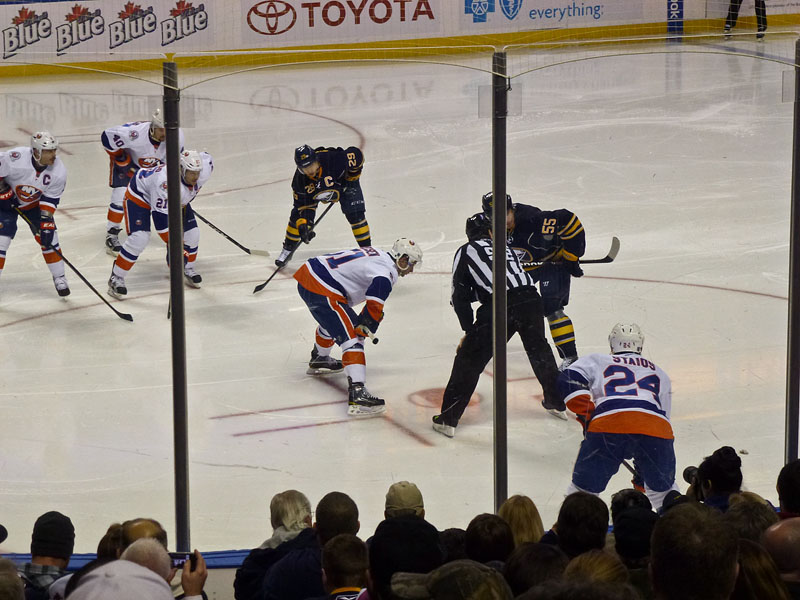 Next up was Detroit. We drove back into Canada but there wasn't much to see on this trip: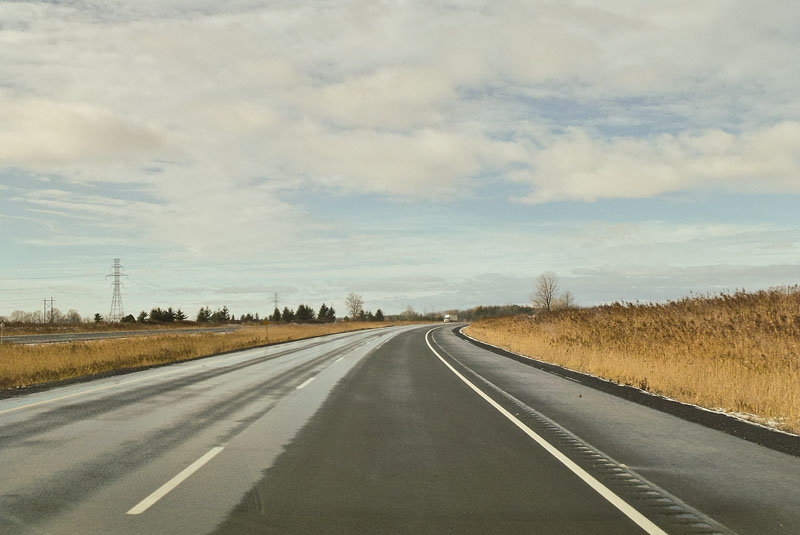 Back in the states we got to Detroit....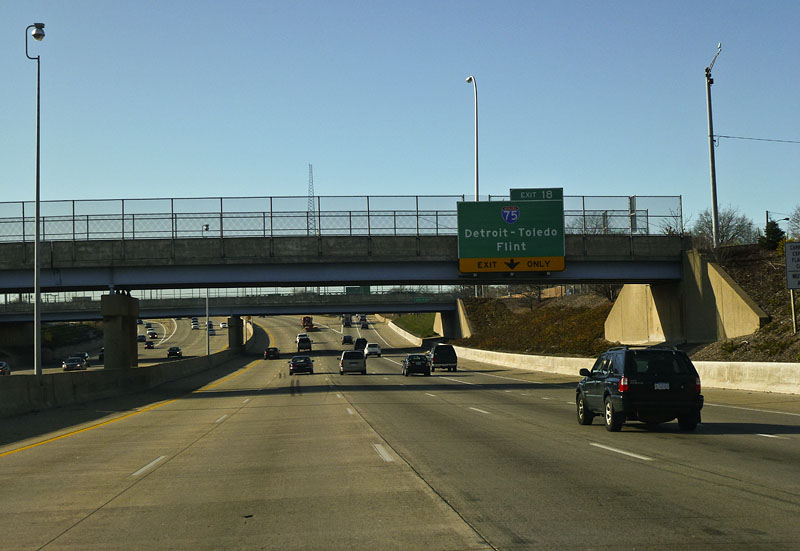 I wasn't sure what to expect here since I've heard a lot of bad thing about Detroit. I was quite shocked to see things were even worse than expected. The downtown area seems okay but as soon as you leave it there are not much else than abandonned factories...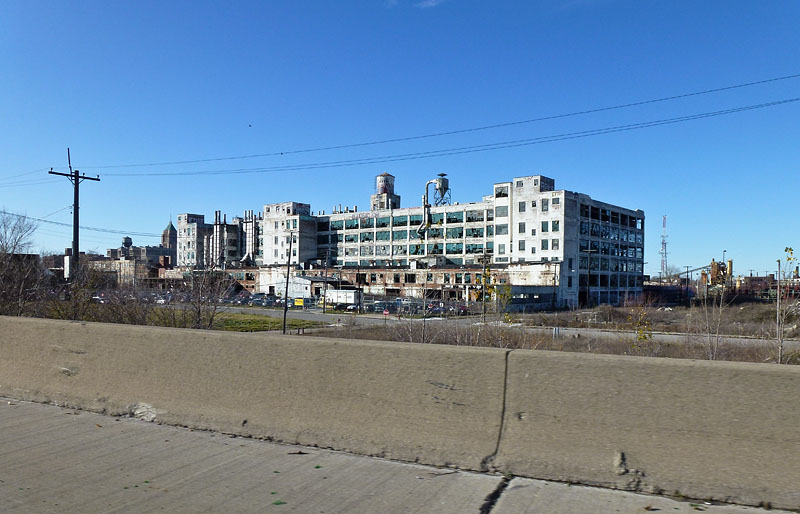 ...and thousands of houses like this - scary. I really can't belive things like this is possible in a big american city but it is. The population of Detroit has dropped from ~1.8 million in 1950 to just above 700.000 now, so it's no wonder there's many empty houses.
To it's defend it has to be said that the suburbs I saw didn't seem any worse than all other suburbs I've seen in the Stats. In fact, there should be some quite rich suburbs here too. Doesn't change to fact that this was a real shocker to me though...: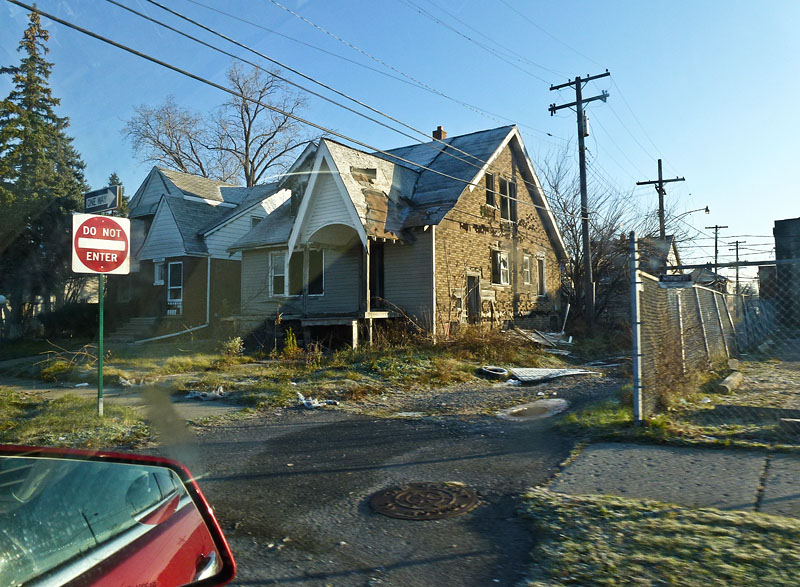 Our game 5 was a the famous Joe Louis Arena and a game between Tampa and Detroit:
Game facts:
Wednesday Nov 30th 2011
Tampa Bay Lightning @ Detroit Red Wings 2-4
Attendance: 20,066 @ Joe Louis Arena, Detroit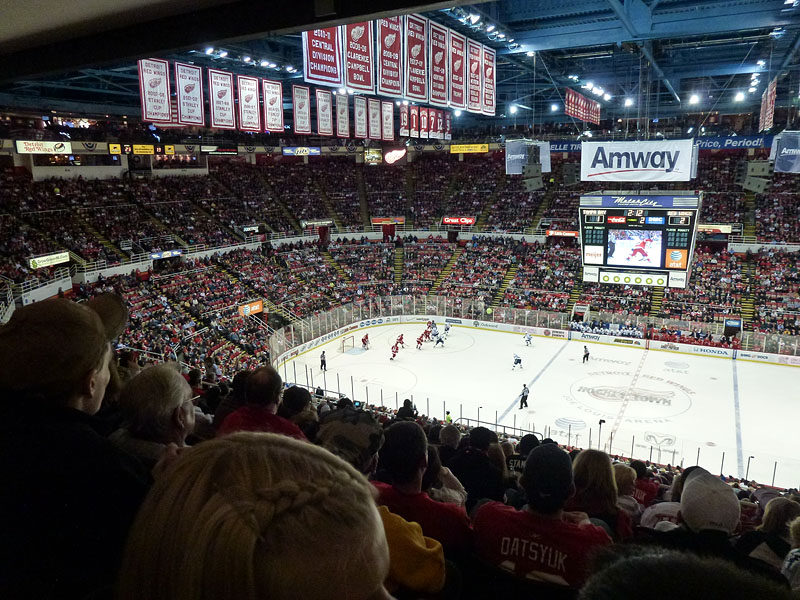 On our way back to our motel we saw this for the first time on our trip. Who would have thought that here in the birthplace of the car: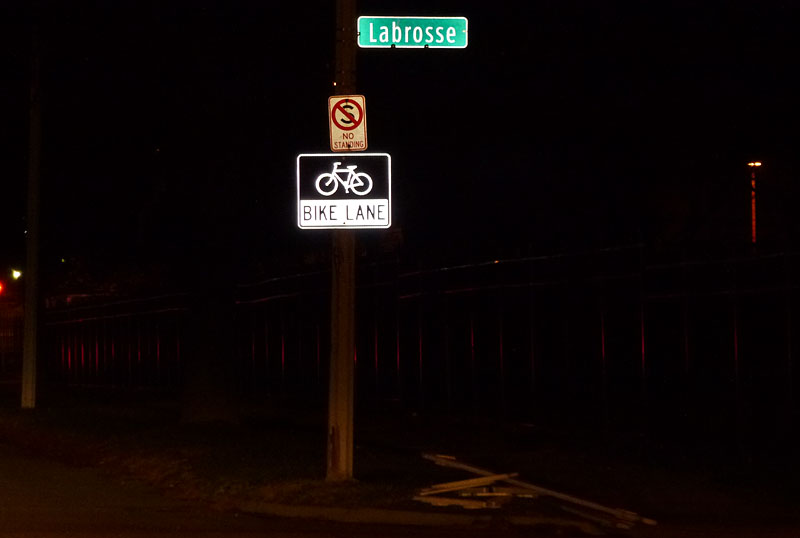 Next morning, which also happend to be my birthday, we hurried towards our last stop, Chicago. Detroit aren't pretty, but atleast they got some cool highways: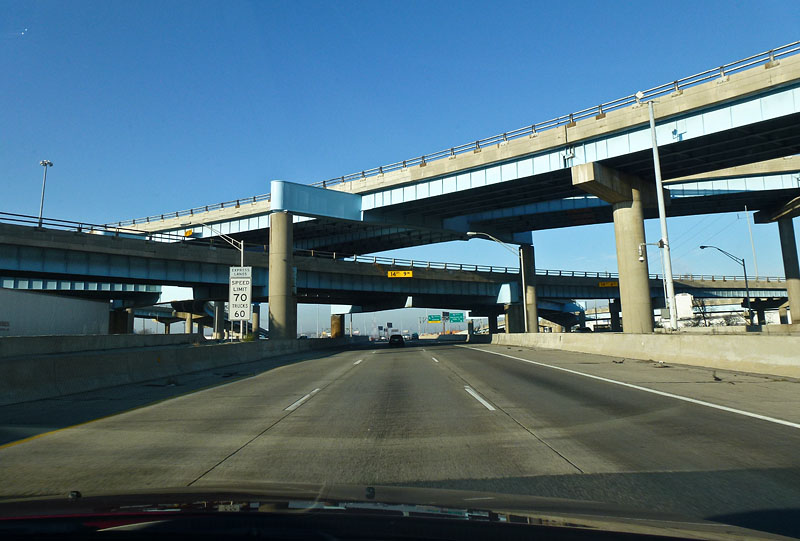 The first signs of Chicago appears in the state of Indiana: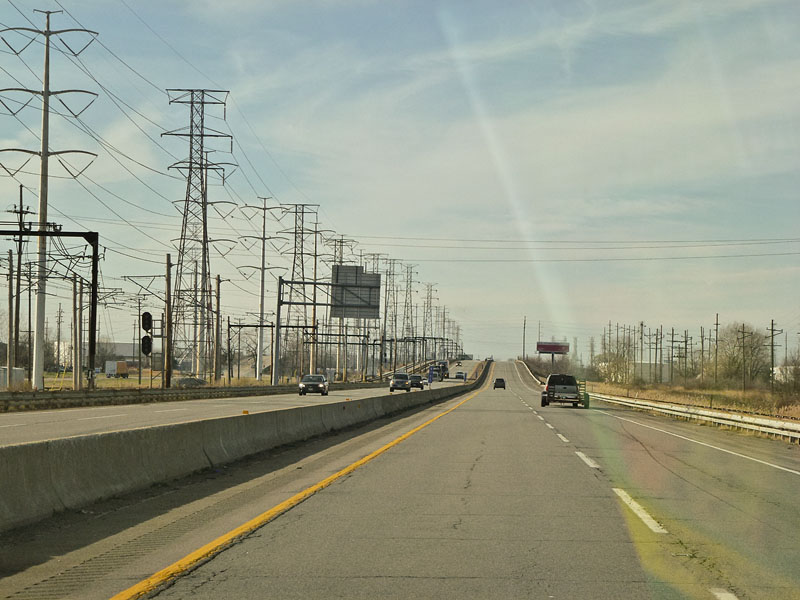 The drive towards it from the southeast is not exaclly beatiful either. There's something about heavy industry like this though: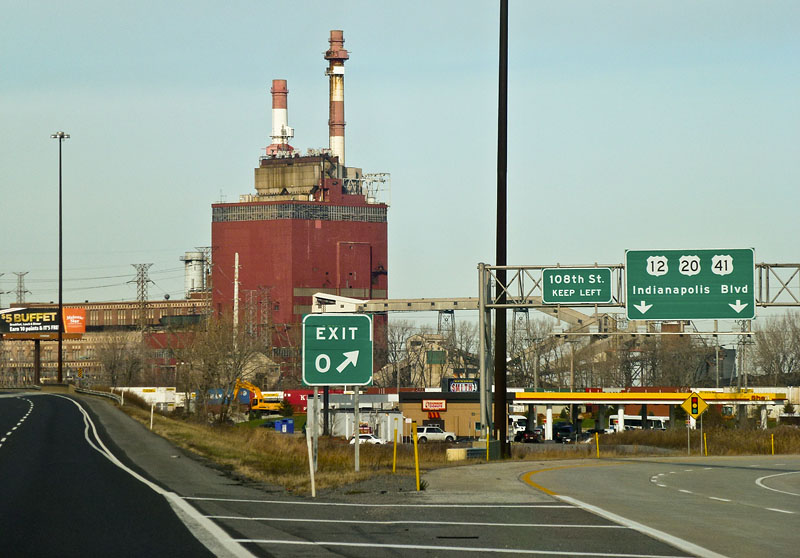 Now it's finally looking like something.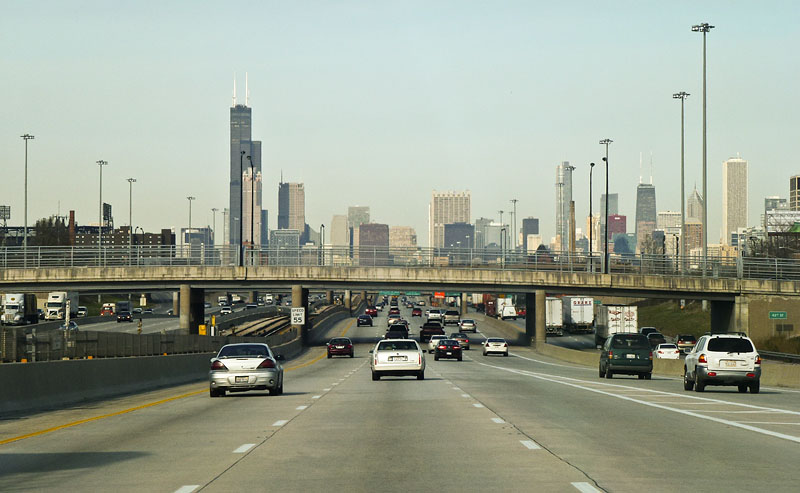 Gotto keep your eyes open while driving here: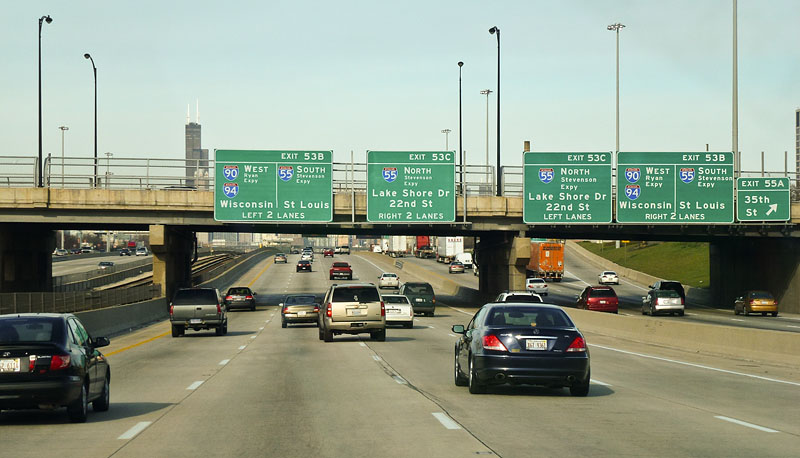 Will.....sorry, SEARS Tower: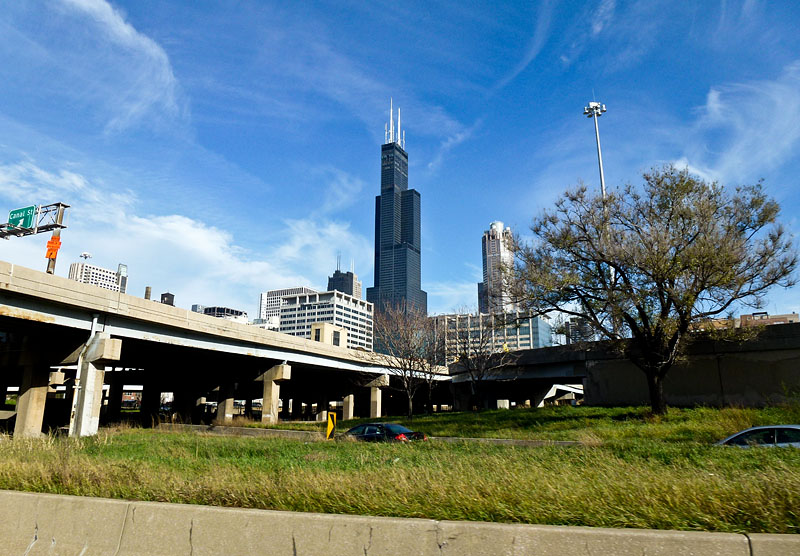 No game was on this day so we spend the evening in downtown Chicago with some friends. Thanks for a great evening Jan, Dan, Tom and Marshall. :cheers1:
We got access to the rooftop of one of the Marina City towers, which gave great views right in the middle of downtown Chicago. Here a mobile shot: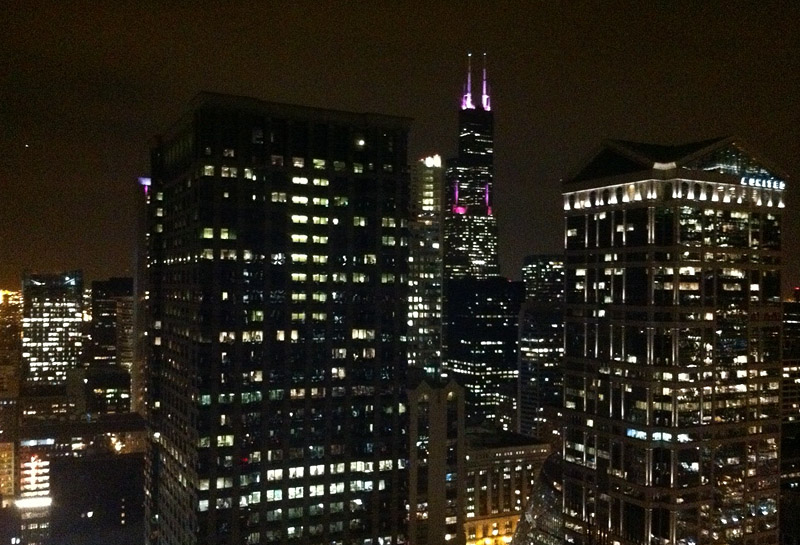 Next day we went to the Sears Tower. Amazing views from up there and these glass balconies are really cool: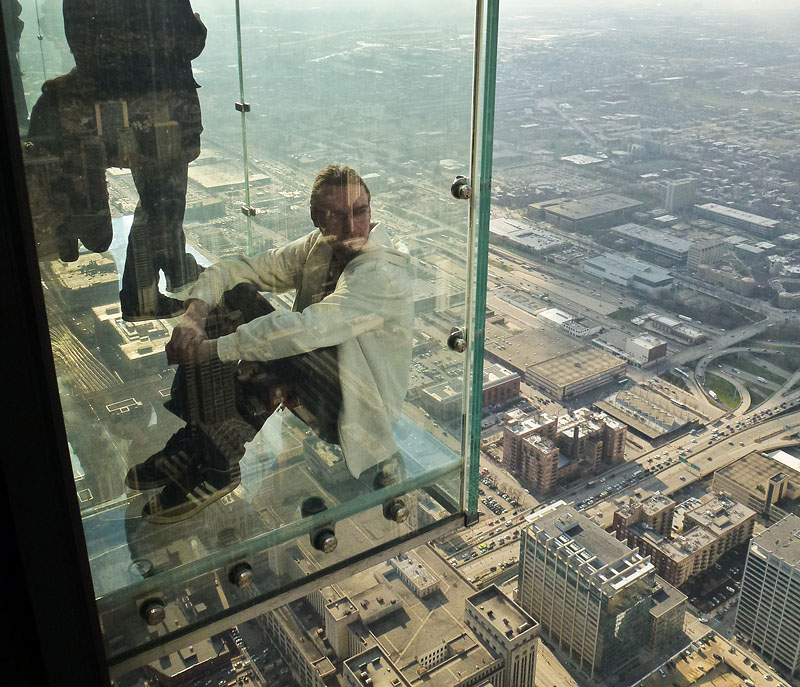 With some time until our last game we went to the Chicago Planetarium to get one of the best views of the skyline. It didn't disapoint us: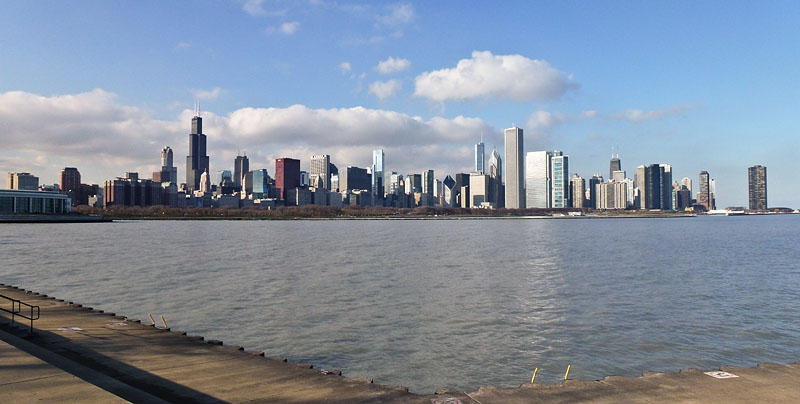 Time for the 6th and final game. Again the visiting teams was the NY Islaners this time trying to get a win across the 2009-2010 Stanley Cup Champions, Chicago Blackhawks.
Game facts:
Friday Dec 2nd 2011
New York Islanders @ Chicago Blackhawks 4-5 SO
Attendance: 21,463 @ United Center, Chicago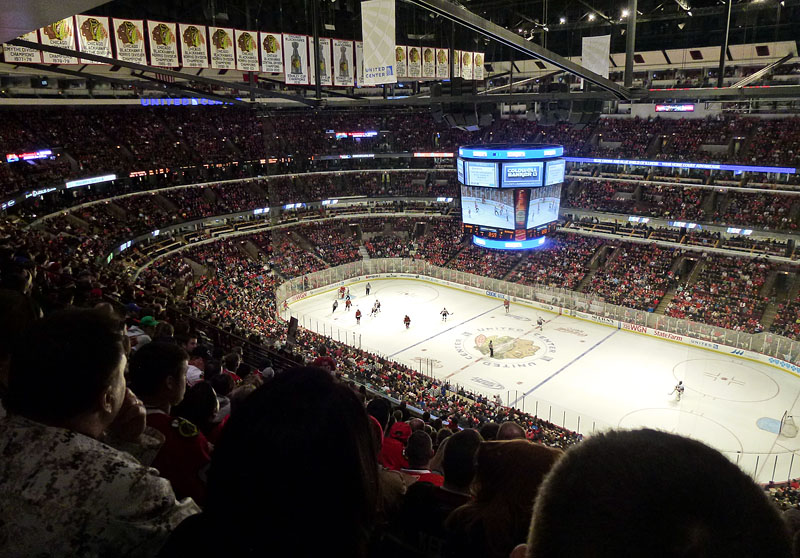 The game ended with a shootout, unfortunately Nielsen wasn't able to score, just like the other 2 shooters from Islanders. This was also the end of a fantastic trip.