Developments for Kingston-Upon-Hull:
THIS POST UPDATED: 21 April 2009
For a full map of up to date development areas in the city, please see Chris G's
Development Map
Thanks to Chris for that.
----------------------------------------------------------------
Quay West
Kingston-upon-Hull City Council has granted planning permission for Henderson Global Investors and Invista's proposed refurbishment and extension of Hull's Princes Quay shopping centre. The Quay West development will increase current floor space by more than 500,000 sq ft, to create a new 725,000-sq ft retail destination.
The open-air scheme will reinstate streets and squares that existed in the area prior to the Second World War and will provide a substantial mix of uses. In addition to two new department stores, there will also be approximately 60 new stores; a new 140-room 4-star star hotel; ancillary offices and flats.
There will also be an increased focus on leisure and Vue Cinemas has already opened the first fully digital cinema in Europe on the top deck of the centre.
A full refurbishment of the harbour deck of the centre, including new quayside dining is scheduled to begin in the summer of 2009.
However, the wider plans for Quay West are currently on hold due to current economic conditions, but developers have stated that the plans will go ahead when the situation improves.
Vue Cinema Conversion
of top deck of Princes Quay shopping centre. Europes first fully digital cinema (Completed)
http://www.myvue.com/cinemas/index....&ci=73&submitChangCin.x=13&submitChangCin.y=7
St Stephens
£200M+ development fronting Ferensway and covering 100,000 sq m.
Incorporating new shopping centre, new home for Hull Truck theatre, 220 new apartments, Albemarle childrens music centre and refurbishment of Paragon station into a state of the art transport interchange
Shopping Centre now open and Transport Interchange completed.
Hotel and Music Centre now open.
Theatre U/C to be completed and opened late 2008.
Residential scheme to follow.
http://www.ststephens-hull.com//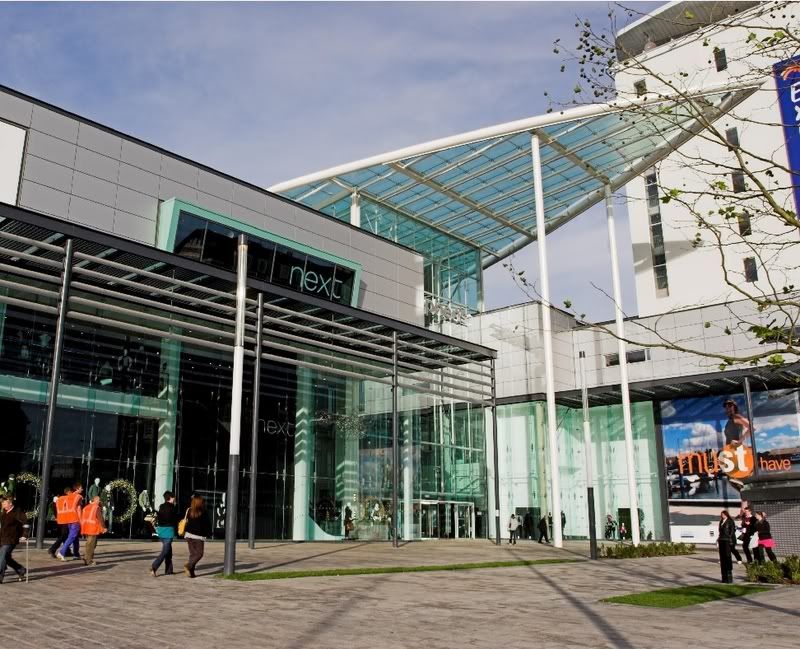 Adjoining Hotel
(Completed))
Adjoining Music Centre
(Completed)
New Hull Truck Theatre:
(U/C)
http://www.hulltruck.co.uk/building.asp
St Stephen's Residential
(Outline PP Granted)
----------------------------------------------------------------
Paragon Station 'Transport Interchange' and associated refurbishment:
(Main building works completed, with additional minor work ongoing)
Flickr Hull: photograph by
'horrigania'
http://flickr.com/photos/horrigania/1432819836/
----------------------------------------------------------------
River Hull proposals
The Boom
- £100M residential development (Full Planning Permission granted with work on site due to start late 2008)
http://www.skyscrapernews.com/news.php?ref=1303
Premier Inn Hotel
- £10m, 128-bed, pastel blue coloured hotel building to complement The Boom on the East side of the river.(U/C)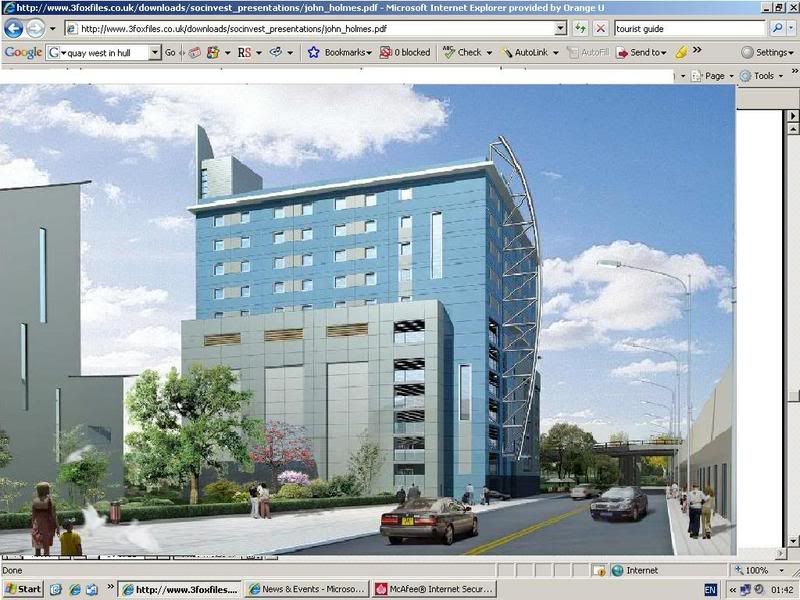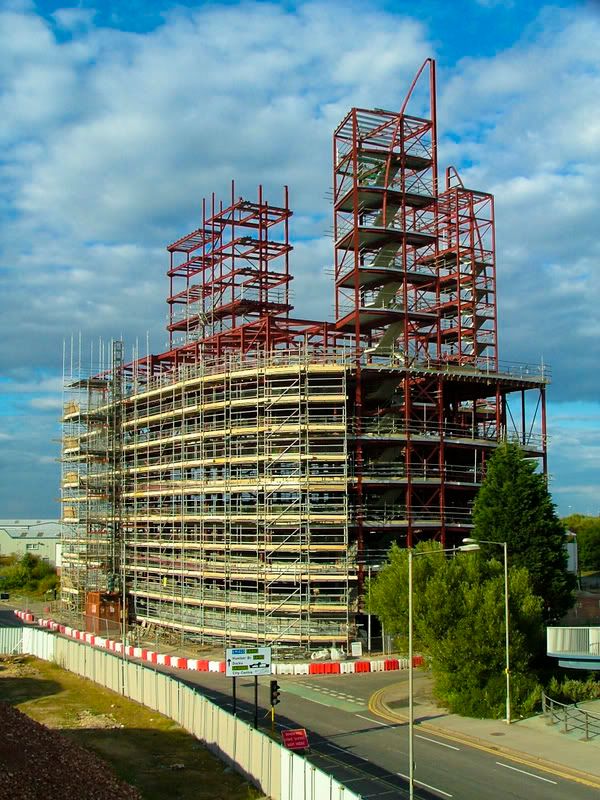 Rank Hovis residential tower
- The new 23-storey development on the Rank Hovis site will include apartments, a 77-bed hotel, restaurants, a medical centre, a convenience store and student accommodation.
Trinity Quays
http://www.f3-designs.com/trinityquays/trinquays.swf
(Outline PP Granted)
'The River'
Sister attraction to 'The Deep' Aquarium on the Humber waterfront, 'The River' project would entail a huge glass dome being placed over the current derelict Central Dry Dock to transform the area into an indoor freshwater eco-system and tropical zoo.
http://www.thisishullandeastriding....tion-Hull/article-1039727-detail/article.html
http://www.hullcitybuild.co.uk/p04_newspage.asp?pageid=90&MediaID=39&view=detail
..And new
River Hull footbridge
- (Under construction offsite. To be in place by the end of 2009)
The first pedestrian bridge of its type anywhere in the world, it will allow pedestrians to 'ride' the bridge as it swings open to allow for traffic on the river
Anderson Wharf student accomodation
http://www.stephenson-bell.com/portfolio/anderson-wharf-hull.html#main
----------------------------------------------------------------
Humber Quays - Development area on Western side of the Marina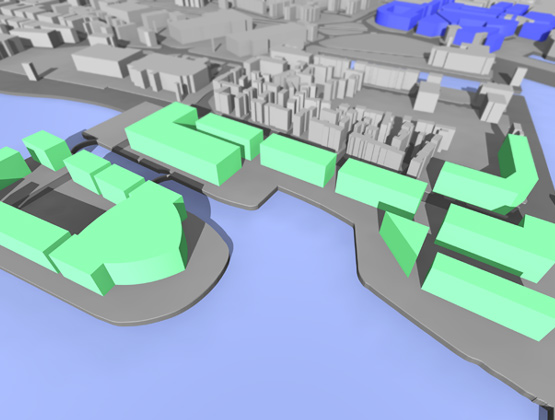 Island Wharf World Trade Centre
(Phase 1) (Completed):
HQ2 Second office building
(Completed)
Freedom Quay
(U/C)

----------------------------------------------------------------
Fruit Market
-
Refurbishment of historic part of the waterfront on the east side of the Marina, incorporating mixture of residential conversions, restaurants, cafes, boutique hotels etc.
Proposals for the four remaining parcels which make up the remainder of the first phase of development in the Fruit Market are being finalised, and details will be released over coming months. These are:
•
Marina Gateway
14 stories - ispace
http://www.innovatingspace.co.uk/content/regeneration/marinagateway/background.aspx
•
Wellington Mart
- Queensway Properties
Mixed use refurbishment of existing buildings with some imaginative new build infill. The ground floor will consist of retail and parking. There are 51 apartments with an imaginative design incorporating green space and communal living. (Within the dotted lines in the above map).
http://wellingtonmart.com/index.htm
•
Baltic Wharf
- Lordsvale
---------------------------------------------------------------
Heart Of The City
Redevelopment of Hull College Queens Garden Site:
http://www.thisisyourmail.co.uk/posts/your_patch/view/53054--80m-new-look-for-city-college-
-----------------------------------------------------------------
Albion Square
New Medical Centre on current surface car park (Albion St.) to house walk in GP centre, cafe Hull NHS offices and relocated Quays medical centre. PP granted, and construction hopefully complete for 2011.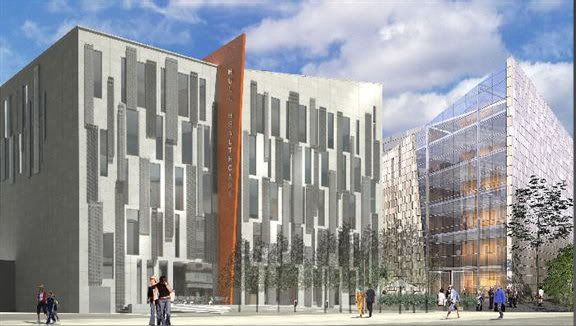 Refurbishment of old Co-Operative department store
(U/C)
Albion Street Apartments
- Conversion of listed Georgian Terrace
http://www.skyscrapercity.com/showthread.php?t=408009&page=119
Refurbishment of central library (phase one completed)
Owner Hotels
- Conversion of Georgian 'Institute' building into the citys first 4* city centre hotel (U/C due to be completed early 2008)
- 'Podz' conversion of buildings in Maltings former brewery area into Japanese style pod hotels (Outline PP granted)
http://www.ownerhotel.com/index.htm
----------------------------------------------------------------
Miscellaneous City Centre Developments
The Sawmill
Apartment scheme on Dock Street incorporating conversion of listed Georgian buildings on George St.
www.thesawmillhull.co.uk
Hull Arena redevelopment
Hull History Centre
- New central £7.7million building designed by Pringle Richards Sharratt to bring the cities historic archives together under one roof for the first time. (Full PP granted with work due to commence mid-late2008)
http://www.hull.ac.uk/historycentrehull/
Museums Quarter
- Conversion of Georgian houses next to the newly refurbished Wilberforce house into arts and crafts centre and museum (proposed)
Caroline Place Apartments
5 and 6 storey building to provide office accommodation, 42 self contained flats, 2 retail units and undercroft parking
http://64.233.183.104/search?q=cach...tf+abraham+dale+hull&hl=en&ct=clnk&cd=3&gl=uk
Freetown Way Travelodge Hotel
:
Plans have been submitted for a new Travelodge building on the corner of Freetown Way and Pryme St. city centre

Landscaping of new 'Arc' building
-
http://www.alti-pix.com/photomontage_applications.htm
Castle Street scheme
- The 'cut and cover' tunnel scheme has now been scrapped due to escalating costs and an undeliverable time frame.
In January 2006, the Regional Transport Board agreed that the A63 Castle Street scheme was a key regional priority and recommended it be funded from the 2011/12 funding package. Ministerial approval is still required and there will be many further hurdles that the scheme will still need to jump before any work begins.
The latest proposal is seen as far more achievable for ministerial backing, and achieves most of the objectives set for the road scheme, with much less hindrance to local traffic during consruction. It includes new grade seperated junctions to improve traffic from the port, and a wide landscaped pedestrian concourse to reunite the city centre core with the Humber waterfront and Marina:
http://www.thisishullandeastriding....uleName=InternalSearch&formname=sidebarsearch
----------------------------------------------------------------
Over £1.75billion of developments are in the pipeline for five specific areas of Hull City centre under the URC (Citybuild) masterplan.
www.hull.co.uk
www.hullcitybuild.co.uk
OUT OF CENTRE
1. New Oncology unit at Castle Hill hospital (C)
http://www.flickr.com/photos/graham_warsap/2575810628/in/pool-kingstonuponhull
2. Roundabout sculpture (scrapped)
3. New business park, Hessle (C)
4. New 400ft + wind turbine (A)
5. Development of new buildings at Hull University, now in the UK's top 40 Universities, three behind Leeds University (UC)
6. New surburb, Kingswood (C)
7. Other new surburb on brownfield site near Sculcoates (Urban Sensation) (partially complete)
8. Craven Park (Hull K.R. - Rugby Super League) stadium redevelopment (partially complete)
http://www.superleague.co.uk/article.php?id=10189
9. East Park £12m revamp (C)
10. Port of Hull expansion (partially complete)
11. Great Thornton Street Flats revamp (UC)
12. Preston Road regeneration program
13. Hull Royal Infirmary, the future, moving from the tower (P)
14. West Hull (Newington and St Andrews pathfinder area)regeneration program (partially complete)
15. Orchard Park regeneration program
16. Expansion of the Village Hotel (P)
17. Restructure of the Hull education system (approved, with Endevor already completed)
18. Upgraded freight and surburban train route (UC)
19. Relocation of the Fruit Market to out-of-town site
20. Expansion of Arco National HQ building (c)
21. New Hull-Pocklington-York rail route
22. New biofuel plant, BP
23. Park Street/Anlaby Road mixed use development, of offices, residential, restaurant etc, reaching approximately 40m (P)
24. Expansion of the KC Stadium, with higher capacity, hotel, possible casino
25. Development of St Andrews Dock and Lord Line building by Nikal Paloma.
26.
Carlton Cinema Conversion - Anlaby Road
. Erection of building to provide 43 self contained flats retaining facade of Carlton theatre.
Probably plenty more