Discussion Starter
·
#1
·
Japan MPs want war photos removed
By Hu Xuan (China Daily)
Updated: 2007-06-13 06:53
http://www.chinadaily.com.cn/china/2007-06/13/content_892830.htm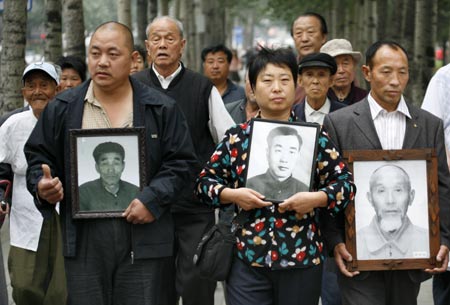 picture
eople hold portraits of relatives, Chinese victims of Japanese atrocities during World War Two, as they protest outside Japan's embassy in Beijing May 31, 2007. [Reuters]
Some Japanese parliamentarians will launch a league today asking China's war museums to remove photos that show the atrocities committed by Japanese troops during the War of Resistance Against Japanese Aggression, Kyodo News said.
The group, believed to be led by veteran conservative lawmaker Takeo Hiranuma, plans to urge China - through diplomatic channels - to get rid of what it calls "unjustifiable" photos "which are faked to help foster anti-Japanese nationalism" and "constitute barriers to the two countries' rapport".
It is absurd that some Japanese politicians still refuse to face up to the country's past crimes, said Jin Canrong, a researcher at Renmin University of China.
The request for the removal of the photos, important evidence of the Japanese aggressors' war crimes, is simply another attempt by "revisionists" in Japan to whitewash the past Japanese military atrocities, said Jin.
Japan's warmongers who inflicted untold suffering on neighboring nations should forever be condemned, he said, noting that the photos served as a strong reminder to anyone visiting the museums that such crimes should never be repeated.
The display of photos is a reflection of a genuine respect for history, and is not intended to incite hatred, he said.
Mutual trust is possible only when the past is squarely acknowledged, and concrete actions of true repentance are carried out, he added.
The launch of the Japan parliamentary league was initially planned for January but was delayed because Hiranuma, an independent member of the House of Representatives, suffered a stroke in December.
(China Daily 06/13/2007 page2)