Discussion Starter
·
#1
·
The University website reports that the plot of vacant land opposite (the under construction) Information Commons will become the new home for the Departments of Law, History and English. The project (for the moment anyway) is called Jessop West.
Planning applications are in the making and will also include details for the full restoration of the old Jessop hospital which will become the new home for the Music Department. The University is playing a key role in that part of the city centre with its reclads (Dainton Building) and new buildings like the BioIncubator and Information Commons. I hope they will continue the trend set with the Information Commons.
I quote from the University of Sheffield website.
In 2001 The University of Sheffield acquired the site of the former Jessop hospital, with plans for innovative new buildings and refurbishments. Phase 1 saw the opening of the Sheffield Bioincubator in 2006, a brand new laboratory and support complex, which occupies part of the Jessop site.

Phase two: Building and restoration
The next phase will (subject to planning permission) restore the Grade II listed Victorian Wing on Leavygreave Road and construct an impressive new
academic building on the western corner of the site.

Design of the new building is in the capable hands of award-winning German architects Sauerbruch Hutton, renowned for designing iconic buildings with environmental sustainability a top priority.

It's hoped that building work will begin in early 2007.
Over the coming weeks, the finishing touches will be put to the planning applications for the Phase 2 projects. This will include an application for the development of the new Jessop West development, plus an application to enable us to restore the Victorian Wing.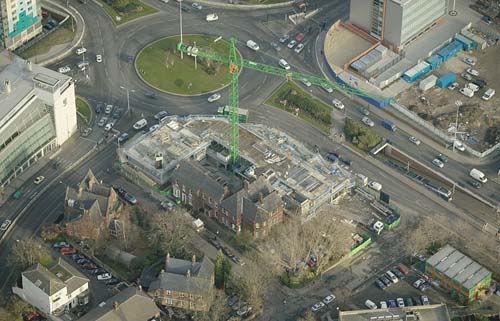 This are only artist's impressions, the final design should (hopefully) be a bit more interesting.