Discussion Starter
·
#1
·
Since there are no thread concerning this topic I might as well create one.
First is Mitsubishi Regional Jet or MRJ for short.
This plane scheduled for first test flight in 2011 and service entry in 2013.This plane seating 70-96 passengers to be manufactured by Mitsubishi Aircraft Corporation, a partnership between majority owner Mitsubishi Heavy Industries and Toyota Motor Corporation. The aircraft program was expected to be launched in early 2008. It would be the first airliner Japan has designed and produced domestically since the NAMC YS-11 of the 1960s.
Two type are planned, MRJ70 with capacity of 70-80 seats and MRJ 90 of 86-96 seats.
This plane will come into direct competition with Bombardier CRJ700/900/1000, Embraer E-Jets, Sukhoi Superjet 100 and Comac ARJ21.

Mitsubishi Aircraft Corporation Web Site

Next the Kawasaki YPX.
he YPX is to seat between 100-150 passengers, and would thus be competitive with the smaller Boeing 737 and Airbus A320 family jets on short haul routes.[2] The engine choice has not been made. Entry into service is expected to be somewhere around 2015. Kawasaki hopes offer up to 15% cash operating savings over the Boeing 737-700.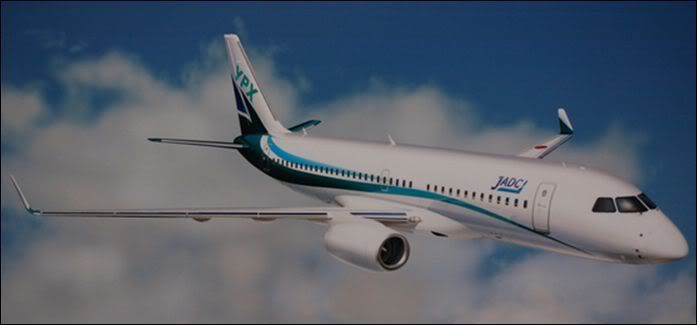 Now this may seem something out of the blue but actually this is much more closer to reality than some other new passenger plane projects that had been announced since it's air frame and main flight control system is already under testing under the XP-1 project.
The XP-1 is a Japanese military aircraft currently under development powered by four small turbofan engines, the Ishikawajima-Harima Heavy Industries F7-10 in development, mounted under the low-set wings.
Fly-by-light will be an important feature, decreasing electro-magnetic disturbances to the sensors compared to fly-by-wire. The P-1 will be the first production aircraft to be equipped with such a flight control system.
The XP-1's first flight took place in Gifu Air Base in Japan on 28 September 2007. The flight took about one hour, and ended successfully.