City of Kirkuk
A Kurdish city since the era of the gutti (ancestors of the kurds) . there are Turkmen who came to kirkuk during ottoman empire first in 1055 as military recruits . Arabs from Tikrit also started migrating to the city after oil was first discovered in 1927 , They started settling in the Hawija district in Kirkuk . There are also some Chaldeans that live in the city which are very small in number . one after another the former iraqi governments took kirkuks oil and used the money to destroy the city kick out the kurds and replace them with Arab settlers from mid and south of iraq , many kurds wish kirkuk didn't have oil because it would have been part of the KRG by now.
The city is under Kurdish authorities but is not OFFICIALLY under the KRG control yet but they are trying under the constitutional law article 140 to join it into the autonomous region of Kurdistan. its not the oil the kurds are after there are plenty of oil in the 3 provinces but cos its a city formed by Gutian ancestors of kurds 2400 BC.
GOVERNOR OF KIRKUK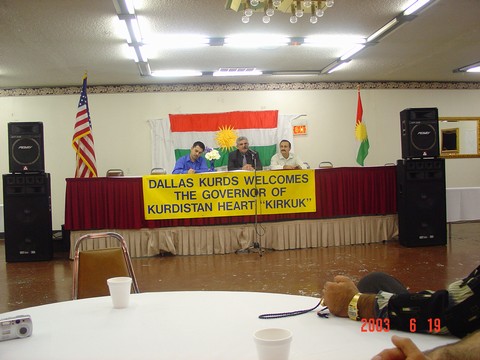 The Citadel in the background
Saddam started destroying it to erase total kurdishness of the city
Kurdish neighborhood in Kirkuk before ethnic cleansing
Kurdish neighborhood in Kirkuk after ethnic cleansing
returned displaced kurds living in the stadium after fall of Saddam
Rezgari & Eskan suburbs
Multi story car park
http://www.dijlah-eng.com/project-gallery/gallery.php
Interchange in kirkuk
Al-Shuhada' Interchange in Kirkuk, Iraq
For this interchange, traffic study was taken into consideration in design. This is a major interchange in Kirkuk. It consists mainly of one 2-sided overpass with all approaches. Project now is under construction.
http://www.dijlah-eng.com/project-gallery/gallery.php
North Kirkuk park
length 270 days , cost 5 Billion ID , duration 2009-2010
Slemani Restaurant
downtown
http://sahmaran.blogspot.com/2009_04_01_archive.html
Azadi Hospital
Election photo
http://sebmeyer.wordpress.com/2010/03/
Shaykh mahmudi hafid
he was the leader of several Kurdish uprisings against the British Mandate of Iraq. He twice proclaimed himself king of an independent Kurdish state.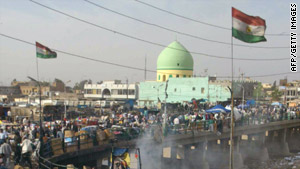 www.panoramio.com
.