Well, this should be interesting.
North Korea is one of the darkest countries on earth. Little is known about the country or what goes on within it's borders.
It's highways are also very interesting.
While South Korea has turned into a free, democratic and very prosperous country, North Korea remains shrouded in communism and totalitarianism.
A 1999 estimate gives North Korea highways the data of:
total: 31,200 km
paved: 1,997 km
unpaved: 29,203 km (1999 est.)
Cars are almost non-existent in the country as well. Everyone takes public transportation, bikes, or walks.
Fuel constraints and the near absence of private automobiles have relegated road transportation to a secondary role. The road network was estimated between 23,000 and 30,000 kilometers in 1990, of which only 1,717 kilometers--7.5 percent--are paved; the rest are of dirt, crushed stone, or gravel, and are poorly maintained. There are three major multilane highways: a 200-kilometer expressway connecting P'yongyang and Wonsan on the east coast, a forty-three-kilometer expressway connecting P'yongyang and its port, Namp'o, and a four-lane 100- kilometer highway linking P'yongyang and Kaesong. The overwhelming majority of the estimated 264,000 vehicles in use in 1990 were for the military. Rural bus service connects all villages, and cities have bus and tram services.
Very few pictures of highways exist, but from what I gather this is what most motorways look like:
Ghost Highways

North Korea is a land of vast motorways, some with as many as 10 lanes. But they are always empty. Very few people own cars.

Pedestrians and cyclists zig-zag across them as they are so unused to traffic.

But even though these roads host few vehicles, they are beautifully tended. Every Sunday, the people who live close by can be seen dusting down the gutter and pruning the shrubs on the road. Some might be visible in the distance here.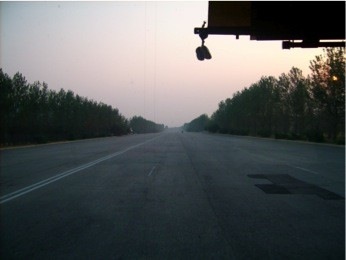 There are 10 lane cross sections of highways that cross the country but yet, are rarely driven on, as seen above.
One more thing. follow this highway to the southwest (moving the map following the highway down to the left)
Count the cars you see, and how many lanes.
http://maps.google.com/?ie=UTF8&ll=39.033169,125.691469&spn=0.008001,0.020084&t=h&z=16&om=1
That's really all i can tell you. I've come kind of interested in the country, scary as what it can be from what I've heard. So dark, so many unknowns.
EDIT: jkjkjk posted a great link to a blog post on the facts..lots of great pictures there:
http://marcnorthkorea.blogspot.com/2007/05/traffic-in-north-korea-pyongyang.html