First some facts:
* Founded in 1641 by Danish-Norwegian king Christian IV.
* Population: 76 917 (2006 ), Norway's 5'th biggest city.
* Area: 276 sq. kilometer
* Capital of the southern part of Norway, called "Sørlandet", also called the palm coast, although there are very few palms

* Immigrants: 10%, biggest groups are Vietnamese and Chileans.
* Transport hub: Has Norway's second biggest harbor, ferries to Hirtsals(Denmark), Gothenburg and Newcastle. Trains to Oslo and Stavanger. Airport with connections to Oslo, Stavanger, Copenhagen++. E-18 ends here, and E39 runs through.
* A very popular tourist-destination for Norwegians, population triple during summer.
* Downtown, simply refered to as Kvadraturen, is charachterised by its rectangular shape, with straight streets and rectangular city-blocks, inspired by the renessance. This satelite image shows this very well:
http://www.fvn.no/mmedia/kvadraturen_1054_1417.jpg
----------------
Finally, I was able to take some photos downtown in Kristiansand, my place of birth and home for the first 19 years of my life. For the last couple of years, it has felt strange to visit. When I'm just there 3-4 times a year, I notice how the town changes each time I'm home. Oops, there was a new road, and this roundabout is new isn't it? And I've never seen that shoppingmall before. And I didn't know they were building apartment-blocks there. Ohh, they've been there for 2 years? And so on. And each time I visit, I feel like the city is not the city I left nearly 10 years ago. Not just because the infrastructure and the apearance gradually changes, because most things look like before, but most important because it feels more and more like I lived there in another life. Almost all the people I used to hang with back then, where are they? I couldn't walk a block without bumping into people I knew back then, now I can walk around for an hour without seeing a single familiar face! Many have moved to another place, but most people I have no idea where is now. I've gradually lost touch with my former life. I didn't notice it the first years, but now I do. My life is in Oslo now, this is where I have all my friends, except for one, that still lives down there. And so I became very sentimental while I walked around, thinking about what had happened to people I used to know, former friends, colleagues, people in my highschool-class and so on.
So, this is part of the pedestrian-street, Markens. Actually, there are only 2-3 streets that have higher rental-prices than Markens in Norway.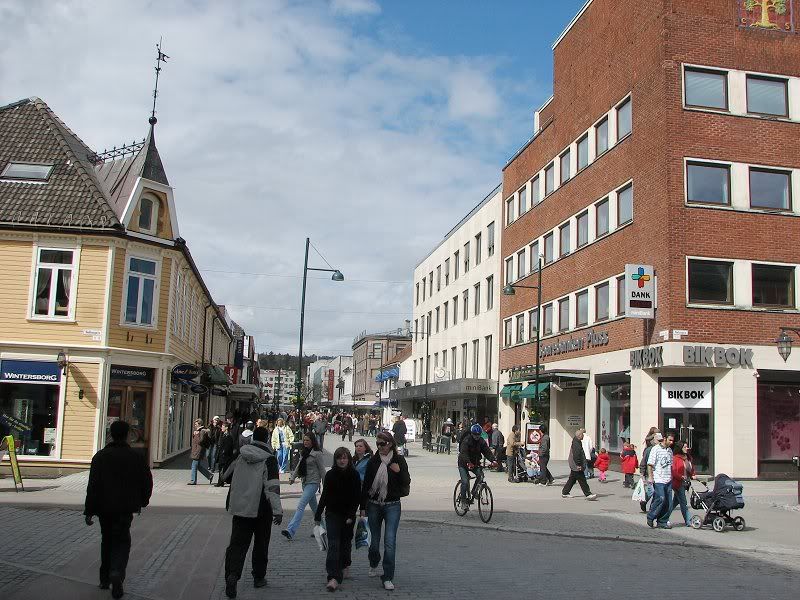 "Herlig land", one of the a common local phrases to use instead of swearwords, and a nice café. Kristiansand is very much part of the Norwegian bible-belt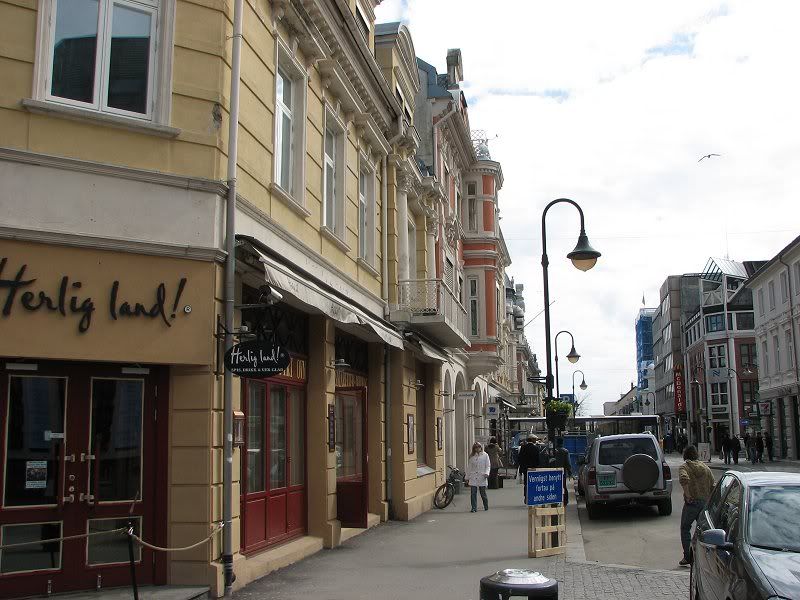 Lower main square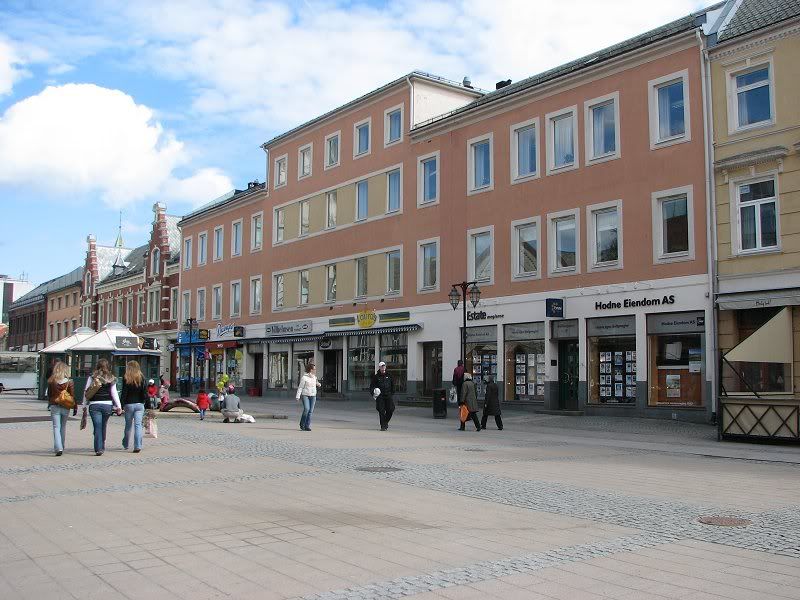 The cathedral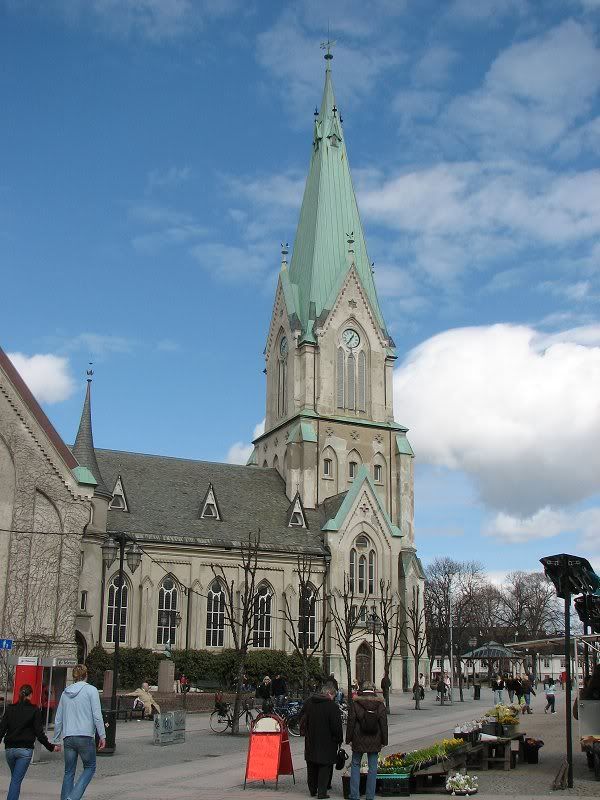 Upper main square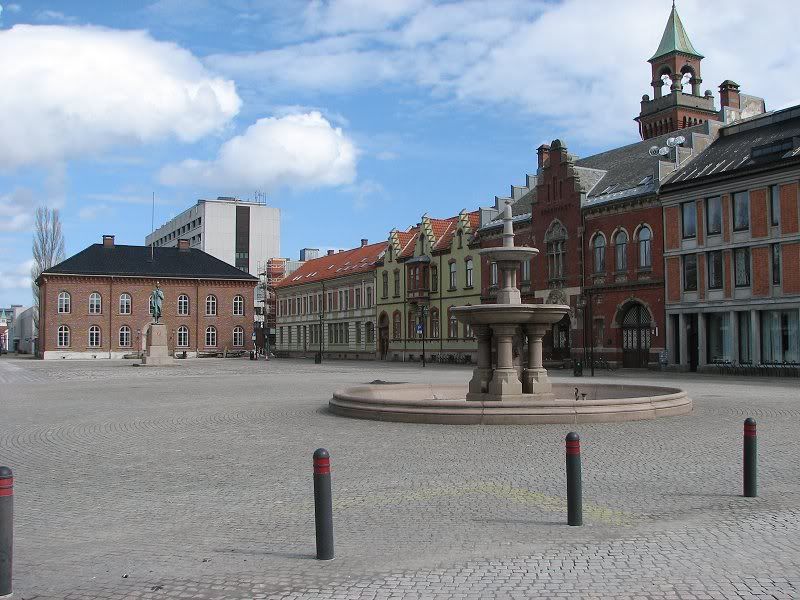 City hall in front, and in the background Kristiansand's most hated building; Tinghuset, used as courthouse/policestation/prison(Actually, the top floor is prison).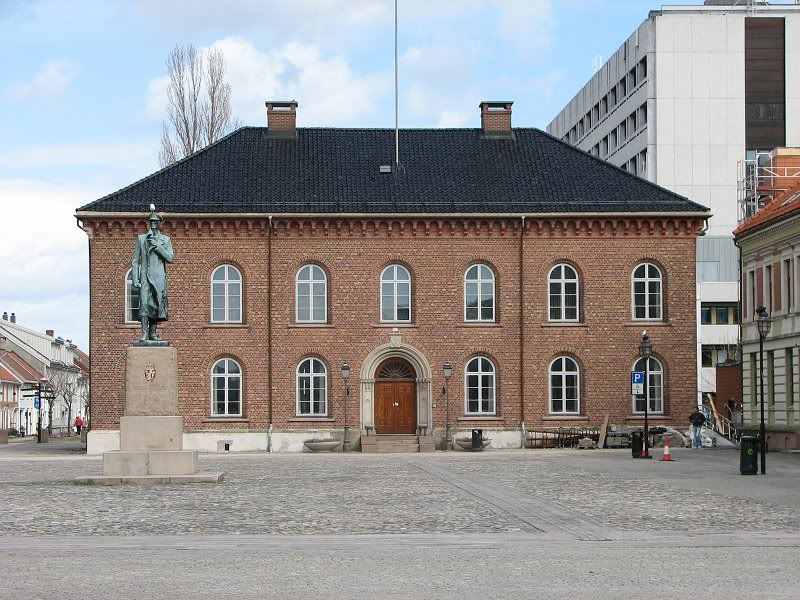 Another look at Markens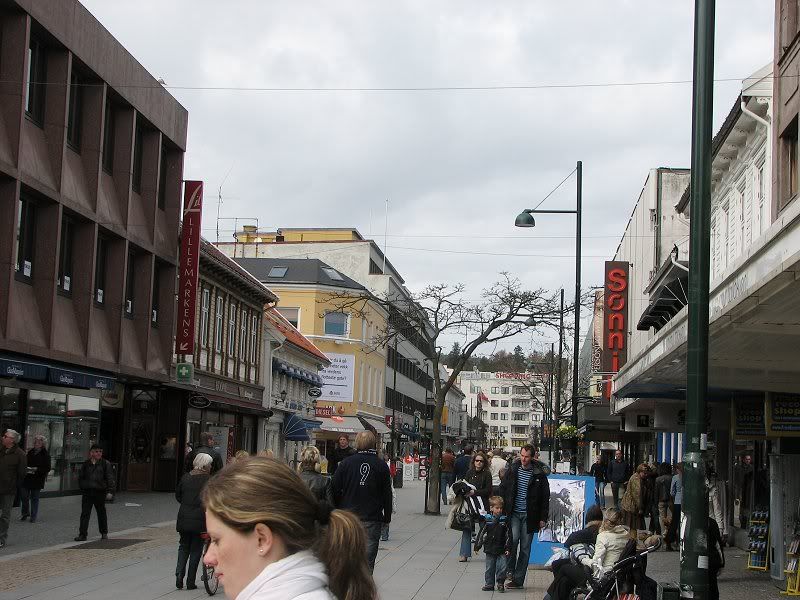 Main bus-station and ferry-harbour. This will be the site for the new "Fellesterminalen", with a bus-station, train-station, ferry-terminal, shoppingcentre and apartments, all in one!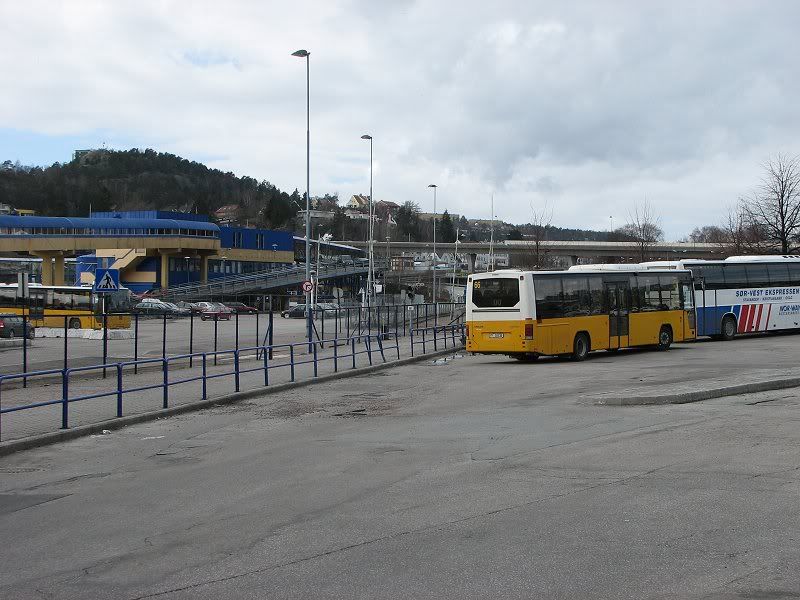 As mentioned, Norway's 2'nd biggest harbour
Ernst hotel and nightclub-complex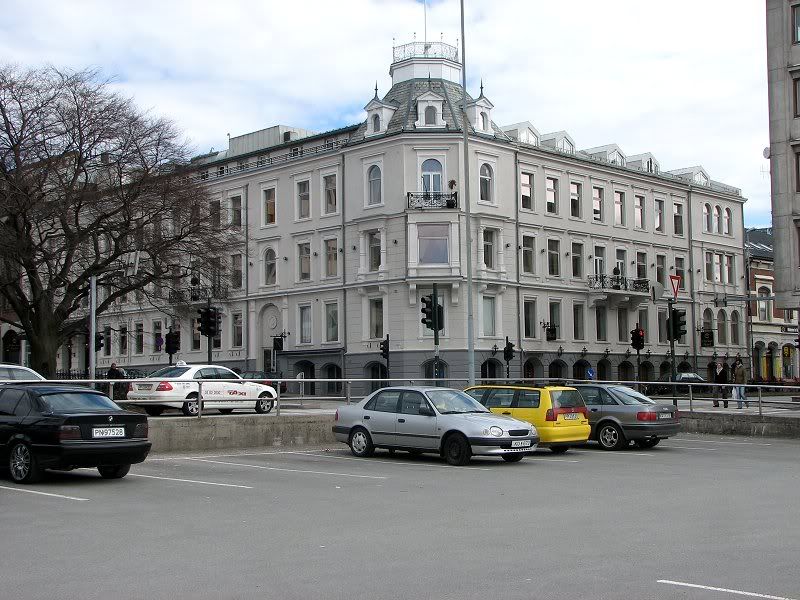 Vestre Strandgate, and a really nice mexican restaurant to the right.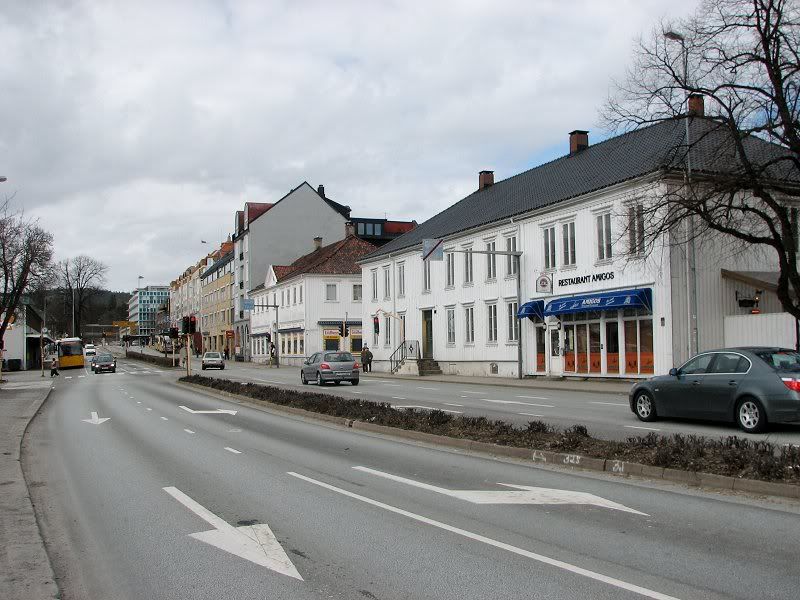 Falconbridge, one of the biggest nickel-factories in the world(don't remember if it is 2'nd or 3'rd). Used to be the biggest employer in Kristiansand. And also the biggest polluter. If I had taken this picture on the same spot 30 years ago, there wouldn't have been any trees in the background. They had all died out...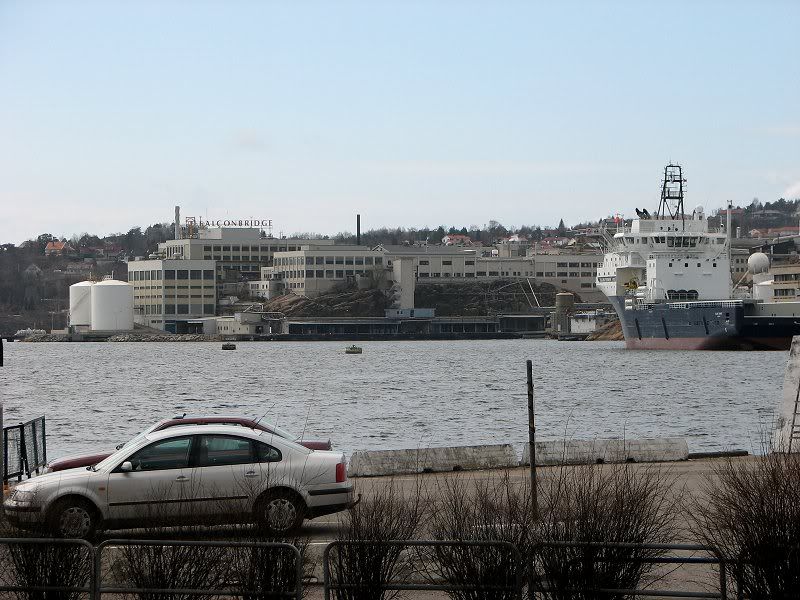 Rederiet, restaurant and nightclub.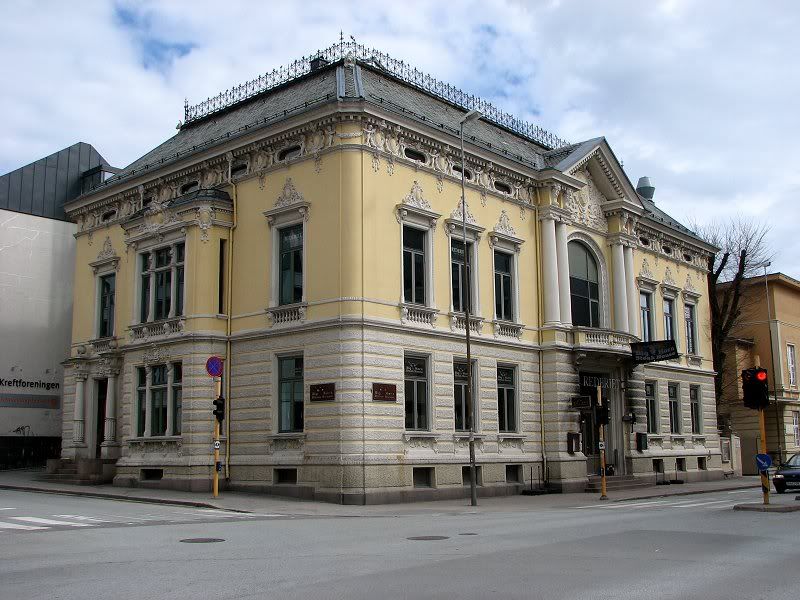 And the tallest highrise in the city(there's only 2
), Caledonien Hotel, with 13 floors, built in 1969. (The stadium is under construction though, and the tower on 17 floors is still in the plan, so I guess someone at emporis can set its status to under construction?) There was a fire in the hotel in the 80'ies, 14 people died. After that, the hotel was renovated, but since then absolutely nothing has been done, and that is why the interior of the 7-8 bars/nightclubs in there looks extremely tacky on this side of the millennia.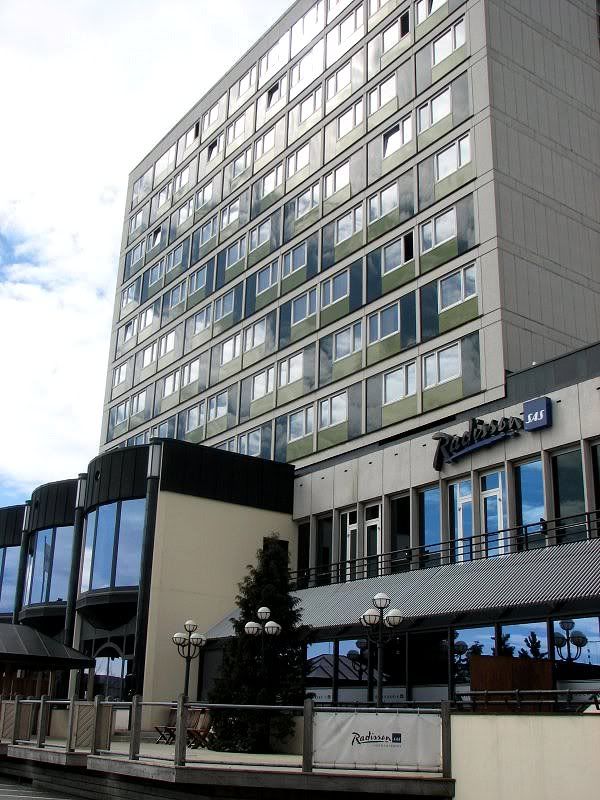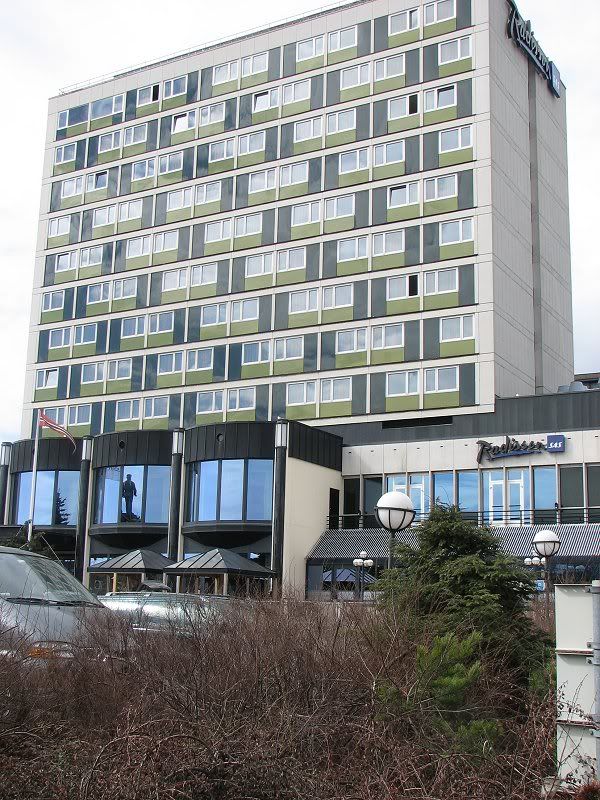 Now we are in Østre Strandgate, the most prominent street to live in. You gotta be quite rich to live here.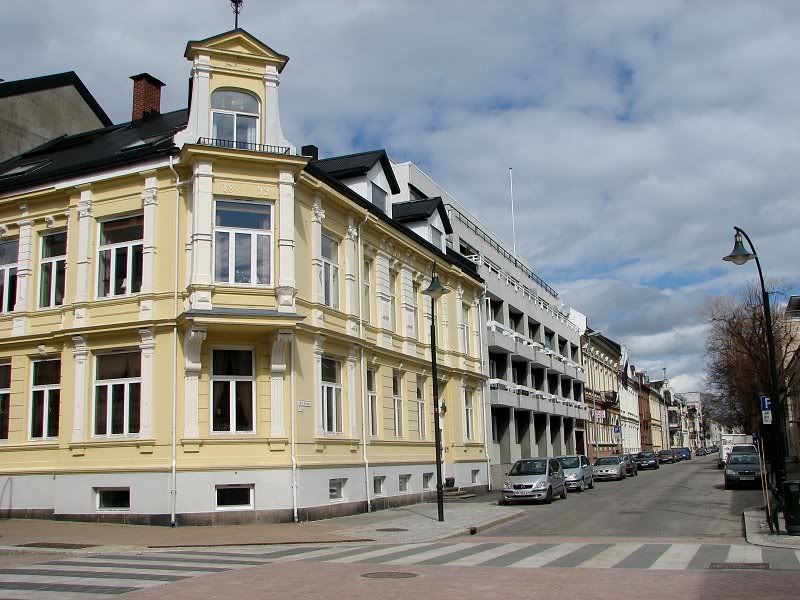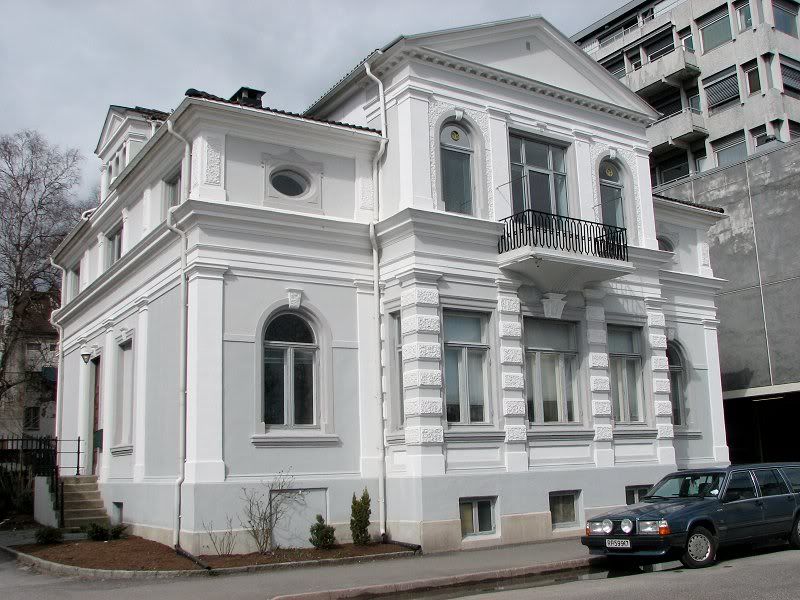 The Nupen Park, designed by local artist Kjell Nupen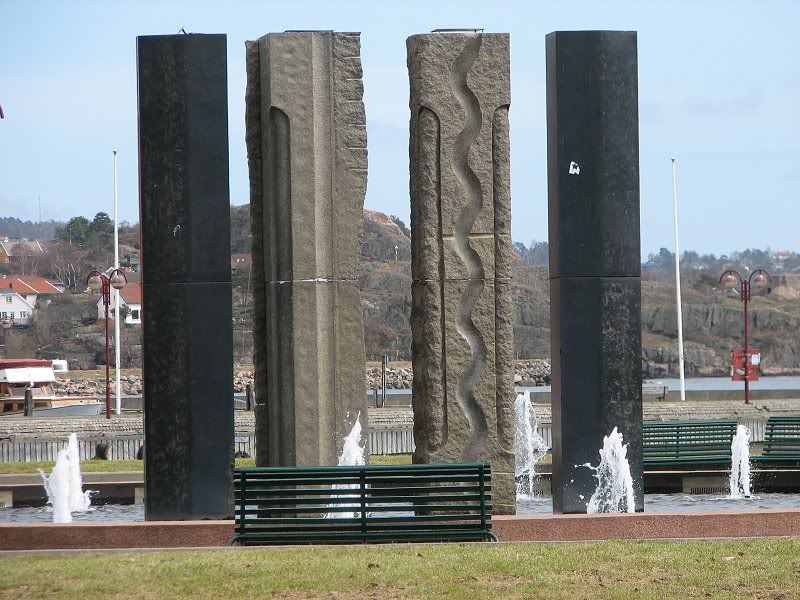 Those residentials are new, the first time I've seen them. It used to be a parkinglot there, wich I've used many times.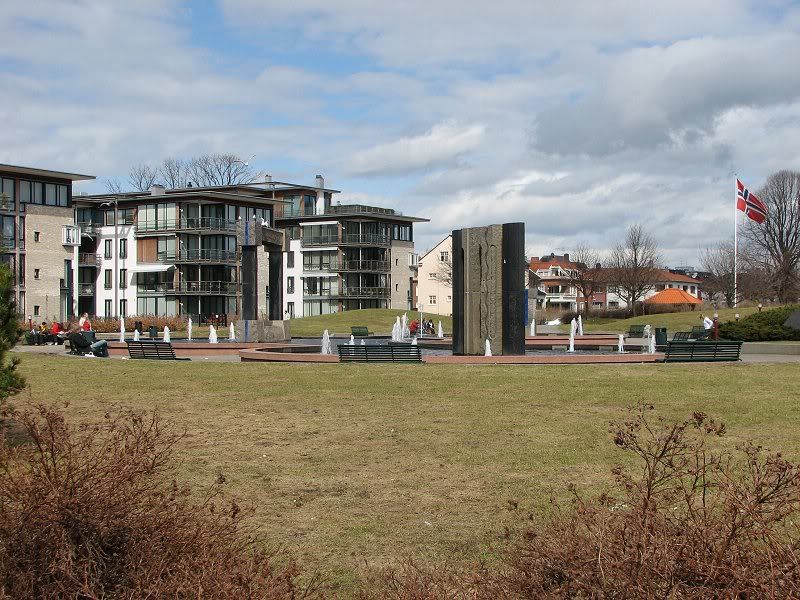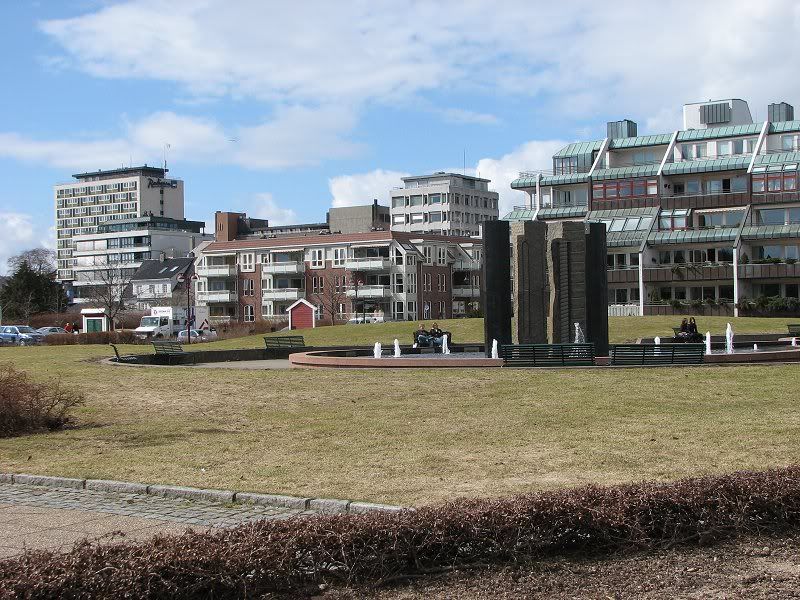 Monument welcoming people coming from the sea to Kristiansand's eastern harbour.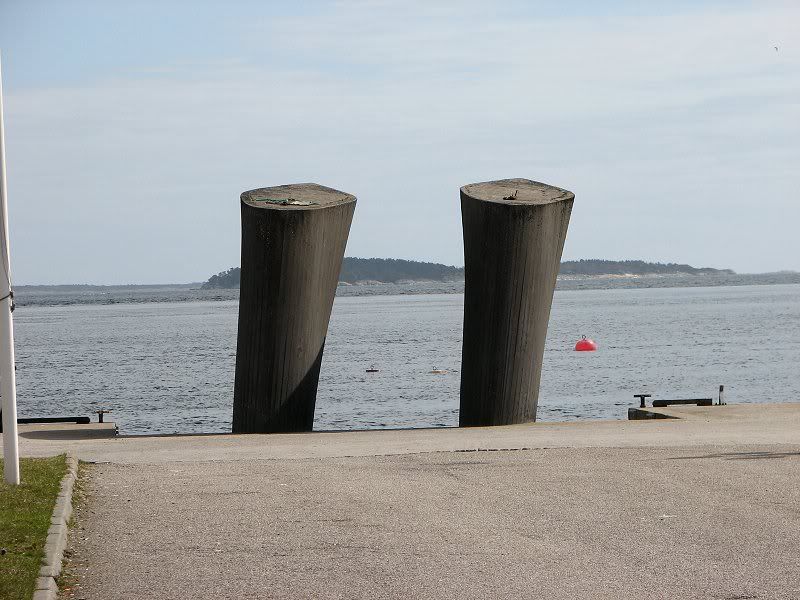 Out there is Grønningen lighthouse. It is actually possible to rent rooms there, and it is recomended. I spent the night there once.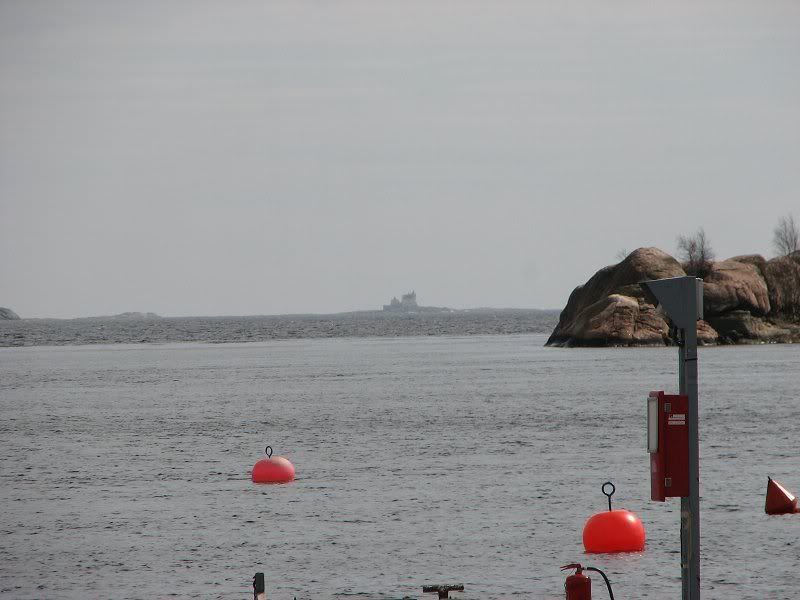 Abit early to start bading perhaps, but a clear sign of spring.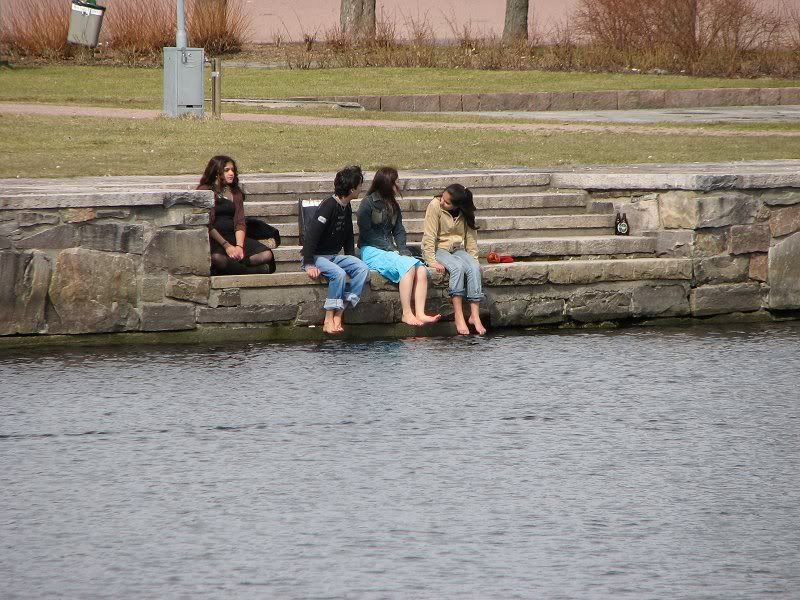 The fortress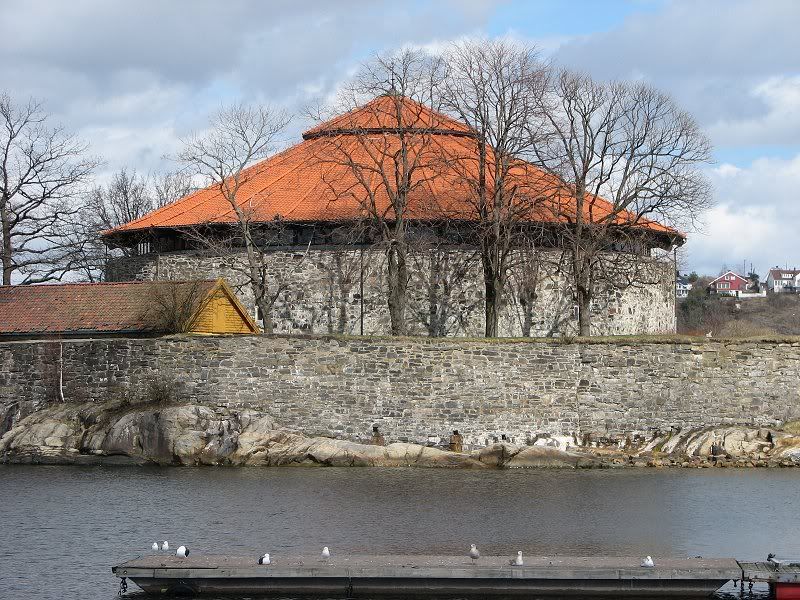 Well, that should be enough for now, but there are more photos waiting