About 260km from kl to the east is the breathtaking South China Sea, spanning over to the Philippines coast. A short distance from the coast is where the Kuantan town is located and protected by a peninsula, Kuantan River. The town is a bustling centre, yet retains a combination of modern and old charm setting of the town and the people. To-date, Kuantan is the leading urban growth centre in the east coast. The town suburban has expanded rapidly 55km up to the Kemaman town, right after the Pahang/Terengganu border. Heavy industries such as Gebeng, Peramu and Kertih at southern Terengganu are within 1½ hour reach. The town has the advantage of strong connectivity from the East Coast Highway, Kuantan airport and the Kuantan port. A dedicated 50km railway has been laid out between Kuantan port and the Kertih Petrochemical Complex. In the future, the rail will be either connected to KL or Mentakab town at the central Pahang. Overall, Kuantan is destined to be a major populated area in the near future, as the outlook in the growth of industries, tourism and trades are on the rise. Recently, the National Physical Plan 2005 has identified four cities (KL, Georgetown, JB and Kuantan) as the future growth centre hub of trades, offices, transportation and tourism.
I travel regularly to Kuantan for working purpose, and my own experience together with many outsiders here would simply love to settle down in Kuantan. Life here is 'not so hectic, not so slow', but an exciting place, made by the existing of surrounding natural beauties and ample spots for chilling out. There are excellent beachside, riverside and streetside here for your daily or weekend spending. And yes, you can go and sit on the beach for hours and sip gin slings if the mood takes you. After all these years of development in kuantan, it hasn't been too rampant as to cause disorientation and confusion, but at an even pace that allows you to catch your breath once in a while. For one it still remains a good safe town to raise a family, crime is low, prices are not as inflated, people friendly (to a point), there are good food enough to keep your palate from wanting and if you need a break from work, the beaches are just a drive away or a visit to the local park isn't too far off.
From the upscale neighborhood of Bukit Pelindung.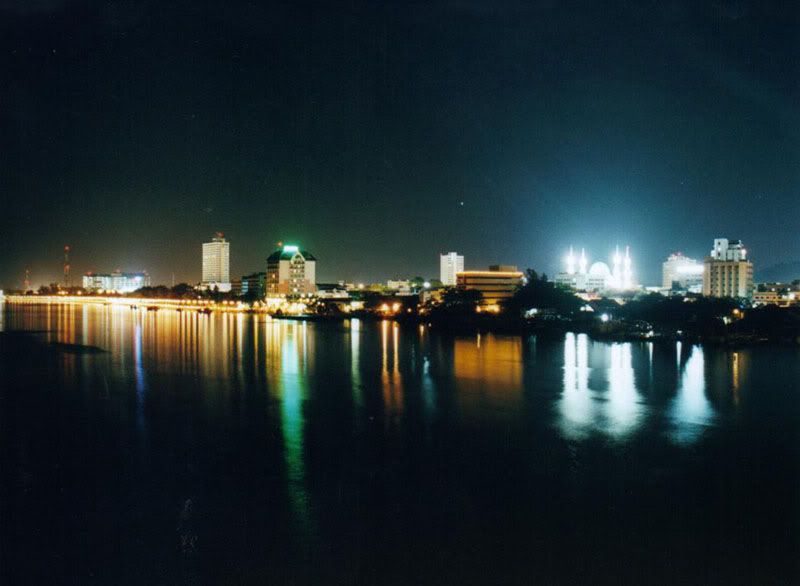 The nightview along the Kuantan River.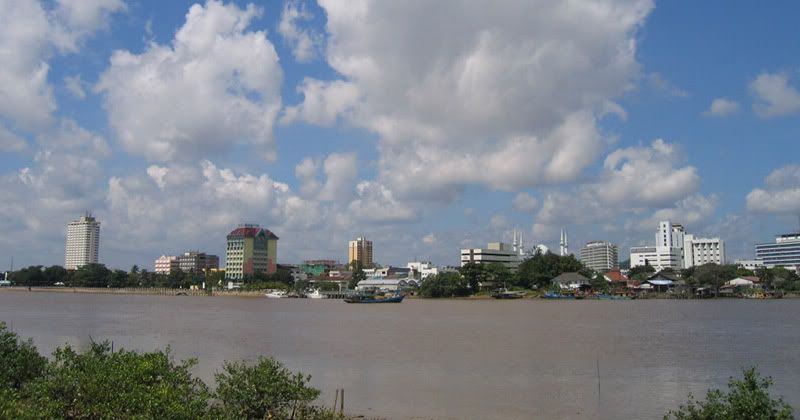 Dayview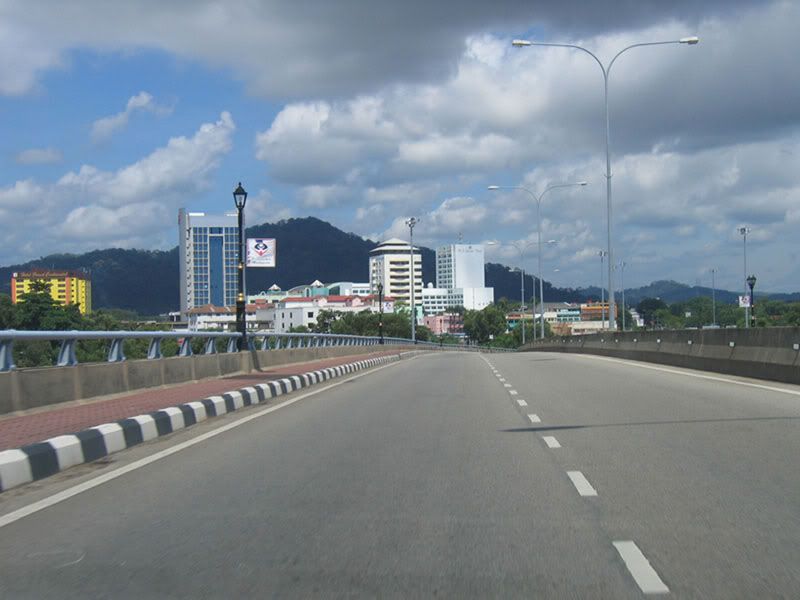 From the 'Scenic Bridge', across the Kuantan River.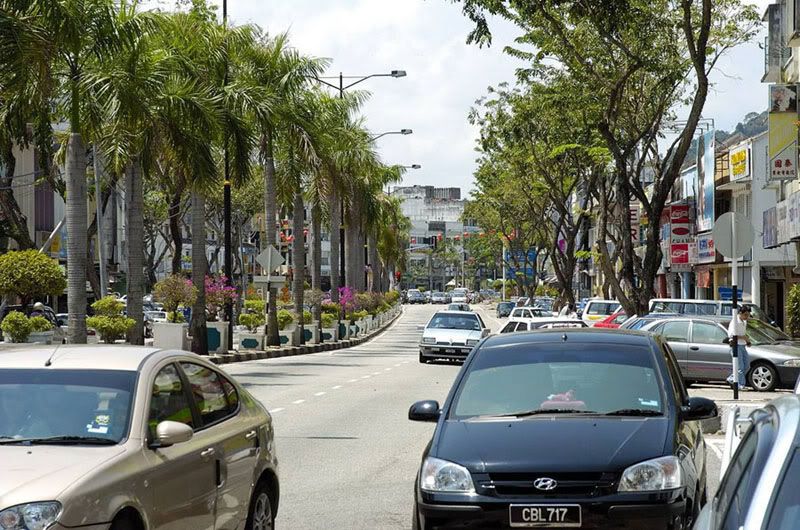 Downtown Kuantan
Mahkota Road
This is the oldest street, Mahkota Road with prewar and 70s shops lining along. The street keeps bustling with old and modern trade activities and has been the soul for many Kuantanites livehood.
Flea market along the Mahkota Street. A popular hangout among the elder community.
Jalan Besar
This road is better known as salt fish street, although the numbers of salt fish shops are declining. Many owners have shifted away into bigger premises outside the town centre.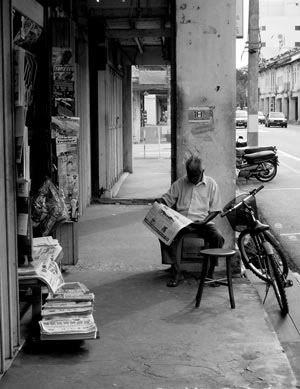 The street is still retaining its own charm.
Fish Market Hall:
This is the huge fish market hall, adjacent to the Kuantan Main Market. Various fish can be found selling here, including some endangered species like shark. You will spoilt for plenty of choices, fresh and cheap fish here. The experience at the hall is nothing short of like at a share market trading floor. Bargaining and chopping sounds are the main ingredient of this lively market.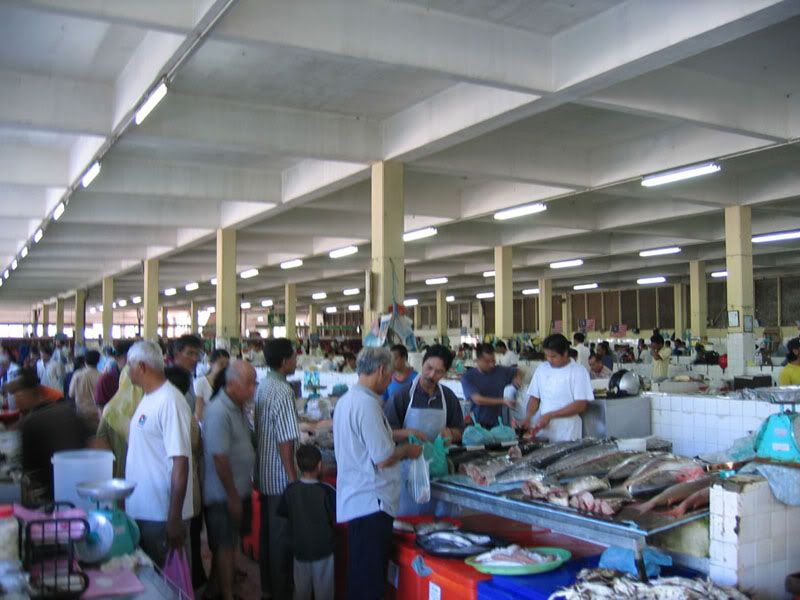 Kuantan River Esplanade:
Kuantan Esplanade is one of the country most developed riversides. The Esplanade has been around since 70s and continues to enjoy high patronage of visitors today. Lining along the serene Kuantan River, the esplanade has become a popular hangout during the day and night. There are cafes and eating facilities for visitors, and for those love fishing, you can select the best spot along this 1.3km esplanade. However, on weekend night come early to 'booked' the place as hundreds of people spend their night time occupying the entire esplanade for night fishing. Accompanied by their families and friends for gathering, the place has become a family favorite outdoor spot.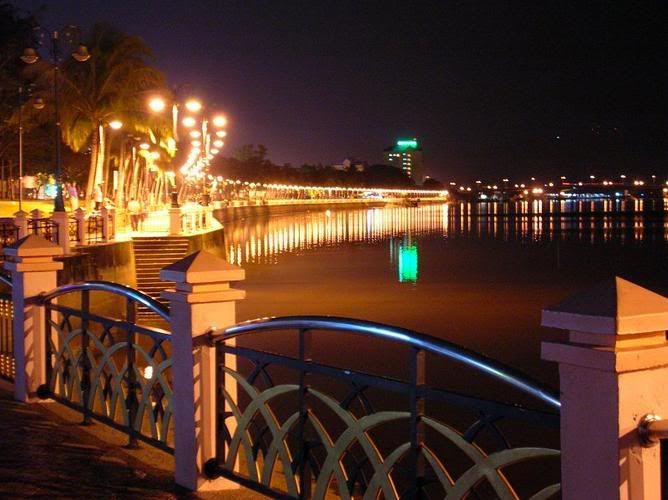 The entire esplanade is lighted up.
A perfect spot for night fishing in a lively, bright and safe environment.
In Kuantan, popular parks have provided the locals an avenue for night life.
Traffic condition
Kuantan is now seriously facing the problem of daily congestion on weekdays. Forget about fast lane and flyovers… your speedometer won't go much beyond 60km/h. Life on the road is rather slow here. With constraint space for expansion of town roads, traffic condition here is unsurprisingly expected to reach critical level. Public transport is lacking with no improvement of buses and facilities. These are the major issues affecting the whole population since the past decades ago.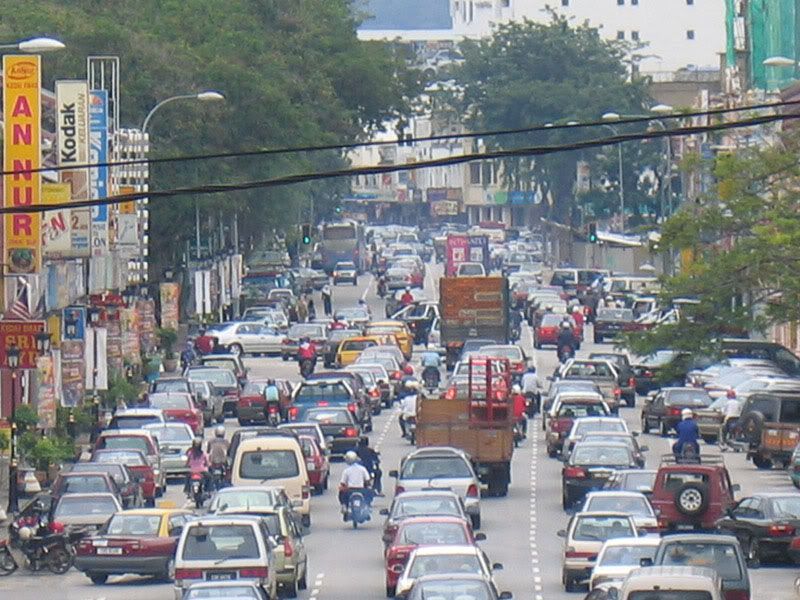 Kuantan Major Buildings:
Teruntum Complex:
One of the earliest skyscrapers in Malaysia. Completed in the early 70s, it is a mixed development of office, retail and entertainment centre.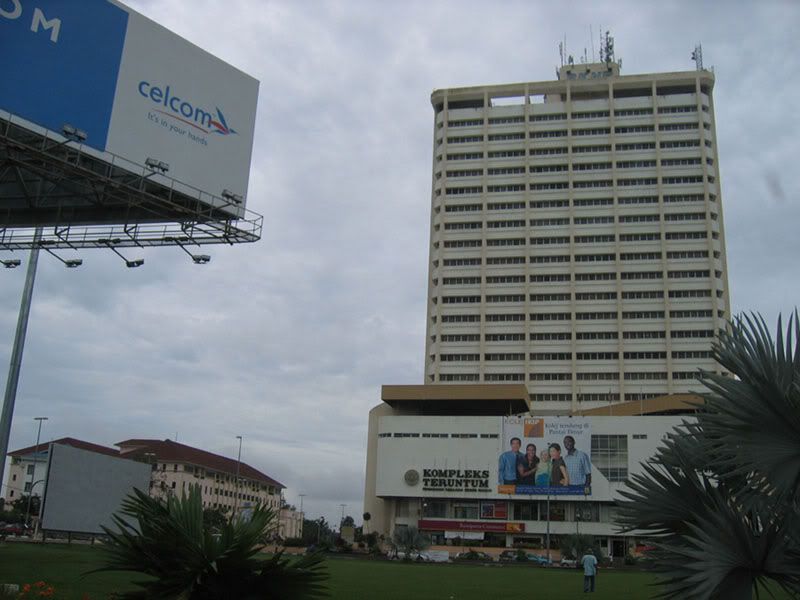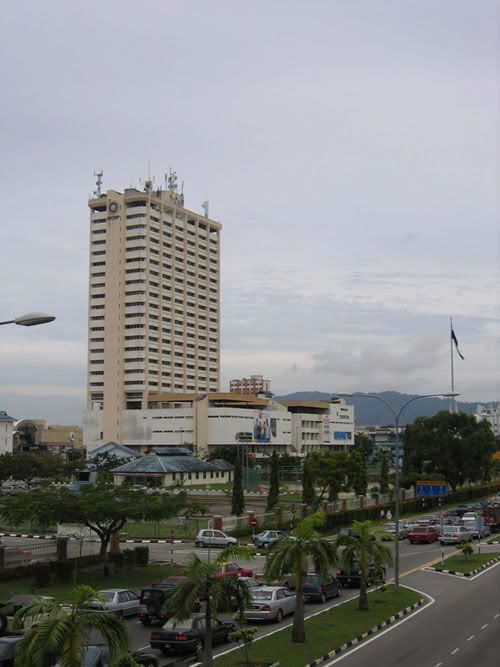 Grand Continental Hotel:
Two blocks of hotel and service apartments.
Tenaga Nasional Building and Citiview Hotel: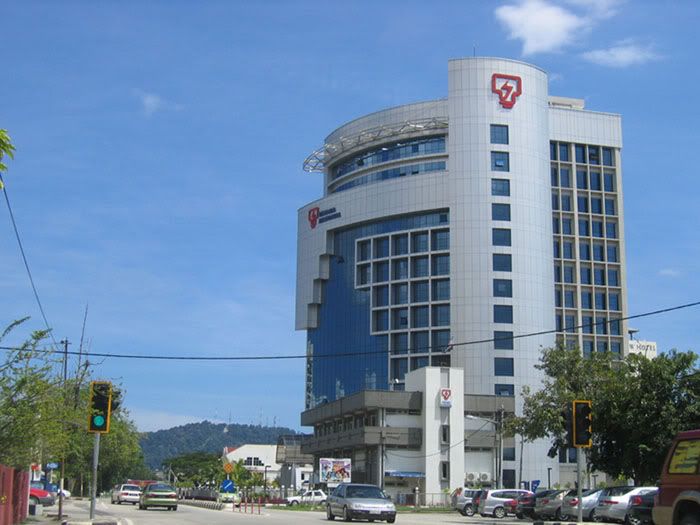 BCB tower:
Petronas Dagangan Bldg: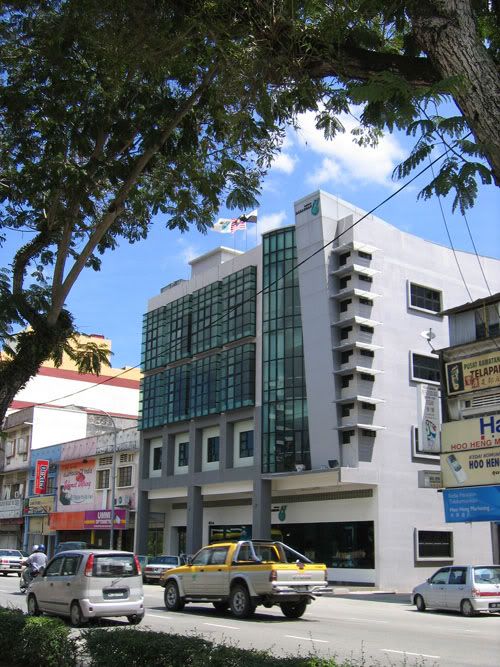 MS Garden Hotel: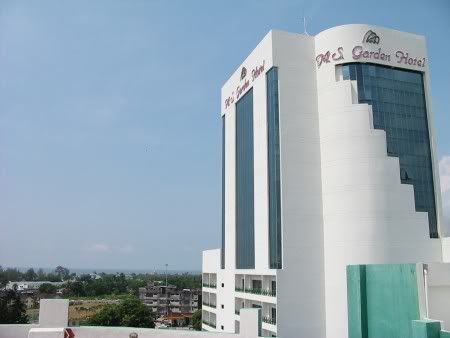 Megaview Hotel:
Shahzan Inn Hotel:
Vistana Hotel:
Pahang State Mosque: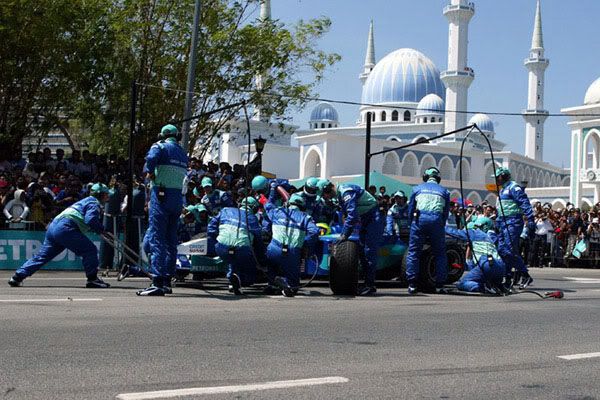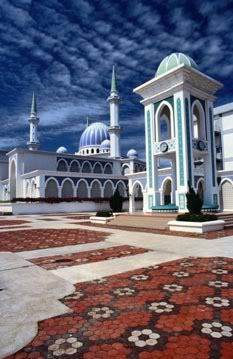 Retail Market:
Kuantan retail industry is an expanding and thriving business. There is a consistent growth in population and living standard, which its demographic shows Kuantan has a large medium income groups. Currently, there are 5 shopping malls in the town, serving the population from Kuantan and nearby towns like Pekan, Kemaman and Kertih. Besides the mall, Kuantan has large players of independent retail complex like Mydin Wholesale, the Store, Giant Hypermarket, and the up coming Kamdar (2006) and Jaya Jusco (2007). Currently, the Store is doing very well in Ktn with two departmental stores while the Parkson group has Parkson Ria and Parkson Grand each.
List of major retailers:
Main departmental+supermarket store:
1. The Store (2 chains)
2. Parkson Grand
3. Parkson Ria
4. Mydin
5. Pantai Selamat (local retailer)
6. Tunas Manja (local retailer) – 8 stores
7. Eng Hong (local retailer) – 3 stores
8. Kamdar (mid 2006)
9. Jusco (2007)
Hypermarket:
1. Giant (1)
2. Tunas Manja (1)
3. Nirvana (local retailer) - 1
Convenient stores:
1. Tesco Express (1)
2. 7 eleven (exceeding 20 chains)
Berjaya Megamall:
East coast largest mall with 2 million sqft of retail, entertainment, and f&b. Main tenants are Parkson Grand, Tesco express and Popular Bookstore. Cineplex is operated by GSC.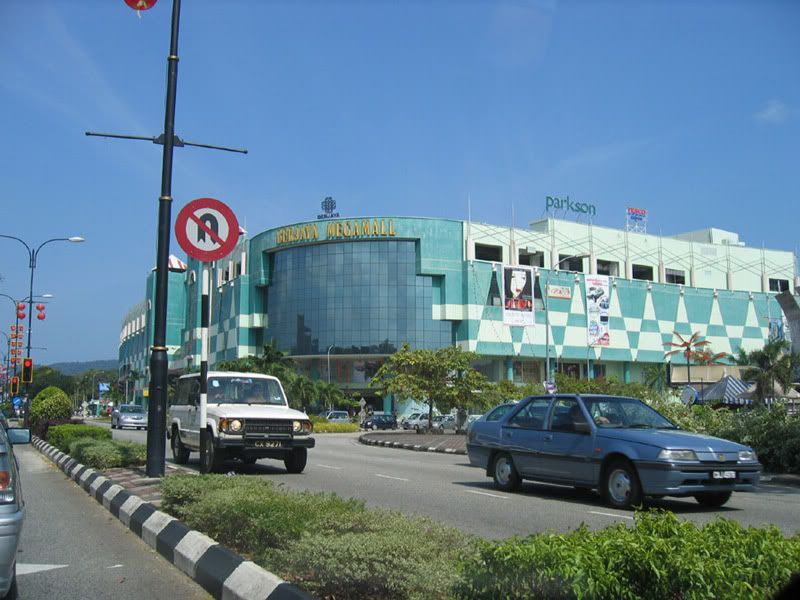 Kuantan Plaza:
Main tenant – Parkson Ria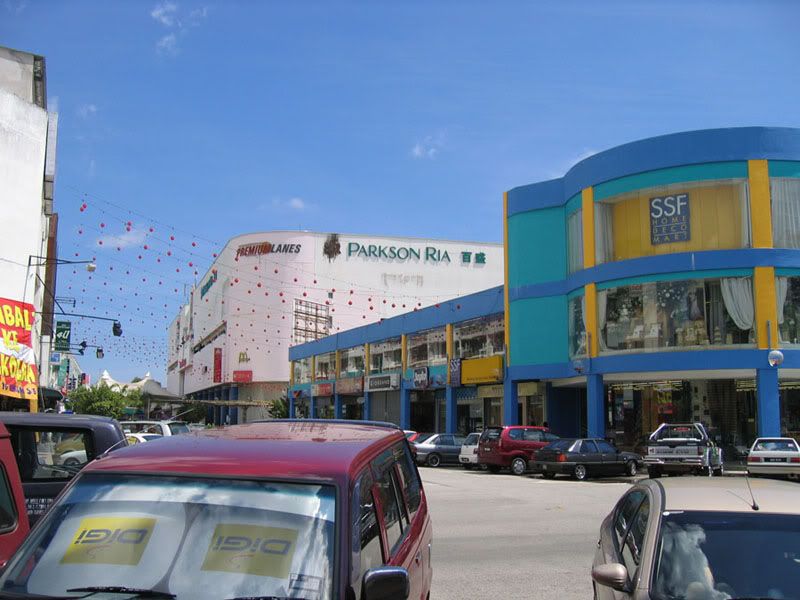 Kuantan Plaza and SSF Home Deco
Kuantan Parade:
Main tenant – The Store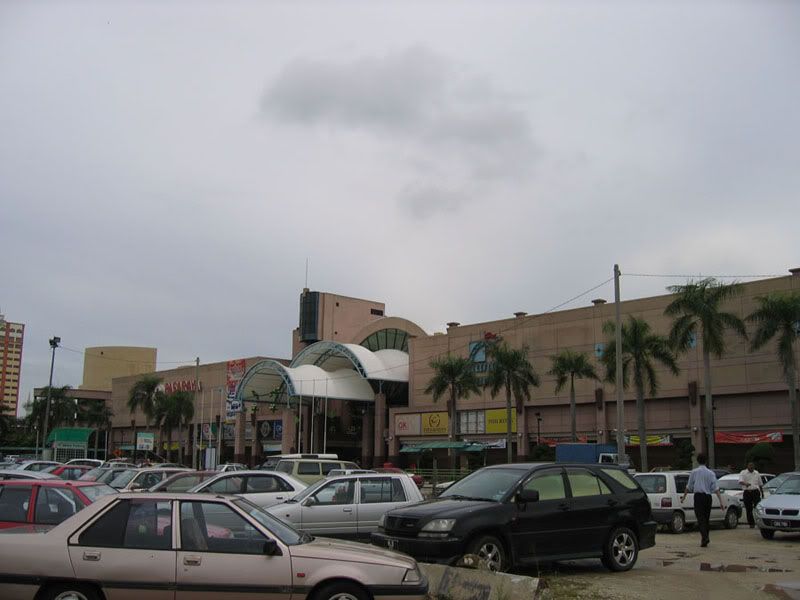 Beaches around Kuantan:
Pahang coastline offers one of the region top most beautiful beaches, with Kuantan home to two international well-known beaches, Teluk Chempedak (TC) and Cherating Beach. Both beaches have attracted Club Med and Hyatt to land their flag on the shore from the early 70s, suggesting the significance of Pahang beaches to the world. On recently, another beach, Balok Beach is also gaining reputation for the region top most preferred location for wind surfing.
From the Kuantan town driving along 55km north to Pahang/Terengganu boundary, you will have the choices on many top resorts and chalets lining along the route. I ll start off with the most popular, Teluk Chempedak.
1. Teluk Chempedak (TC)

Teluk Chempedak is 5km from the Kuantan town. It is among the more developed beaches in Malaysia. And whatever beach fun you happen to be looking for; sailing, surfing, skiing, camping or just sunbathing, Teluk Chempedak has it.
Bring out yr family or friends, head straight to TC and take a breezing walk along its promenade or lies on the beach. With the unruffled environment, you probably end up chatting or drinking way past the midnight. There is no such thing as the evening comes, you pack off and leave. Life at TC keep continues all the time, alive with people hanging out till the dawn. On big occasion like Chinese lantern festival, New Year and Merdeka Eve, the beach is filled with thousands of people celebrating, which KLites may envy the Kuantanites of celebrating in freestyle. On the other days, sit on the beach and enjoy the morning sunrise, or the full moon by the sea. It's a nature therapy for stress out.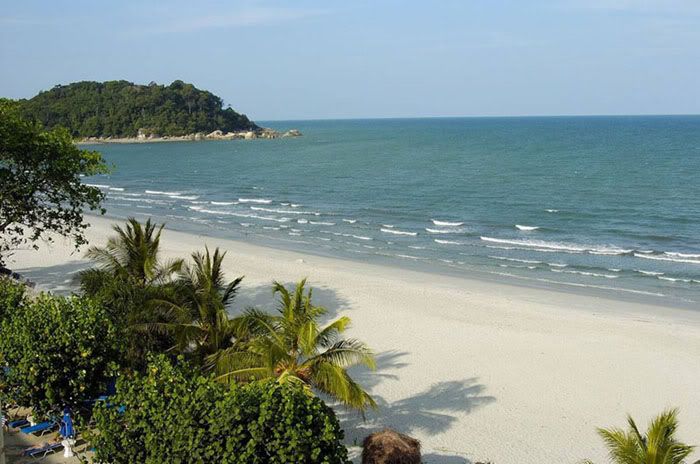 Morning view from the Hyatt Regency.
Facilities available:
Eateries, seafood restaurants, bistros, 24hr McD restaurant and swimming facility.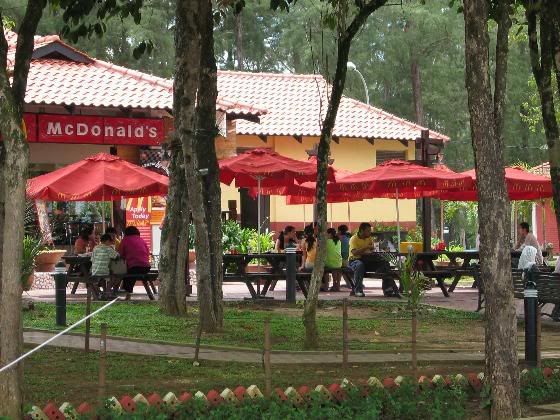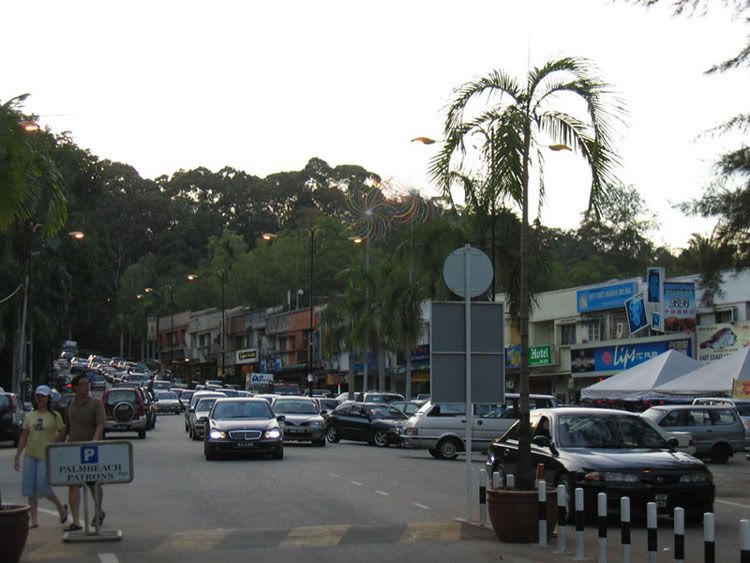 The main road leads to TC.
At nite, the area is a happening place.
In the evening (South view)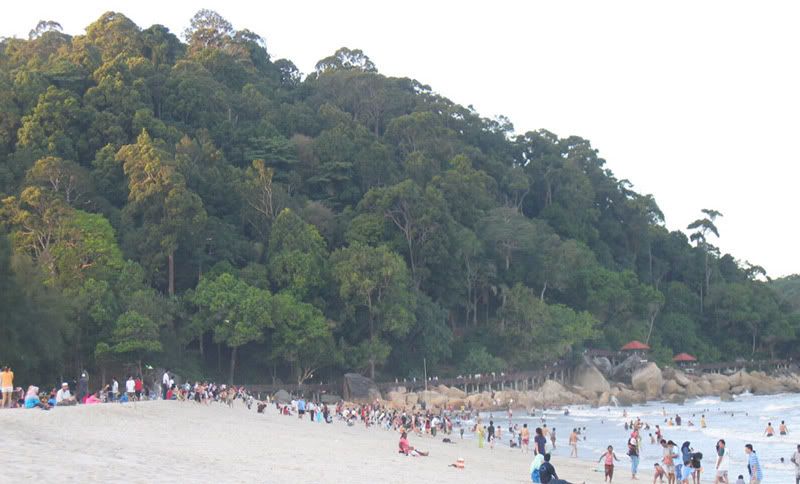 North view of the bay.
The far end has a wooden bridge linking TC to the second bay. Without straying too far afield you can also visit the more isolated Pelindung Beach right behind the hill, commonly referred as Third bay. However, it is accessible only by jungle hike in the forest reserve.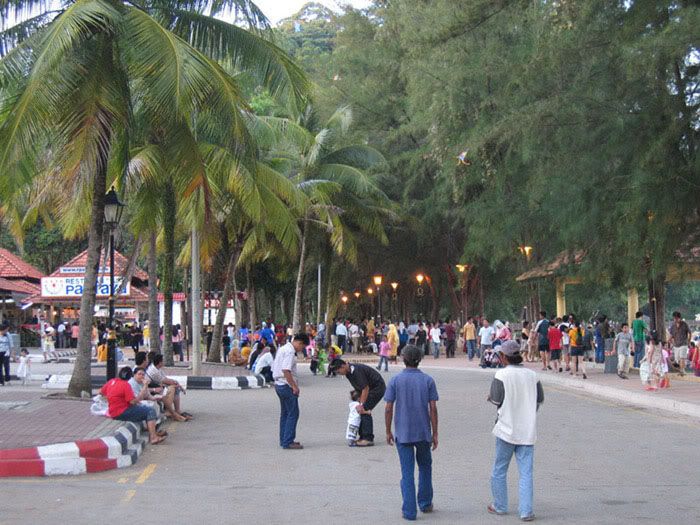 Packing crowd along the Promenade walk.
Night experience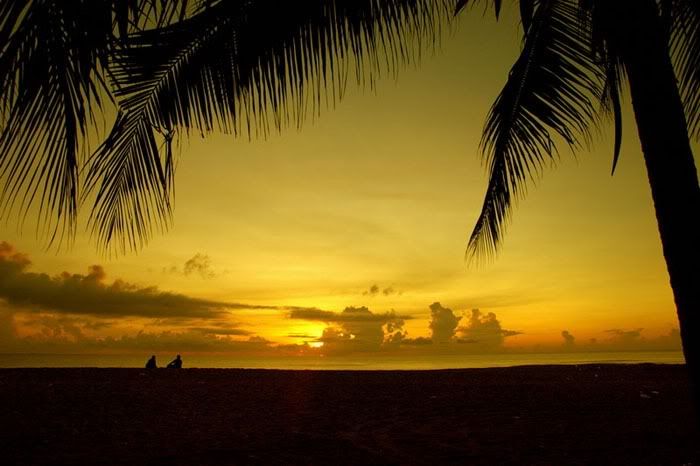 Morning experience
Hotels:
5-star Hyatt Regency Kuantan
Hyatt Regency is an excellent place to stay. In its 20yrs operation, the 550-rooms hotel has never fall short of high occupancy. The hotel has undergone 3 major expansions from time to time, indicates the continuous lure of foreign and local tourists to the beach.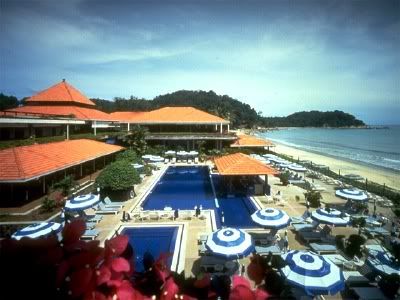 Multiple pools facility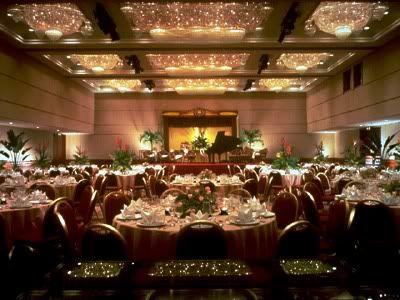 Conference hall – Hyatt kuantan is among the country top preferred location for conferencing.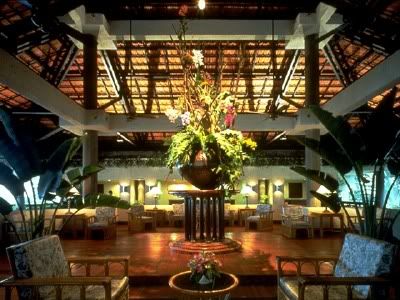 The lobby with setting of natural architectural finishing.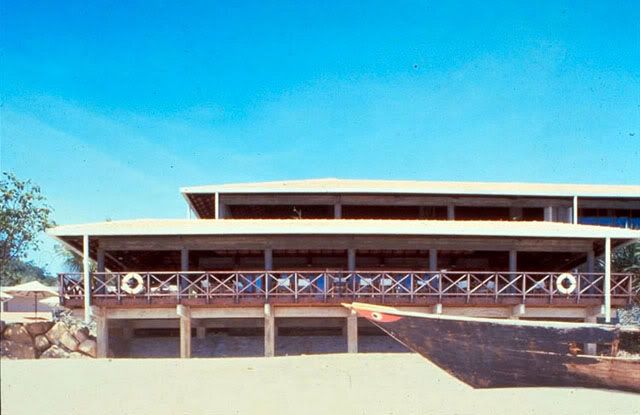 Beachside bistro
Sheraton Hotel:
Initially started off by Faber Group, construction was halted during the post 97 recession. Faber finally started to dispose its prime assets recently including the 5-star Sheraton Kuantan. It was sold to Berjaya Group by a high value of market price.
2. Gelora Beach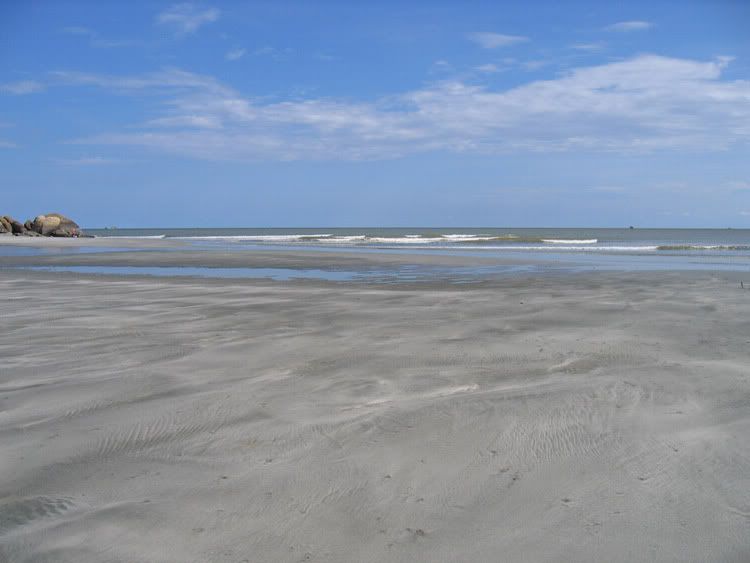 Gelora beach is located along the way to Teluk Chempedak. Locals love the place for recreational purpose, especially in the evening where the place is crowded with joggers and visitors. It is one of the most serene places in kuantan for hanging out, with many manmade lakes and shady trees alongside. Compare with Malaysia most famous lake, Taiping Lake, here Kuantan own Gelora Lake is just as good as there, but it is lesser known.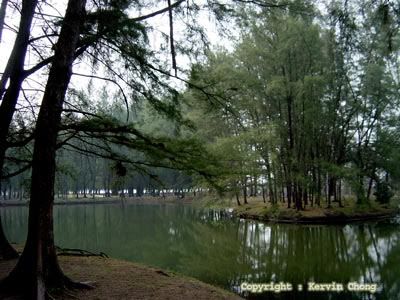 A further walk north of Gelora Beach is the Tanjung Tongkang. Here, the hillrock set apart Gelora beach and the Teluk Chempedak. A top favorite residence spot among the expatriates is located here. Kuantan Tembeling Resort is a cluster of 5 blocks of service condo, offering a great view of the town and the sea.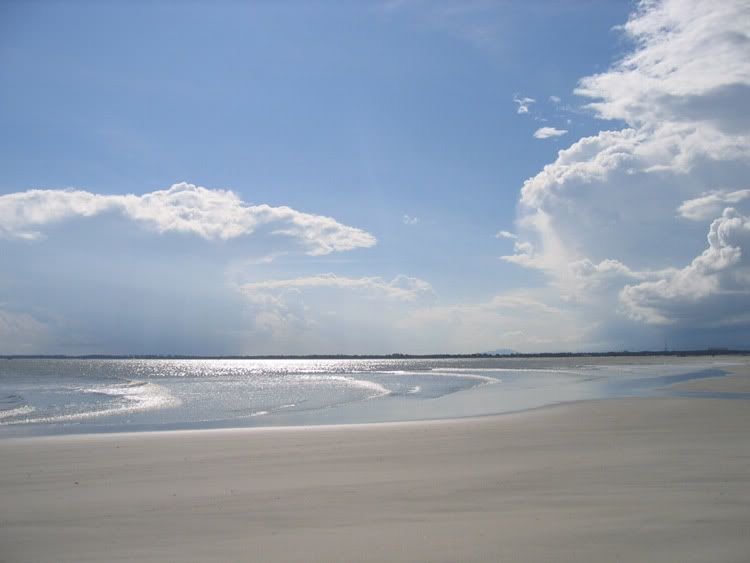 The tranquil afternoon seaview.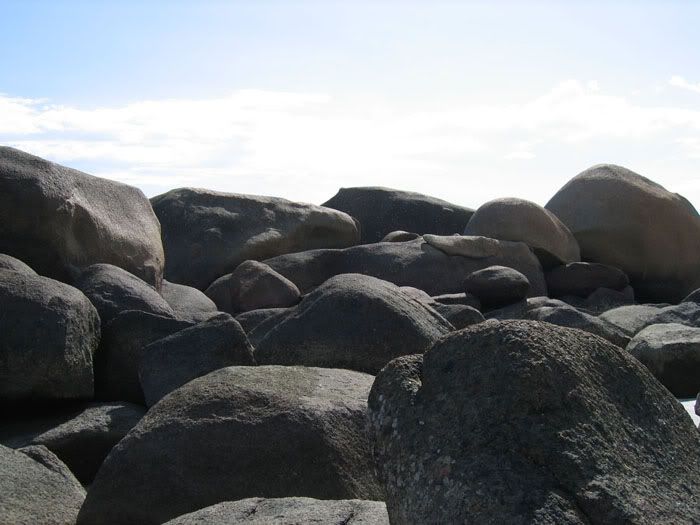 Stone age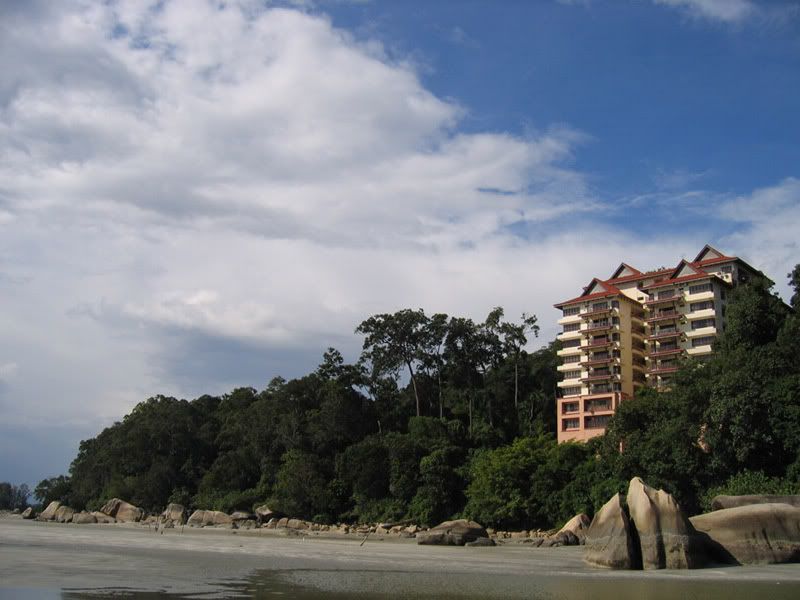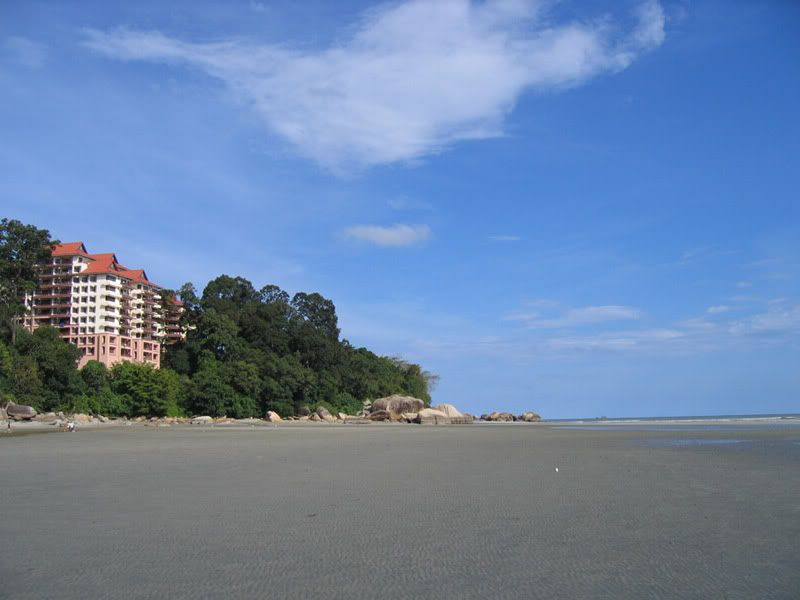 Kuantan Tembeling Resort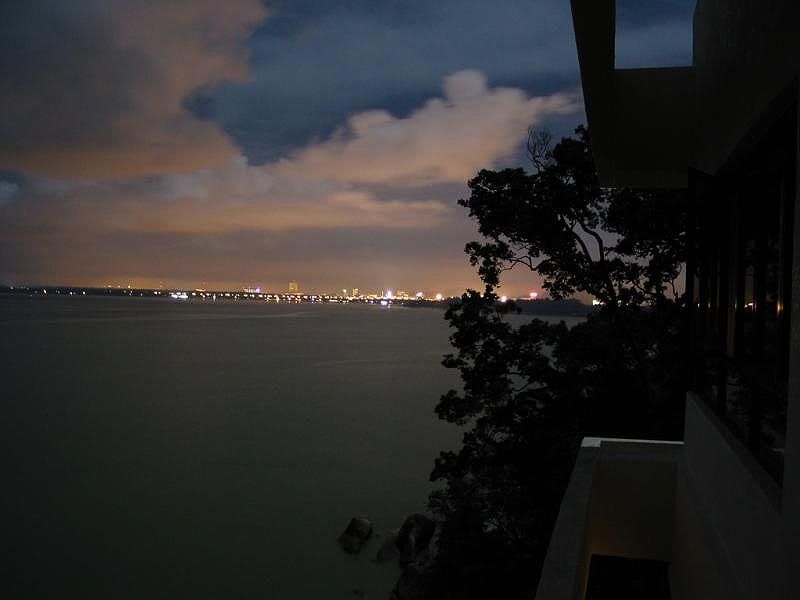 From the balcony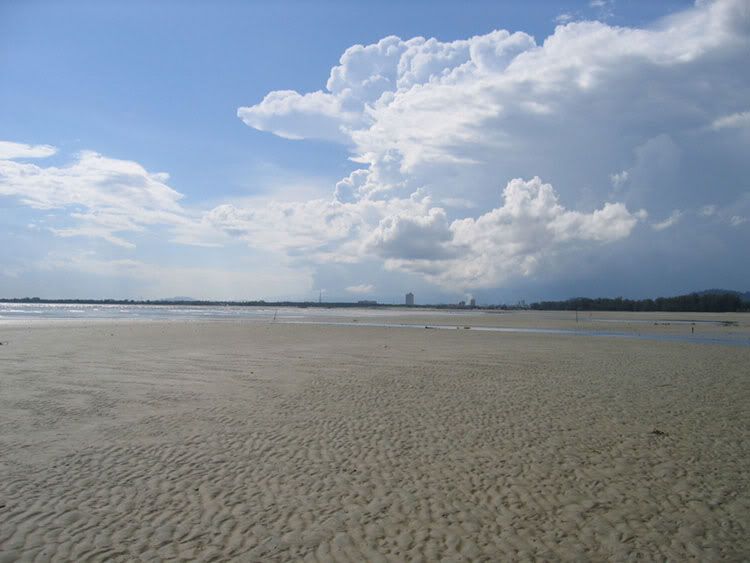 Far view of Kuantan from the beach.
3. Beserah Beach:
If you have a desire to take a look at the culture of the region, the Kuantan coast offers an easy glimpse into everyday Malay life. Beserah Beach is a local fishing village where you can watch the fishermen use water buffaloes to haul their catch from the shore to a processing area. The community is about 10km from Kuantan and includes a batik fabric factory and several handicraft shops. One of the best things you can do at Beserah is having dinner at seafood restaurants. Kuantan top seafood restaurants can be found here, which are Pak Su and Beserah Restaurant. With the roar sound of waves and breezing air, it's easily compliment the natural way of enjoying seafood. Both are located along the main road from the beach.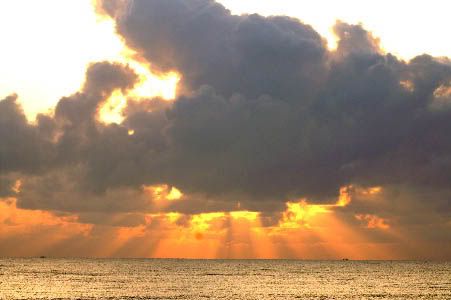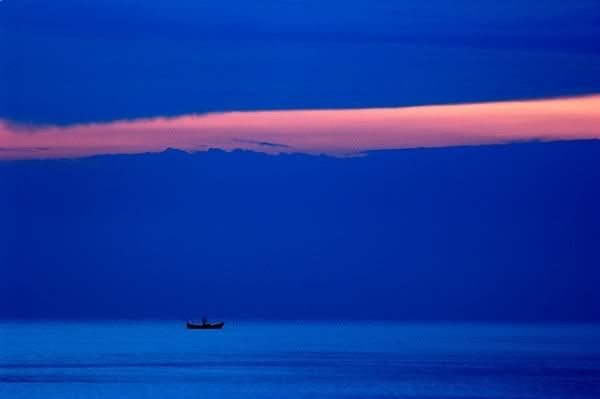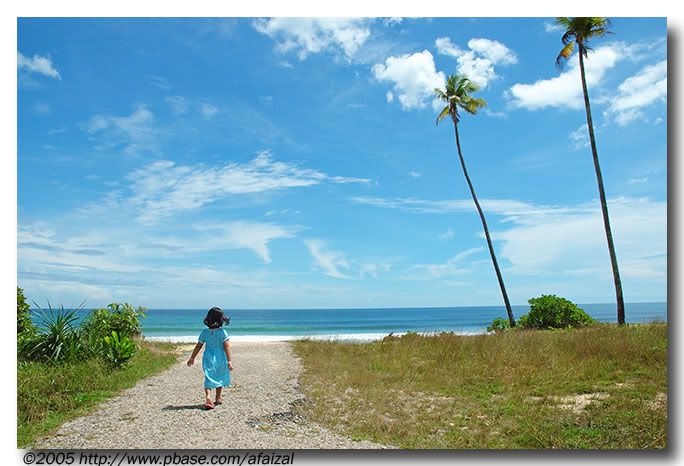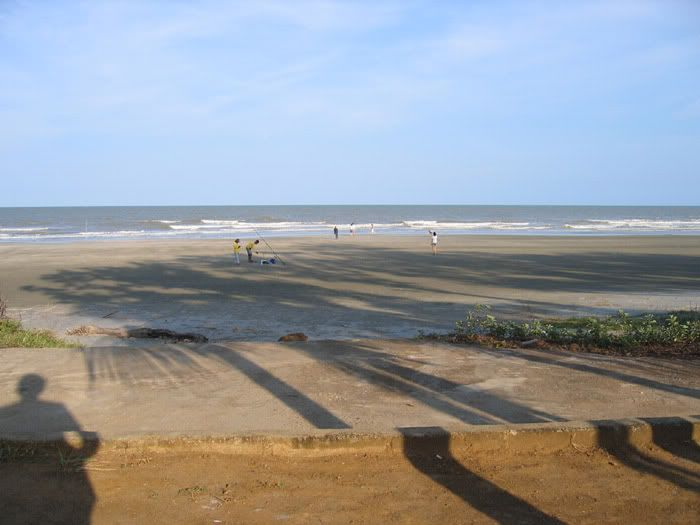 Pak Su Restaurant's view of the beach
4. Batu Hitam Beach: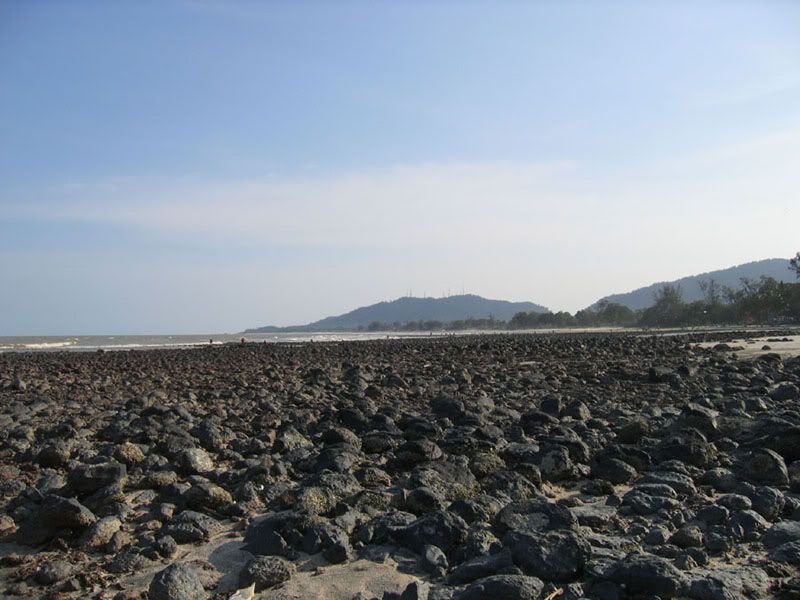 The beach has a large feature of metamorphic rocks exposing out from the earth, and in such that's creating a wonderful landscape of Batu Hitam beach. Batu Hitam is another 4km driving north of Beserah Beach.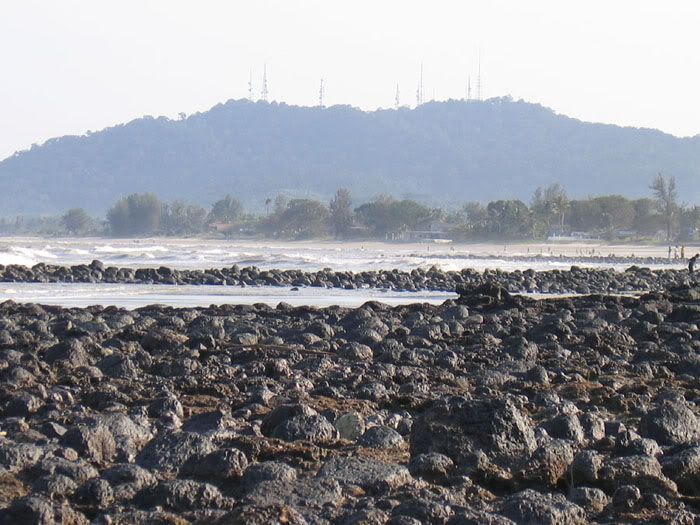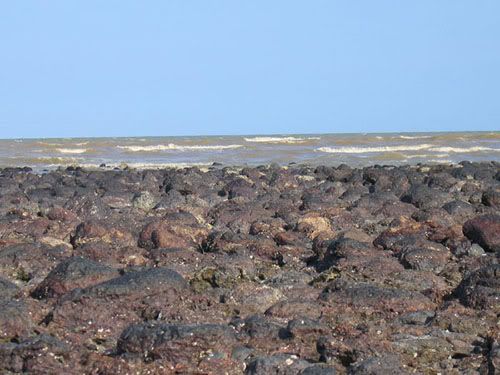 How many fish can you spot?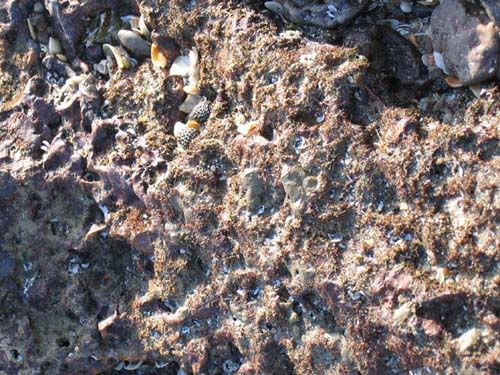 The live seashells
Evening setting
5. Balok Beach:
Another further 5km from Batu Hitam lays an unruffled beach, a paradise for wind-surfing fanatics. Tropical breezes and long stretches white sand blend with the crystal blue South China Sea to make relaxation impossible to resist. Numerous of hotel resorts and chalets can be found here, fronting the long wide of the sea. Every month of January, Balok Beach is the venue of Monsoon Madness Cup, held yearly as part of an International Windsurfing and Kite Boarding Event. According to the board, the event is telecast to an audience of 500 million in 120 countries, attracted more than 40 competitors from 14 countries like Australia, Canada, Finland, France, Hong Kong, Korea, New Zealand, Japan, Singapore, Sweden, Thailand, the United Kingdom, the US and other parts of Malaysia.
The huge bay at Balok Beach, which curves round a wide arc offering over 16km of coast with gentle shelves and no sudden drops or reefs, makes it a safe place to host this extreme sport. Together with consistent cross and on-shore winds of between 10 and 20 knots, Balok makes it the top 10 venues in the world for windsurfing.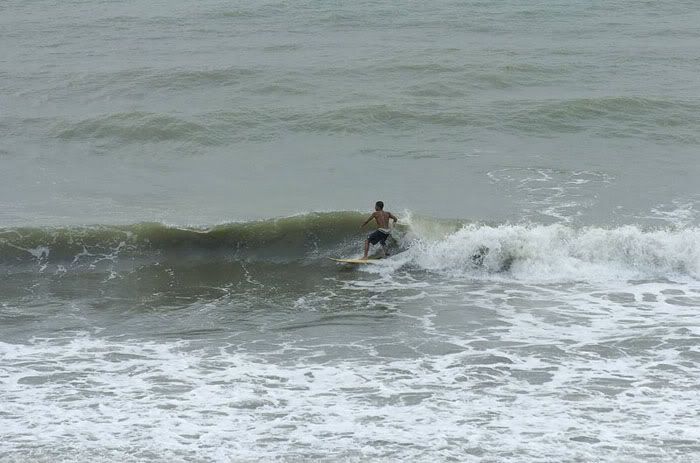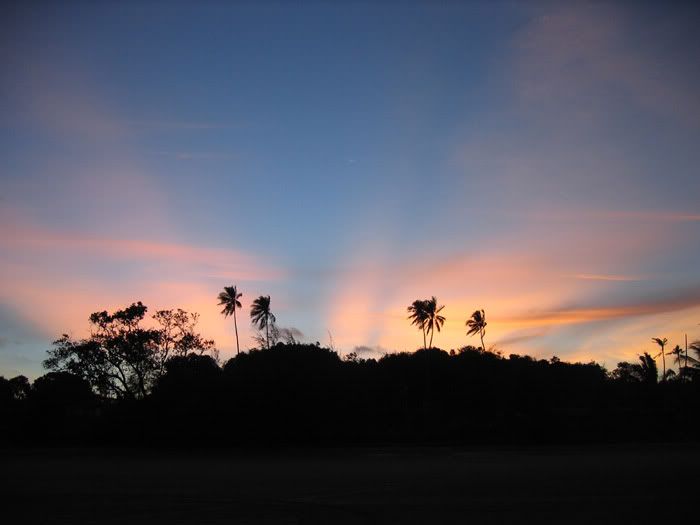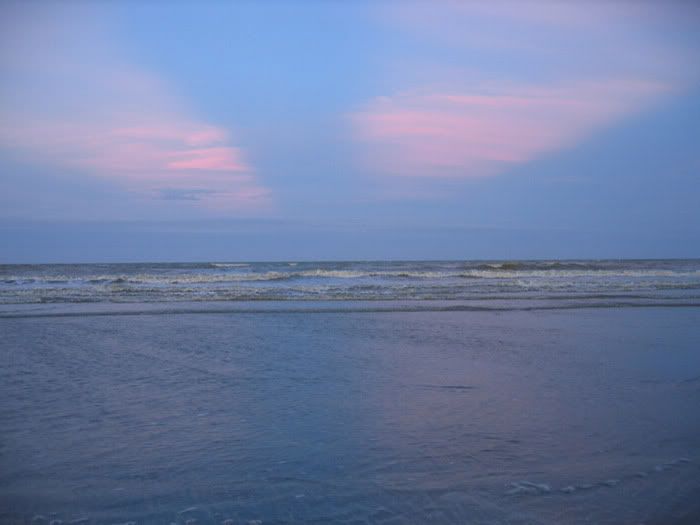 The bustle of city life fades.
6. Tanjung Gelang: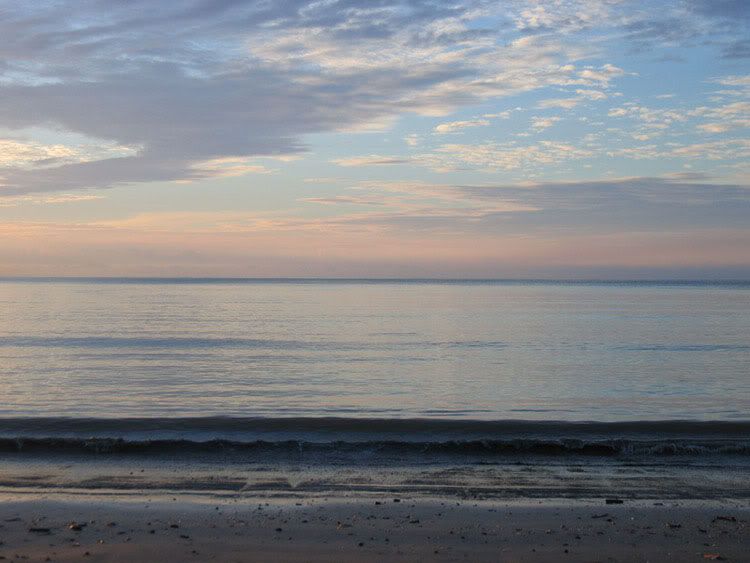 Tanjung Gelang is a scenic spot for a glimpse view of the whole of 16km Balok Beach down to the Beserah Beach. Kuantan Port and the Navy base site are located within the area.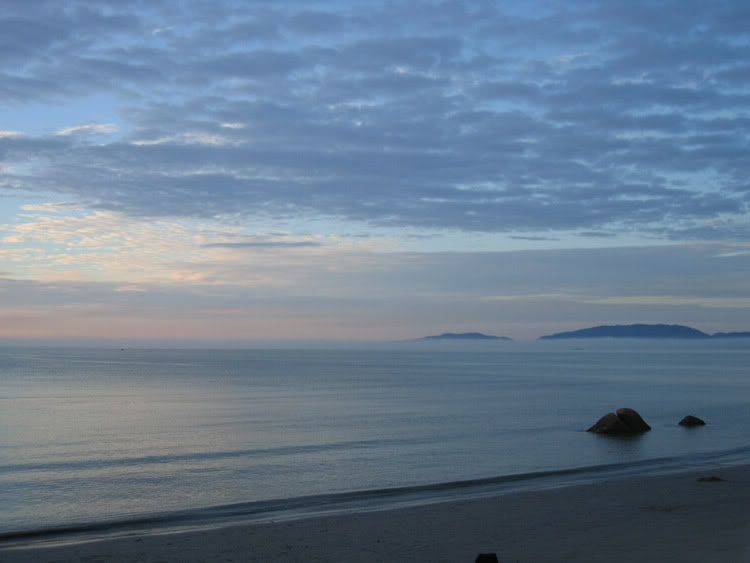 The sights of calm and still moving water in the early morning set in as usual at this secluded landscape.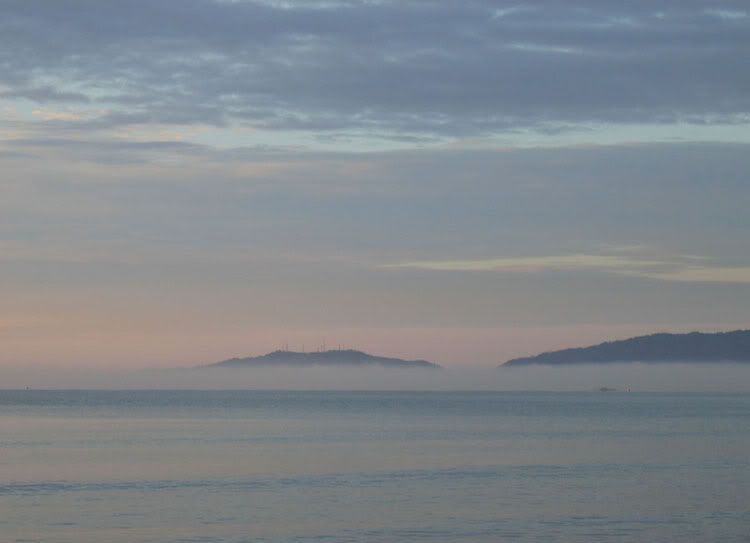 A line of mist envelope part of the sea into the mainland after an earlier storm.
Sunrise at 7am.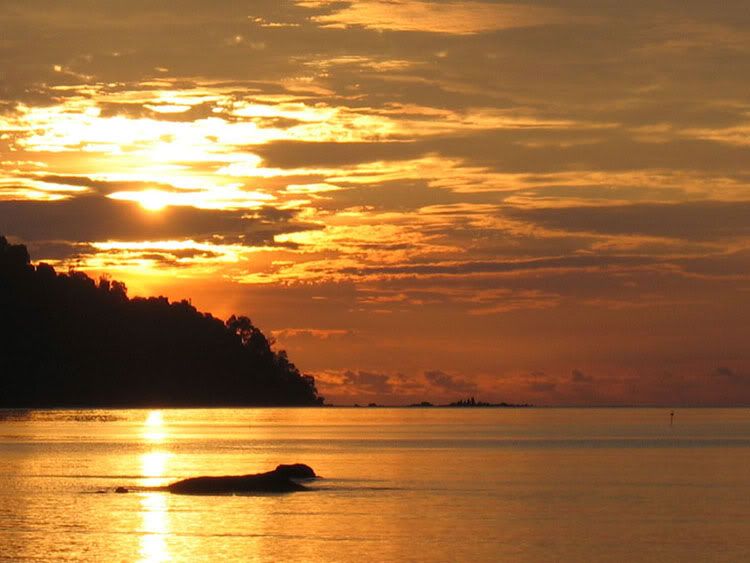 7. Cherating Beach: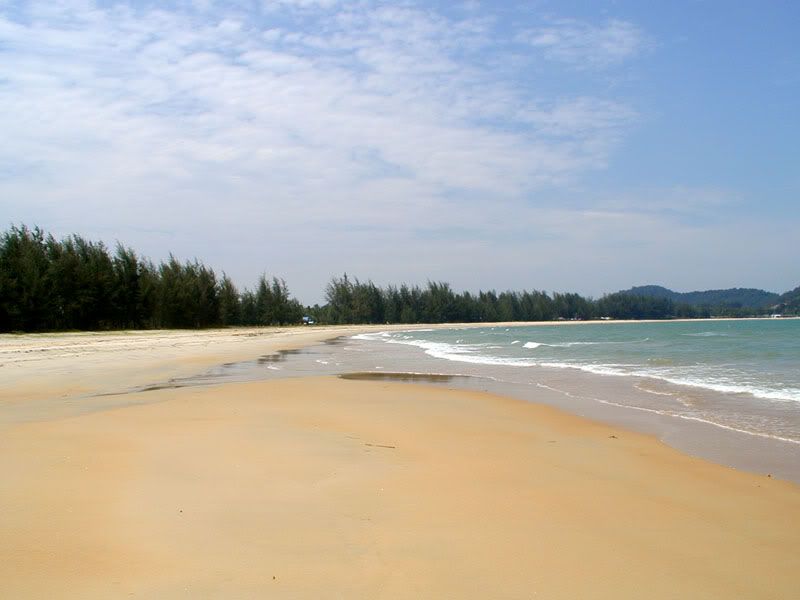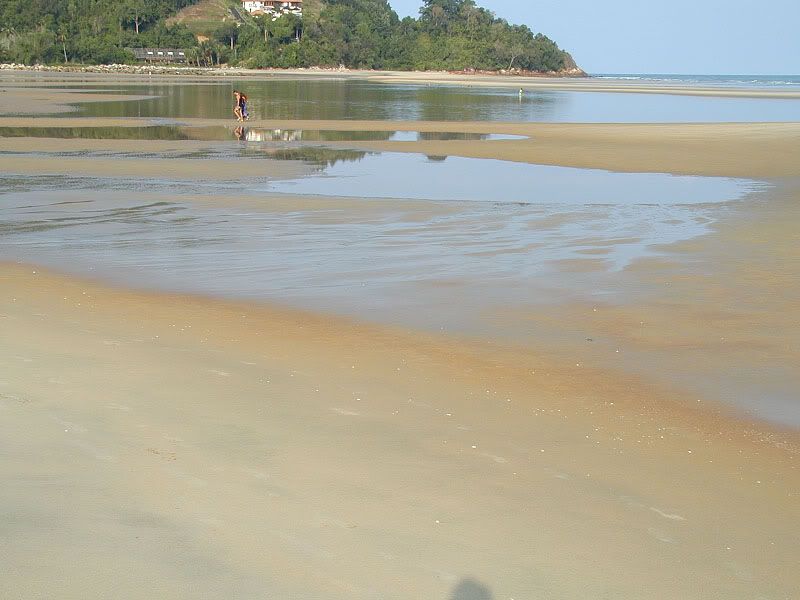 Cherating, about 40km north of Kuantan is perhaps one of the best kept secrets in Southeast Asia. A beach village is, according to one source, "the perfect antidote to frantic city life." How good are the beaches there? Cherating became the home of Asia's first Club Med. And parts of the beach are set aside as one of the world's most important sea turtle sanctuaries. But it is more than just beach that brings visitors to Cherating. Atmosphere is essential to the charm and attraction of Cherating. The actual town is basically a Malay kampung, known as Kampung Cherating Lama. This small village is home to number of budget chalets and straw huts on the beach, mostly operated by locals.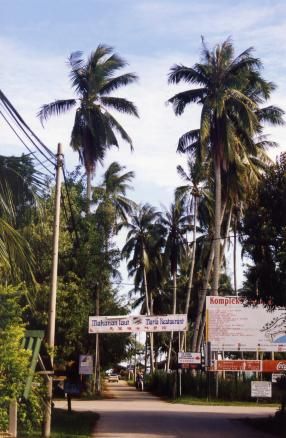 Kampung Cherating Lama
There are a wide range of accommodations available in Cherating. The previously mentioned Club Med is an example of the more upscale offerings. The 200 acre of Club Med Village Cherating feels like a cross between a national park and a spa. Once you step into the village, everything is exclusively for guest use and even the beach is a private beach, guarded at two sides from any intruder.
Club Med private beach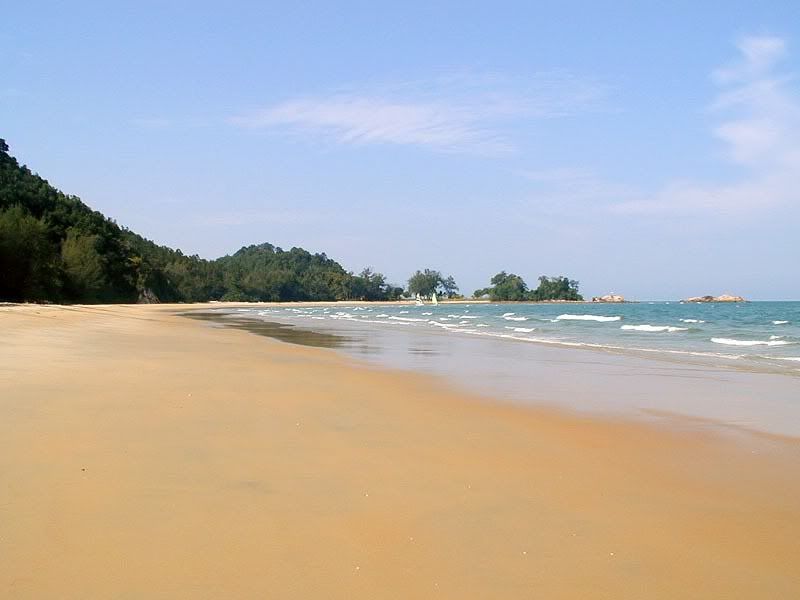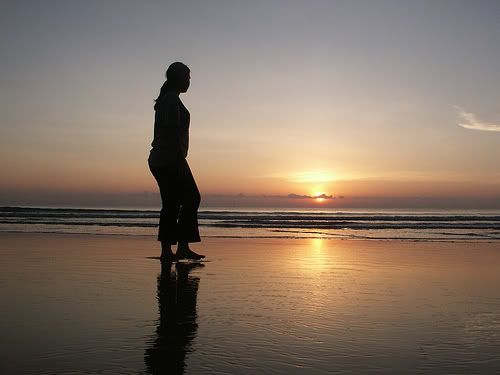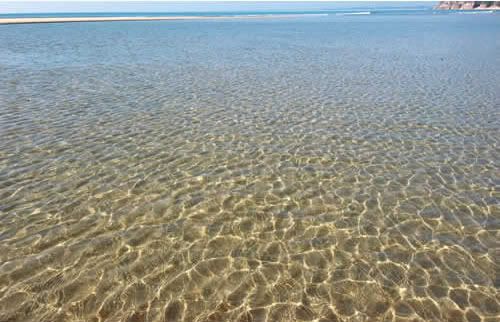 The Resort: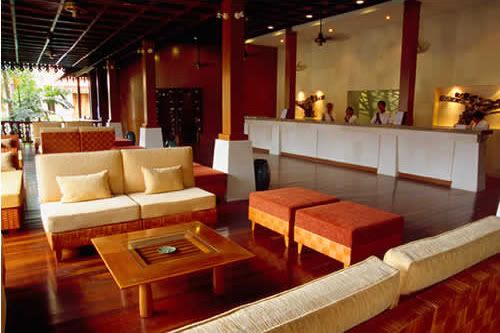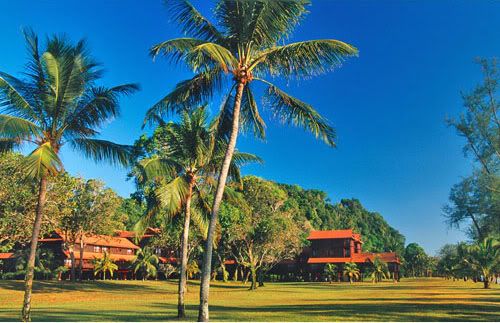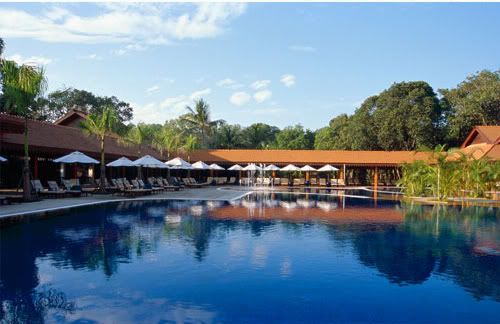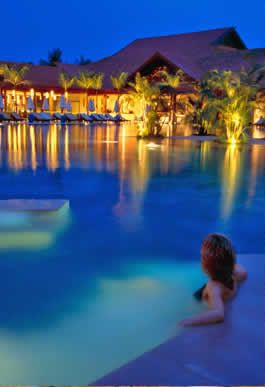 Free amenities/offers for guest:
Villatab, Cherating - A royal villa charging at RM3,500/night.
If you're looking for a particularly exotic place to stay in Cherating, there is a royal posh villa sitting on top of a hill and commands a magnificent bird's eye view of Cherating Bay and 2 private beaches. VillaTab Cherating is so exclusive with only 4 rooms with no other guest sharing the villa during your stay. The villa belongs to Sultan of Pahang's brother. Because the Sultan's brother didn't really use the place much, he decided to start renting it out. The villa includes an infinity-edge swimming pool, a private cove, and access to two speed boats and a jet ski. A party of up to 14 could stay there without much problem.