LA PAZ​
Located in the limits of the Bolivian Altiplano (flatlands) at an average elevation of 3,650 meters above sea level (11,975 ft) - which can vary from 3,000 to 4,000 in the highest areas (from 9,800 to 13,500 ft), La Paz is the highest de facto capital city in the entire world, serving as seat of the Bolivian government.
It was founded by Spanish explorers in 1548, in the place of an Native American settlement, called "Laja". Its full name is "Nuestra Señora de La Paz", which translated from Spanish to "Our Lady of Peace".
The city itself is the second most populated of the country, only after Santa Cruz de la Sierra, while its metropolitan area has 2,3 millon inhabitants, thus making it roughly the largest of the country.
Please remember!
- You have to credit all the photos!
Otherwise this thread may be deleted.
-
How to credit Flickr photos
. Please also credit Google Maps/Panoramio photos, content from Wikipedia, or any picture published by its author in this forum.
Now the photos!
Overview of downtown La Paz at night
Bolivia. La Paz. Una ciudad siempre en peligro ¡
por
César Angel. Zaragoza
, en Flickr
Overview of the city on a winter morning. The mountain Illimani (6,438 m / 21,122 ft) in the back
La Paz
por
markg6
, en Flickr
Lights in La Paz on a cloudy night
Luces en La Paz
by
Ivan Piñero Valdivi...
in Panoramio
Aerial photograph of western part of the city
Originally posted by
COCHALO
in Skyscrapercity (
View original post
)
Originally posted by
Guille76
in Skyscrapercity (
View original post
)
San Jorge neighborhood and the Bridge of the Americas at the left
Originally posted by
alvarin7
in Skyscrapercity (
View original post)
Legislative Palace of Bolivia. Its construction started on 1898 on a previous Jesuitical site, established around 1582
Palacio Legislativo de Bolivia
por
Diego Rayaces
, en Flickr
Palacio Legislativo, La Paz
por
Peter B Davies
, en Flickr
Palace of Government.
The original was finished in 1562, when Bolivia was still part of the Spanish Empire, but got partially destroyed by 1830, so it was rebuilt around 1845. It is commonly called the "Burnt Palace", as it caught fire and nearly got destroyed in 1875.
Fotos de La Paz
por
lncognito
, en Flickr
Metropolitan Cathedral of La Paz
The original, which was located in the exact same site, was finished in 1692. Because of structural damage, it was demolished entirely in 1831. The current one was built in the period between 1835 and 1925.
Catedral Metropolitana, La Paz
por
Martiarena
, en Flickr
Vice Presidency Palace
La Paz - Vicepresidencia de la República
por
Santiago Stucchi Portocarrero
, en Flickr
The Old Town
As most of the cities in the Hispanic America, the Spanish influence is notorious.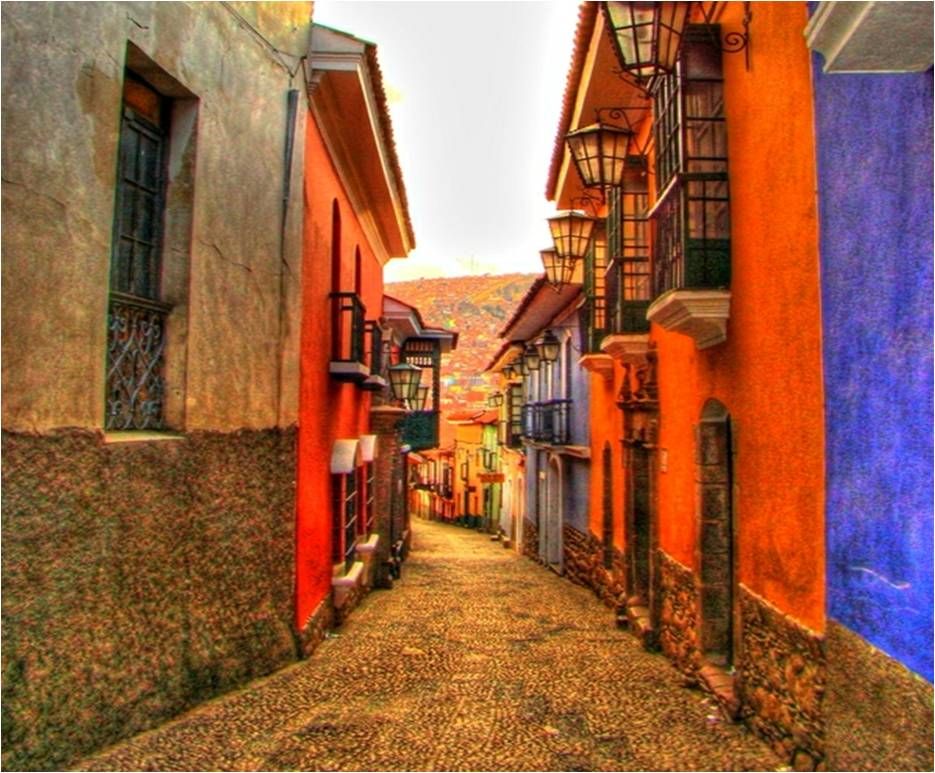 Originally posted by
LaPaz Urbanismo
in Skyscrapercity (
View original post
)
The Illimani
Illimani @ sunset
por
dmbrickman
, en Flickr