MEA offers its customers very luxurious services both on ground and on board, reflecting the Lebanese culture and hospitality.
about
MEA
founded May 1945
Middle East Airlines is the national flag-carrier airline of Lebanon, based in Beirut. It operates scheduled international services in the Middle East, Europe and Africa. It is based at
Rafic Hariri International Airport.
Middle East Airlines (MEA) is a member of the Arab Air Carriers Organization and the International Air Transport Association.
History in brief
In 1945, Middle East Airlines was established and launched its first service from Beirut to the neighboring cities of Syria, Cyprus, Egypt then Saudi Arabia, Kuwait and other destinations in the Gulf. In 1963, after the merger with Air Liban, MEA added new European, Middle Eastern and West African destinations to its worldwide network.
Despite closure of Beirut International Airport during Lebanon's civil war between 1975 and 1990, MEA managed to survive by leasing aircrafts and seconding staff to international airline companies. With the return to normality in 1990, MEA succeeded in reinstating service to all its previous destinations, strengthened and improved its network to Europe, Middle East and the Gulf.
MEA took delivery of its first owned Airbus A330 in June 2008, with its new livery bearing the colors of Lebanese flag, with its elegant style and comfort. A step of major significance was also made when the cornerstone of the Regional MEA Training Center was set at Rafik Hariri International Airport Beirut in December 2008.
MEA's profit improved to US $ 92 Million in 2008, despite the global financial meltdown. The airline carried 1,375,000 passengers. Along with the expansion of the fleet, plans were made for improved frequencies to existing destinations and for the resumption of flights to Berlin and Baghdad, a historically important destination .
MEA welcomed 2009 with the delivery of its first new A320 in January followed by the new A330 in February 2009. Which is the first MEA aircraft to carry a Lebanese registration, OD-MEA, since 30 years. The airline also took delivery of 2 additional Airbus A320s and 2 more A330s, the last A330 was delivered in May 2009.
On the 5th of December, 2009 Middle East Airlines (MEA) general assembly unanimously re-elected Mr. Mohamad El-Hout as Chairman of the national carrier for another three years.
Travel Class
: Cedar Class
|
Economy class
Destinations:
31 ( 27 Full time Desinations and 4 Seasonal Desinations)
Europe:
Larnaca, Paris, London, Frankfurt, Rome, Milan, Athens, Geneva, Istanbul, Brussels,
Berlin, Nice, Copenhagen
The Gulf:
Jeddah, Riyadh, Dhahran, Dubai, Abu Dhabi, Dammam, Kuwait, Doha, Madinah
Middle East:
Amman, Baghdad, Cairo,Erbil,
Sharm el Sheikh
Africa:
Abidjan, Lagos, Kano, Accra , Kinshasa
Seasonal Desinations
MEA has considerd Khartoum and Moscow as possable new desinations.
Fleet
MEA has one of the most modern fleets in the world. Our all-new fleet gives you the world´s most sophisticated cabin and represents the ultimate operational efficiency, extended cabin space and increased flying range.
Large, modern and environmentally compatible - MEA fleet comprises aircraft of almost every size. Throughout, state-of-the-art technology is used.
A330-200
MEA has chosen a spacious layout for its A330, consisting of 44 seats in Cedar Class and 200 in Economy Class.
The A330-200 is powered by Rolls Royce Trent 772 engines each delivering 72,000 lb of thrust and offering one of the lowest operating costs. The aircraft tremendous operating efficiency is enhanced by voluminous under-floor holds.
A321-200
MEA has chosen a spacious layout for its A321, consisting of 31 seats in Cedar Class and 118 in Economy Class.
The A321 is powered by I.A.E. V2533 engines each delivering 33,000 lb of thrust and meeting the stringent noise requirements.
A320-200
MEA has chosen a spacious layout for its A320, consisting of 24 seats in Cedar Class and 102 in Economy Class.
The A320 is powered by I.A.E. V2533 engines each delivering 27,000 lb of thrust and meeting the stringent noise requirements.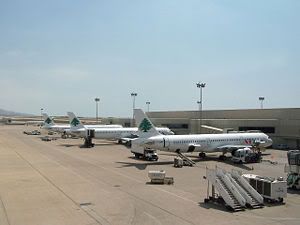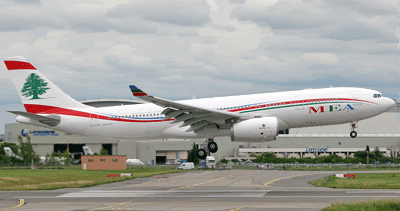 Subsidiaries
Middle East Airlines (MEA) fully owns the following subsidiaries, although they are operated independently.
Middle East Airports Services (MEAS)
Operates and maintains Beirut's Rafic Hariri International Airport from cleaning the rest rooms in the terminal to de-rubberizing the runways.
Middle East Airlines Ground Handling (MEAG)
The dominant ground handling company in Beirut's Rafic Hariri International Airport handling nearly 80% of all customers. Recently launched fixed base operator services from the new General Aviation Terminal under the name Cedar Jet Center.
Mideast Aircraft Services Company (MASCO)
The only fully-fledged aircraft maintenance provider in Beirut's Rafic Hariri International Airport specialized in maintaining Airbus aircraft. The company is PART 145 certified which allows it to carry maintenance on European registered aircraft. Main clients include Cyprus Airways.
CEO
Mohammad El-Hout
IATA:
ME
Code share agreements
Air France
Etihad Airways
Qatar Airways
Saudi Arabian Airlines
Tunisair
Yemenia
SNCF - French National Railways
MEA Internet Check-In
MEA has introduced a new and convenient option for its customers to check-in for their flights via the Internet.
24 to 2 hours prior to the check-in deadline of a flight, MEA passengers departing from Beirut, Paris or Larnaca can now select and secure their preferred seats online, and check-in for their flights from the comfort of their homes, hotels or offices, by logging on to
www.mea.com.lb
. MEA plans to gradually introduce this facility to other destinations across its network in the next few months.
Frequent flyer program:
Cedar Miles
MEA website
:
www.mea.com.lb
Lebanese avaition History
:
http://wassch71.tripod.com/cedarjet1.html
MEA lounge
: Cedar Lounge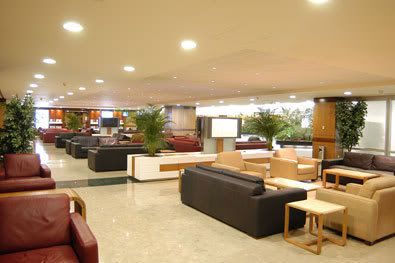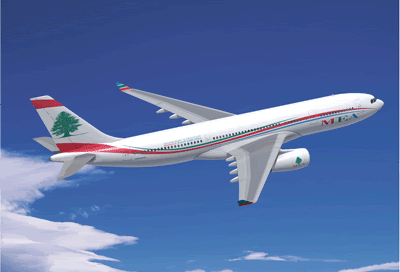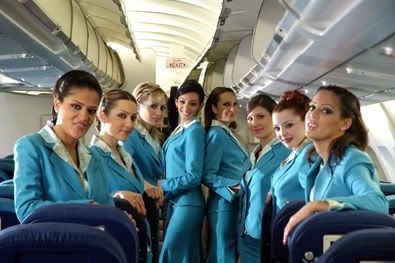 Middle East Airlines training centre
is currently under construction the training centre will conist of the following..
Available space for 4 full flight simulators (starting with an A320 full flight simulator, MFDT,
Cabin Crew Training (Cabin Simulator, Services Mock-up, Ditching and Ground Evacuation facilities)
Aircraft Maintenance Training (CBT, CPT, MFDT and others.)
Commercial Training (Planning, Marketing, Sales, Reservations, Customer Services. Ground Handling).
Information Technology Training
Auditorium (400 persons)
Library
Fully equipped Classrooms
Medical Clinic
Support facilities (Underground Parking for more than 1500 cars, Cafeteria)