I thought this deserved it's own thread.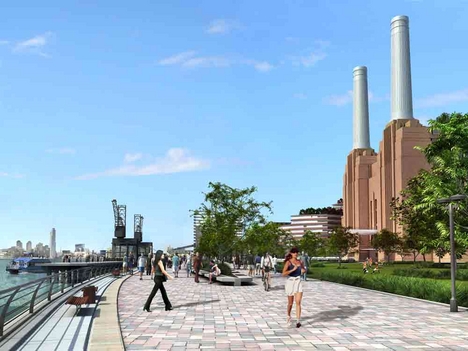 Keep in mind the masterplan won't be submitted until the end of the year, and changes will more than likely be made.
Battersea Power Station set for 300m 'eco dome'

The new owners of Battersea Power Station today unveiled plans to build a 300 metre "eco-dome" next to the London landmark as part of a planned conversion of the entire site that will cost £4 billion and take 12 years to build.

Real Estate Opportunities (REO), the AIM-quoted owner of Battersea Power Station, is proposing that the complex will include new homes, hotel and offices.

REO also plans to use two of the landmark's famous four white chimneys, that have lain dormant for a quarter of a century, to help power the new riverside flats through an energy efficient electricity generator installed in the station's basement.

In the meantime, REO will spend £150 million on keeping what is Britain's largest brick built building from falling down over the next few years while it pushes its proposals through the planning system.

It is unlikely that the scheme, if formally approved, will be completed before 2020.
Rest at link
Some facts:
- Tower is currently planned to be 300m tall
- Construction starting in or around 2012
- Construction completed around 2018-2020
- The roofs of the office blocks will be turned into tropical gardens
- The scheme will be zero-carbon
- The cost will be £4bn ($7.8bn)
- The power station will include flats and a hotel