London Bridge Tower - the "Shard of Glass"
Southwark
Height:
310m |
Floors:
72 |
Architect:
Renzo Piano |
Developer:
Sellar Property Group
Links:
UK Forum thread
|
Official website
|
Renzo Piano Building Workshop
|
Skyscrapernews listing
|
Station redevelopment
Notes:
This landmark tower will be the first building in the UK to break the 1000 foot barrier. It will be nearly twice the height of the Gherkin,
and one of the tallest buildings in Europe.
London's first truly "mixed use" tower, the floors will be divided into a mixture of residential, office, hotel, retail and public space.
Following the terrorist attacks of 9/11, the tower was structurally redesigned to improve stability and reduce evacuation times.
The tower went through a lengthy public inquiry. It was approved by the Deputy Prime Minister, John Prescott, on 19th November 2003.
The total cost of the project is in excess of £1.2bn and includes major refurbishment of the neighbouring train and bus stations.
The tower has two main tenants lined up - Shangri-La Hotels, who will be occupying floors 34-52 - and Transport for London who will
take some of the office space.
Financial issues plagued the tower for years, but were resolved in 2008 when four Qatari banks took an 80% stake
in the project (buying-out both CLS and Simon Halabi). All funding and contracts were subsequently secured.
Current Status:
Under construction!
Click here
for a video of the schedule. The tower is scheduled for completion by May 2012.
Image credit: Chest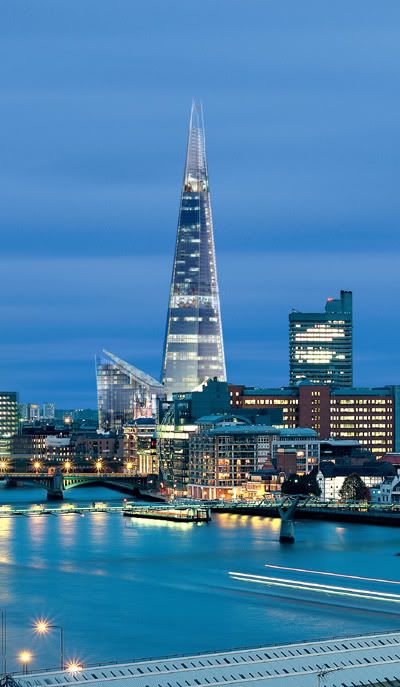 ---
Thread landmarks (Note: these links refer to the UK forum thread)
24th Nov 2006 -
PwC staff informed that they will vacate Southwark Towers
15th Nov 2007 -
Mace chosen to build the Shard
10th Jan 2008 -
CLS Holdings sells stake in the Shard
18th Jan 2008 -
Halabi sells stake in the Shard
22nd Jan 2008 -
Sellar Property Group sets up Qatari consortium to carry out the Shard development
24th Mar 2008 -
'White sheet of death' appears on Southwark Towers
12th Feb 2009 -
Demolition of Southwark Towers structure complete
23rd Feb 2009 -
Mace secures contract to build the Shard
16th Mar 2009 -
Shard officially starts construction
17th Mar 2009 -
First piling rig
18th Sep 2009 -
First steel column
19th Sep 2009 -
Installation of Tower Crane 1
1st Oct 2009 -
Installation of Tower Crane 2
10th Oct 2009 -
First concrete pillars