This tower has been revived. new design: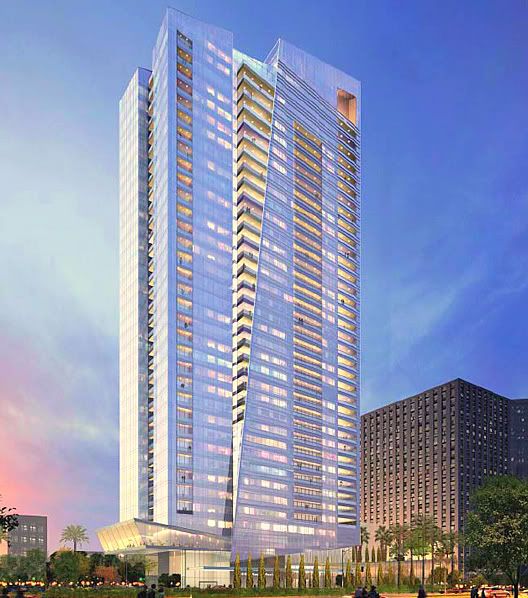 ============================================================================================================
Westfield Finally About to Start on 39-Story Century City Tower
Tuesday, June 26, 2012, by Adrian Glick Kudler

Holy cow, remember Westfield's plans to put up a 39-story tower at Santa Monica Boulevard and Avenue of the Stars, next to its Century City mall? Plans were approved three years ago. But now it is totally on and it's going to have a ground floor Bloomingdale's, reports the LA Business Journal (sub. req.). The mall owner also has plans to add a second story to the mall, with room for more stores and commercial offices, and hopes to start the whole project in late 2012 and finish it up by 2017. The plans call for a 39-story tower with 262 residential units and that Bloomingdale's--that building would replace the Welton Becket-designed 1801 Avenue of the Stars, which some people had hoped to preserve. According to the LABJ, Westfield is offering the office tenants there lease renewals "of only about a year as it readies for demolition."
---------------------------------------------------------------------------------------------------------------------------------------------------------------------------------
Once an interesting design by Jean Nouvel:
Previously as designed by Jean Nouvel:
Aptly nicknamed the "green blade," Jean Nouvel's newest addition to the asphalt laden City of Angels slices through the concrete jungle at 10,000 Santa Monica, adding much needed greenery to the surrounding office towers. Standing 45 stories tall and little more than 50 feet deep, this statuesque green structure is bound to make an sustainable impact that we hope others will follow.
With $400 million going into a mere 177 residential unit, you can be sure that nothing will be spared in the new residence. Each unit will run the width of the building with views from the balconies on the north and the south façade. The narrow units help with energy efficiency but still have plenty of square footage on multiple stories ranging from 3,400 to 9,400 sq feet each. Plans currently show the south side landscaped in natural California foliage, while the north will take on more tropically lush feeling (image above), providing plenty of green those viewing from afar while offering each residence to step out into a re-defined urban jungle. Not just for looks, the greenery will help minimize the heat island effect in LA.
If that's not enough green for you, the residences to Nouvel's tower will get the luxury of enjoying a 40,000-square foot garden at the lobby level. In the larger urban fabric, the plan for the lush "green blade" is to help create more pedestrian friendly traffic in an area known primarily for its office towers, adding a live-work-friendly environment to the occupying CEOs. While the building is only set to reach LEED silver credentials, and the cost to occupy is well out of most of our reach, its good to see that even the most luxurious of residences can't be raised without noting its green colors.
link:
http://www.inhabitat.com/2008/06/05/jean-nouvel-takes-a-green-slice-out-of-la/
MAIN WEBSITE:
http://www.10000santamonica.com/home.html
http://buildinglosangeles.blogspot.com/