Discussion Starter
·
#1
·
Inspired by this thread
Louisville Skyline New View
...here are some vintage shots of the Louisville Skyline pretty much as I remembered it when my folks moved there in 1971. These are from April and May of that year and we moved there in June or July.
It's sort of fun to compare the two pix from the south, to see how much has changed. Also an opportunity to show how the skyline grew, or didn't grow, through most of the middle 20th century...and then just took off starting in 1971.
looking north/northwest...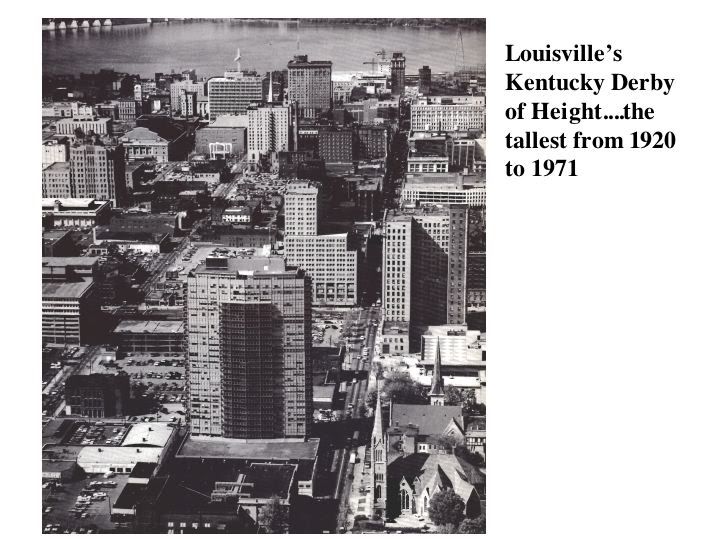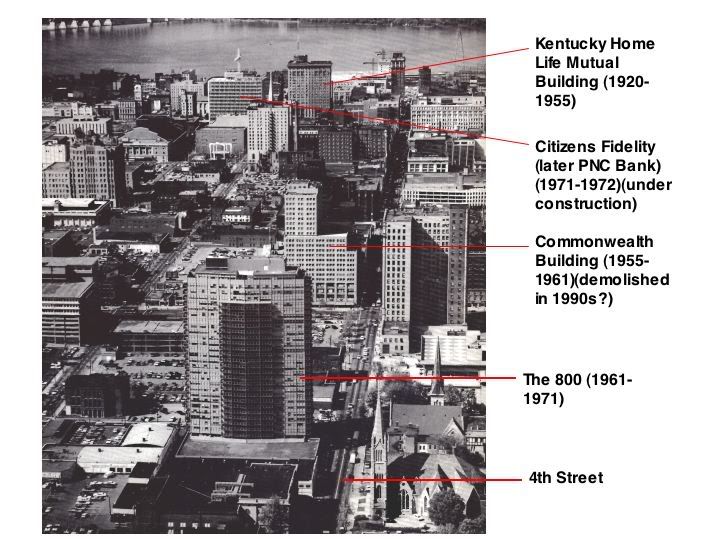 A close up of the "Magic Corner", which was the culmination of the extension of downtown southward to Broadway, mostly built in the 1920s, except for the Commonwealth Building, which was sort of stripped Art Deco design built in
1955
! The Commonwealth orginally had a beacon light on top (like the Palmolive Building in Chicago), but that was turned off due to complaints from people in Floyds Knobs. When it was operating, with this beam of light sweeping over the city, it must have given downtown the feeling of a Hollywood premier.
The Commonwealth was topped by the snazzy lozegne shaped 800, a block a way..that buidling would look great on Lake Shore Drive, too...a relic from the "lounge era" of the bachelor pads and the Rat Pack.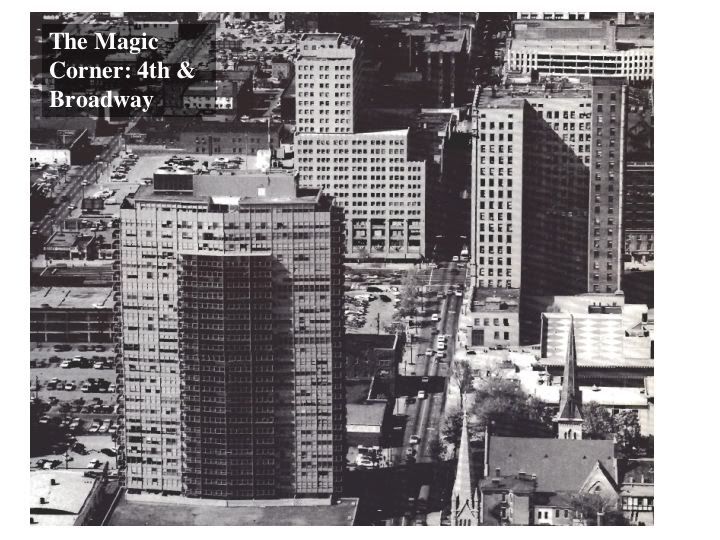 An early concept of The Magic Corner, looking east on Broadway. The Heyburn Building on the right, Brown Hotel on the left, and a more obvious deco-esque version of the Commonwealth Building on the lower left.
The Heyburn Building
The Brown Hotel
And looking towards the river..the PNC Bank, at that time called Citizens Fidelity, was just going up. This was the firs really tall building in the city, but it stayed the tallest only for a year. Also, the venerable Kentucky Home Life Mutual Building...the tallest from 1920 to 1950. There is a radio tower on top, too. And the construction along the riverfront..the culminatioon of a decades worth of planning and aborted projects to "return to the river"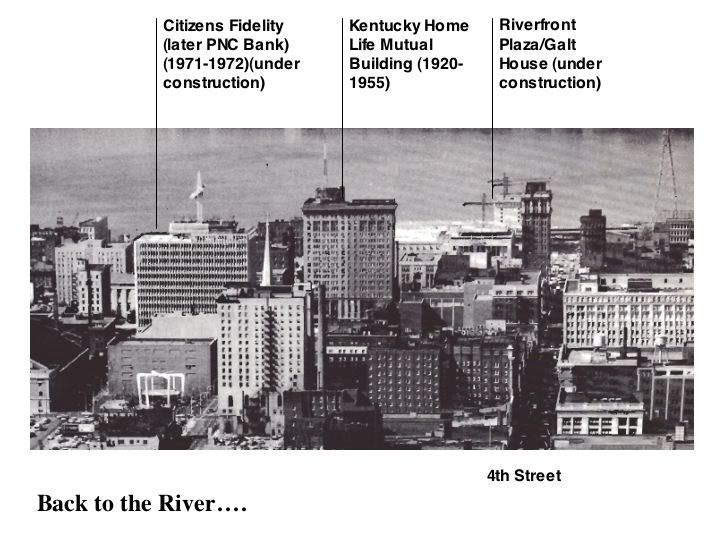 Another view of Louisville..the Kentucky Home Life Mutual buidling was called the Inter-Southern Insurance Building back then, and it towered over the city for 35 years as the tallest.
...another modern view of this venerable skyscraper (with a fabulous vaulted banking hall inside)
And back to the river...Looking north from the river. The L-shaped (from the rear) Kentucky Home Life Mutual Buiding is still the tallest thing south of Walnut Street, but the new construction for the Galt House, Riverfront Plaza, Belvedere, and so forth, foreshadows a new era for downtown Louisville.
PNC Bank/Citizens Fidelity was still under construction (designed by LA architect Welton Beckett, who did Century City), but it would tower over everything else in Louisville, at least for a year