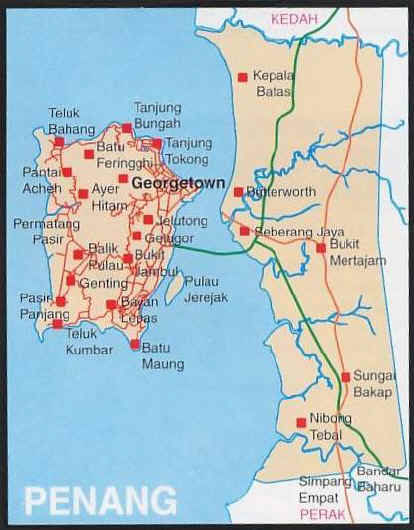 The state is geographically and administratively divided into two sections:
-
Penang Island
: an island of 293 square kilometres located in the Straits of Malacca; and
-
Seberang Perai
(used to be known as Province Wellesley): a narrow hinterland of 760 square kilometres on the Malay peninsula across a narrow channel whose smallest width is 4 km (2.5 miles). It is bordered by Kedah in the north (demarcated by the Muda River) and east, and Perak in the south.
The body of water between Penang Island and Seberang Perai is the North Channel to the north of George Town and the South Channel to the south of George Town. Penang Island is irregularly shaped, with a granitic, hilly and mostly forested interior, the highest point being Western Hill (part of Penang Hill) at 830 metres above sea level. The coastal plains are narrow, the most extensive of which is in the northeast which forms a triangular promontory where George Town, the state capital is situated. The topography of Province Wellesley is mostly flat.
Butterworth
, the main town in Province Wellesley, lies along the Perai River estuary and faces George Town at a distance of 3 km (2 miles) across the channel to the east.