FC Dynamo Minsk
8x Champion:
1982 (USSR), 1992, 1992/93, 1993/94,
1994/95, 1995, 1997, 2004 (Belarus)
3x Cup Winner:
1992, 1994, 2003
Dynamo stadium redesign contest winners chosen
Three winners of the contest to choose designs to remodel the Minsk-based stadium Dinamo have been chosen. BelTA has learned that the German company GMP International Gmbh Architects and Engineers is the top contender. It is followed by Creative Workshop of Architect Shkolnikov and the team of P.I. Avsyukevich and S.A. Sabetskaya. More details will be provided by the Architecture and Town Planning Committee next week. More details will be provided by the Architecture and Town Planning Committee next week.
The open architectural contest to work out the design (the concept) for rebuilding the Minsk-based stadium Dinamo was announced on 10 November 2012. It was arranged by the Minsk City Executive Committee with assistance of the National Olympic Committee, the Sports and Tourism Ministry, the Belarusian Union of Architects, the Belarusian Football Federation, and the group of companies Triple. A total of 20 applications have been submitted, including applications from foreign companies.
The contest is meant to nominate the most interesting architectural solution for the country's key stadium, which unites classic architecture of the 1950s and modern architecture. The national football stadium is expected to have a football field with natural grass, automatic watering and heating, seats for 40,000-41,000 people, including 500 VIP guests and 200 mass media guests, and a press center. All the seats should offer good visibility and comfort for viewers. The design has to take care of such matters as security, emergency exit, buffet organization, toilets and medical service, locker rooms for football teams, referees with the necessary infrastructure, artificial light systems, voice and visual information delivery systems, advertising. The design has to be compliant with all the FIFA and UEFA requirements for fourth-category stadiums.
As an option the architects can use the space under the stands to place an underground parking lot for 300-500 cars and 3-4 buses, a cafe, restaurants, bars, souvenir stalls, shops. The space under the stands can also be used to house sport gyms.
Reviewing the submitted designs, the organizers evaluate the originality of the idea, the compliance of the design with the terms of the contest, the cost of the design implementation, the effectiveness of using the space and the infrastructure, the quality of the submitted graphic materials.
source
Winner GMP International GmbH (Germany)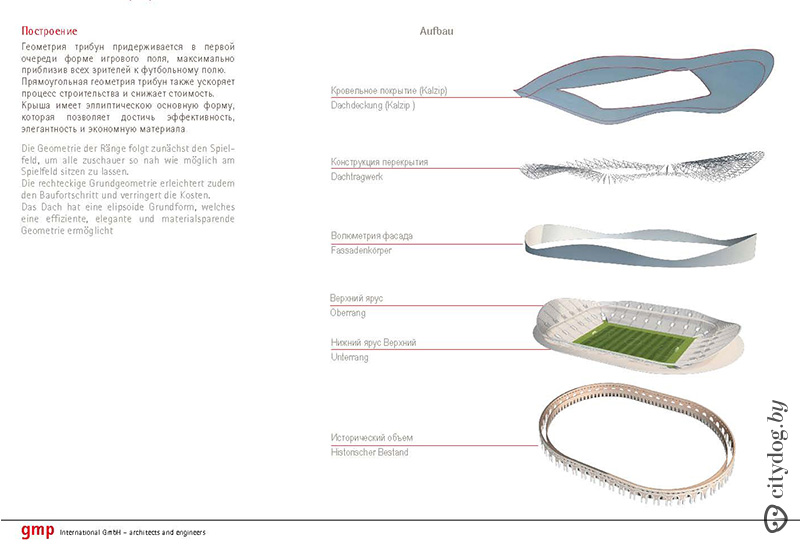 source
New Project
Stadium before reconstruction: