The idea: to get good examples on integration between different transport modes in modern way. More presicely the cases where there has been junction but no station. I mean such places like rail over rail, rail over road or vice versa where is train station built. I think one example could be Secaucus Junction in New York.

I want to promote to build train station to place where railway goes over major road served by important trolley/bus lines to several locations. At now there isn't any stop for trains but it would add lot's of benefit's to PT users.
Zürich Hardbrucke is a nice example. A busy overpass, with two trolleybus lines (offering about a bus every 3 minutes). The trains station has three platforms with four tracks, and you can get from each platform to each bus bay directly. A transfer from bus to train only takes a minute or os:
So I would like to see examples from around the world. Links to pages in different language than English are welcome. If possible please add station layouts and of course data like main arguments for building, budget etc is welcome. Also please add if you know some good examples how
shopping is integrated to home/work commuting(railway stations as shopping centers).
Tight integration of different transportation modes and functions in one transportation hub is the norm in many places around the world. Japan probably has the best examples. But you'll find that most railway stations in countries like Switzerland or Germany are integrated.
A small example of a rural station in Switzerland: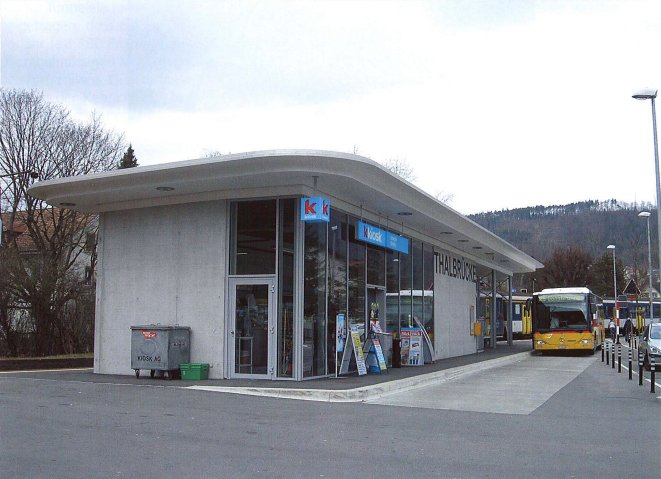 Trains stop every half hour in both directions. It's a single track line, so just one platform for trains, behind the building. You can just make out a train leaving in the back. In front of the building is the bus bay. Bus schedules are coordinated with the train schedules, with a connection time of only a few minutes. In the building is a convenience store and a news agent.
The main railway hubs in Switzerland hacve now all been rebranded "railcity" and form integrated transportation hubs with lots of shopping facilities.
Bern main station for example:
In the middle the mainline tracks. Below that platform access, shops (including two grocery stores) and a suburban railway station. On top more shops and a bus station, and a big car park.
The tram stops in front.
This form of integration is the norm in Switzerland. What is also the norm is tariff integration, so when changing modes you don't have to buy a new ticket first.