Discussion Starter
·
#1
·
This thread is dedicated to upcoming/proposed projects in Mississauga. Here are a few recent proposed developments to get us going:
--------------------------------------------------------------------
Gordon Woods Condos and Townhomes - Edenshaw Developments Limited (36 & 22 storeys)

Summary:

Edenshaw Developments Limited has proposed a mixed use development which includes two high-rise towers and a 6 story podium, containing retail units, fronting Hurontario with low-rise townhouses along Grange Drive. It has been designed as an iconic landmark to act as a marker both during the day and at night. The proposed towers are 36 storeys and 22 storeys in height with the north tower being taller and closer to Hurontario and the south tower being lower and significantly setback minimizing the overlap between towers; designed to provide a visual break reducing the bulk of the building and also reducing the impact of shadows on adjacent lands.
A well landscaped multipurpose courtyard with pedestrian and vehicular access from Hurontario serves as the heart of the development and is the focal point around which the building components are arranged. Access to the underground parking for residences is discreetly located past the courtyard at the north end of the site.
The 3 story Townhouses fronting Grange Drive are back-to-back with units on Grange which are wider than townhouse developments to the south and narrower townhouses facing inward to the courtyard. Parking for the townhouses will be provided below grade with an elevator and stairs leading to a common corridor to provide townhouse residents' access to their units at grade level.
Specs:

2130 Hurontario St, L5B 1M8
$55,000,000 est
Note: Owner has submitted applications for both official plan amendment and rezoning approval. Schedules for design, tender and construction are not known at this time. Further update fall 2012.
Project: proposed development which will include 22-storey and 36-storey condominium apartment buildings containing 559 residential units connected by a 6-storey podium as well as 20 townhouse units in two blocks.
Scope: 36 storeys; 3 structures; 579 units
Development: New
Category: Apartment bldgs; Retail, wholesale services
--------------------------------------------------------------------
6/8/10 Ann Street - FRAM Building Group (22 storeys)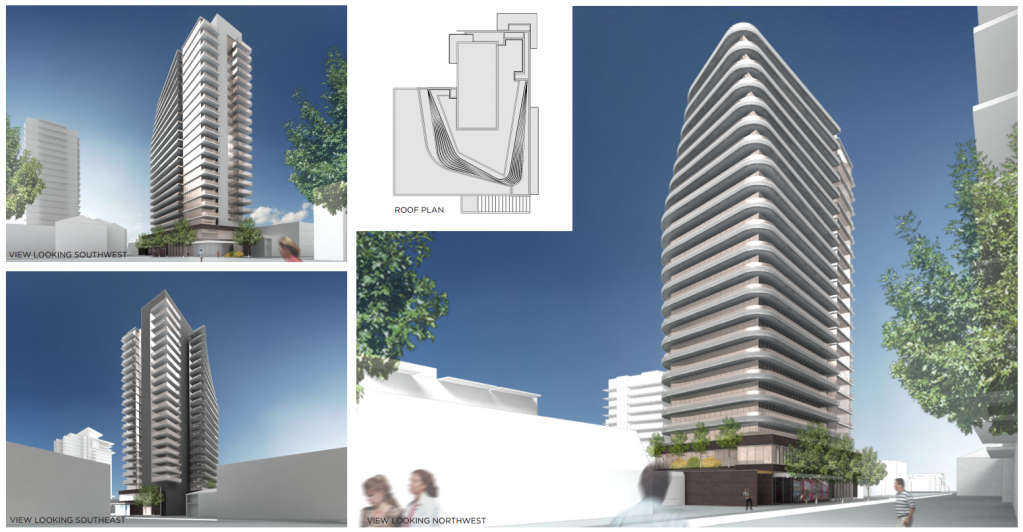 Summary:

FRAM Building Group has made an application to redevelop the site at 6-8-10 Ann Street to include a 22-storey condominium residence with 140 units, ground level retail and second floor commercial / office use.
The proposed condo building would occupy the area of the present attached residence at #6 Ann Street (with swimming pool) behind the Funeral Home and the adjacent parking lot at #8 Ann Street. In addition, the property on the NE corner of the block (house at #10 Ann Street at High Street) is included in the proposed redevelopment.
Specs:

4-10 Ann St, L5G 3G7
$21,000,000 est
Note: Owner has submitted applications for Official Plan Amendment and zoning By-Law amendment. Schedules for design, sub trade tender, and construction will be finalized pending approvals. Further update fall 2012.
Project: proposed construction of a 22-storey condominium building containing 140 units and retail at the ground level.
Scope: 22 storeys; 140 units
Development: New
Category: Apartment bldgs; Retail, wholesale services