Hello, distant neighbors
I'm surprised that my hometown doesn't have a proper presentation on the Slovenian forum. I'll try to change that in future. I hope you won't mind that I'm writing in English (of all south Slavic languages, the Slovenian is the only one that I'm having difficulties in understanding).
Let me start with short introduction of the city of Skopje:
Skopje
(Macedonian:
Скопје
) is the capital and largest city of the Republic of Macedonia. It is the country's political, cultural, economic, and academic center. It was known in the Roman period under the name
Scupi
.
Skopje is located on the upper course of the Vardar River, and is located on a major north-south Balkan route between Belgrade and Athens. It is a center for metal-processing, chemical, timber, textile, leather, and printing industries. Industrial development of the city has been accompanied by development of the trade, logistics, and banking sectors, as well as an emphasis on the fields of culture and sport. According to the last official count from 2002, Skopje has a population of 506,926 inhabitants; according to unofficial estimates for more recent period, the city has a population of around 600,000 inhabitants.
Map of Skopje's municipalities
Skopje is located in the Skopje statistical region of northern Macedonia, in the centre of the Balkans, approximately halfway between Belgrade and Athens. The Vardar River, which originates near Gostivar, flows through the city then flows south passing the border into Greece and eventually flowing into the Aegean Sea.
The city covers an average length of 23 km from east to west and 9 km from north to south. Skopje is located at an elevation of 225 m above sea level.
Let me start with a panorama of Skopje (not full panorama, on the picture you can see only 70% of the city). The picture is taken from the mountain Vodno. The highest point of the mountain is at Krstovar peak, on 1066 metres. In 2002, on Krstovar peak the Millennium Cross was built, the biggest christian cross in the world with height of 66 meters.
The Millennium Cross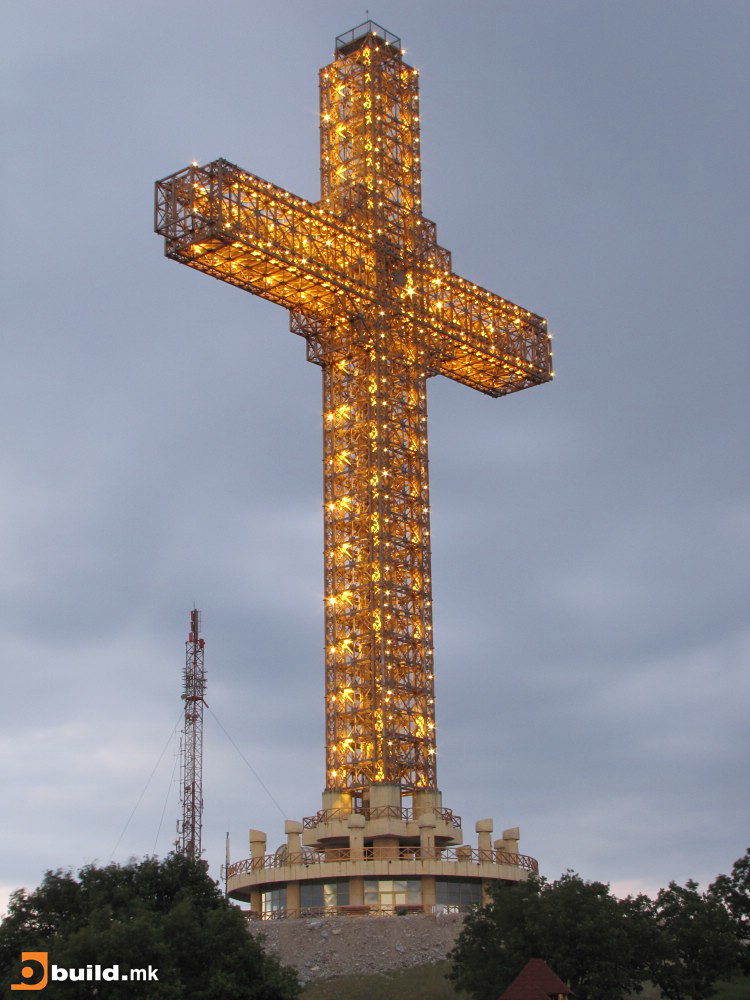 There is a ropeway from the middle of the mountain Vodno to the Millennium Cross. The ropeway includes 28 regular gondolas for eight persons and two VIP gondolas for four people. The route is 1,750 meters long, with the ride lasting 6-8 minutes.