Apollo hospital opens tomorrow
http://www.apollodhaka.com/
Apollo hospital, the first of five joint venture hospitals being set up in the capital by leading overseas healthcare enterprises and their local partners, opens tomorrow.
Located at Basundhara, the hospital will however take a few more days to open its doors to patients on some medical rounds.
Richard Larison, chief executive officer of the hospital, yesterday told reporters, "We have a mission to improve the standard of healthcare facilities in Bangladesh by transferring technology and training Bangladeshi doctors." Many eminent Bangladeshi doctors working abroad are coming back home in response to invitation from the hospital, he added.
The hospital, built on a 400,000-square-foot area, will be the largest commercially run healthcare provider in Asia. Funded by local business group STS Holdings and managed by American, Indian and Bangladeshi staff, the 10-storied hospital will be the largest of 37 hospitals of India's Apollo group.
The hospital will start with 150 beds but will expand to 450 beds.
It will be equipped with most modern technology in healthcare sector and also have a helipad.
The hospital management plans to set up a nursing institute by September this year and a medical college later.
http://thedailystar.net/2005/03/29/d50329011918.htm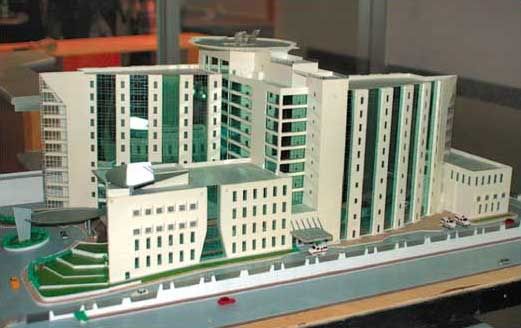 http://www.apollodhaka.com/index.htm