Discussion Starter
·
#1
·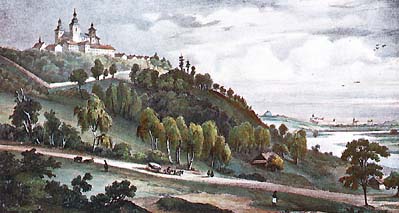 * Monastery of the Cameldolite Brothers on Srebrna Gora (Silver Mount) in Bielany, near Krakow was built by the Great Marshal of the Crown Mikolaj Wolski, with the crest " Polkozic". For almost a hundred years (since 1604) the monks have lived here as hermits, following the principle "Ora et labora" (Pray and work). A large architectural complex, including the great church, is ranked among the most precious jewels of the late-Baroque style in Krakow and not only here.
* Two significant elements of monastic architecture, connected with the hermit style of life make the monastic life of the Cameldolites distinctly different from the Benedictines.
The first is that hermits live in small houses, as they have chosen a life in seclusion, entirely devoted to God.
Another feature is the wall which encircles the area of the monastery on Srebrna Góra, covering 11 hectares. This particular type of seclusion is called "the papal enclosure" and includes the prohibition from the entering to the hermitage area by women. Also, the hermits are not allowed to leave the hermitage without special permission. These rules offer the best conditions for a fruitful life of hermit in a monastic community.
* The life behind the walls of the monastery is organized in such a way so as the hermits were entirely devoted to the glory of God.
The entire agenda of the day is aimed at the best implementation of the Benedictine motto "pray and work", based on centuries old traditions and special Cameldolite ascetic practices, which the monks compare to the soil, cultivated for many years to bring about the spiritual fruition .