outdated. to be updated soon.
Russian version is up-to-date.
The Moscow International Business Center
- Facts and Figures
Map of plots
images
Plot 0a. Bagration Bridge. A pedestrian bridge with mall. Completed in 1999.
Plot 0b (27). Tower 2000. 106 meters 30 storeys office building, completed in 2001.
images
Plots 2, 3.
Wedding Palace
. 46 storeys tall tower designed by RMJM.
image
Plot 4.
Imperia Tower
. 60 storeys tower. Around 235 meters tall. Construction began in 2002 and suspended in 2003 due to changing of owner. Then restarted after redesign in 2006. Designed by nbbj, developer is ENKA.
image
Plot 9.
City of Capitals
. Concept of two towers. 287 meters 73 storeys and 243 meters 62 storeys towers on 18 storeys podium and 76 meters 18 storeys tall additional building. Construction of the complex has began in 2003. Suspended shortly after beginning for redesign and resumed in 2005. The complex is planned to be complete by 2008. This project is architected by nbbj. Owner is Capital Group. Developer is Bovis Lend Lease.
images
Plot 10.
Naberezhnaya Tower
. Project of Turkish ENKA provides three blocks. Block C is 252 meters 56 storeys for offices and residential apartments. Block B is 127 meters 27 storeys and block A is 85 meters 17 storeys for offices. Construction of block A completed in 2004. Block B has been completed in 2005. Block C is expecting to completion in 2007.
image
Plots 6, 7, 8.
Central Core of City
. An over 550 000 sq. m. The central core is consist of Four Season mall, 4 metro stations and underground parkings. Underground part was completed in 1999. One metro station, Delovoi Center on Filyovskaya line, has been opened in 2005. Construction of on ground part has begun in 2005 and expected to be completed by 2007.
mall picture
Delovoy Center metro station pictures
Plots 11, 32a. Those plots will have exits from the Mezhdunarodnaya [International] metro station (Filyovskaya line). The station is opened in 2006. Currently there is an exit to 32a plot only.
pictures
Plots 11, 32a.
Terminal
. A mixed use complex of 3 towers. 167 meters 39 storeys and 124 meters 29 storeys office towers, and 61 meters 17 storeys hotel tower. Partially built. The complex will be the central station for all IBC rail transport. Metro stations, railway station for airport lines and possibly the IBC monorail.
images
Plot 12.
Eurasia
. 305 meters 67 storeys tall skyscraper. Construction began in 2004 and supposed to be completed in 2008. Designed by Swanke Hayden Connell Architects. Owner is Techinvest. Developer is Mos City Group.
images
Plot 13.
Complex Federation
. The complex provides construction of two towers on one podium. The East Tower is 448 meters 93 storeys and the West Tower is 242 meters 62 storeys. East Tower will be first supertall in Europe. Construction began in 2003. West Tower will be completed in 2007. East Tower in 2008. Owner: Mirax City. Developer is Mirax Construction.
images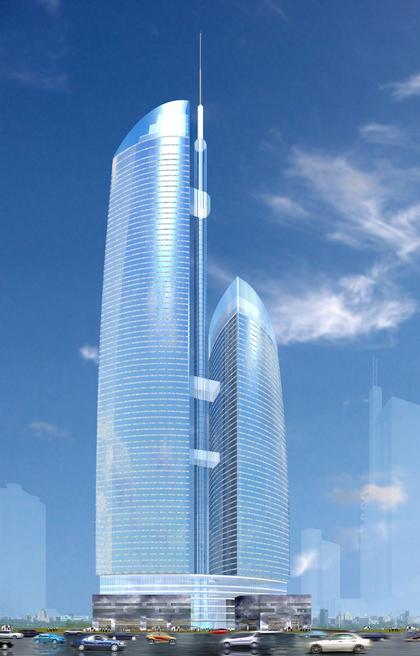 Plot 14.
Mercury City Tower
380 meters 70 storeys tall tower. Construction has begun in 2005 and expected to complete by 2008. Owner is Mercury City Tower. Architected by International Center of Highrise Development (Mikhail Posohin, Frank Williams and G. Sirota).
image

Plot 15.
City Hall and City Duma
. Complex of four 308 meters 71 storeys supertalls with connections between them. Works on the plot began in 2005 and expecting to finish in 2008. Owner is Moscow Government.
image
Plot 16.
70 storeys tall tower
and 4 levels parking for 4500 places. The project is Planned by Tech-invest, Mirax Group and the CITY.
Plots 17, 18.
Russia Tower
. Project of 612 meters 118 storeys tall landmark tower designed by Norman Foster. Owner is ST Towers. Developer is Moscow Development Company.
images
Plot 19.
Northern Tower
. 27 storeys tall tower. Construction began in 2004 and is planed to finish in 2007. Owner is Severstal'trans. Architected by Project Institute 2. Developer is Strabag AG.
renderings
Plot 20.
CITY
. 54 storeys 228 meters tall tower of CITY company.
Plots 21, 22. No information about.
Plot 23. No information about. Early Mirax Group has had a vision for ultratall building.
images
Plots 24-35 and VI. No information about.
Plot VI-1,2,3. Boulevard on Tarasa Shevchenko Embankment.
Plot VI-2,3. Complex on Tarasa Shevchenko Embankment.
Area of Moscow IBC is 100 hectares.
Planned to build more than 3,5 million meters of floor area.
The enire project of business district called
Big City
.
updated: 23.12.2006
(uncompleted yet)