Discussion Starter
•
#1
•
So, I finally managed to get my hands on renders of the proposed N2/N3 Spaghetti Junction upgrade, and thought it deserved its own thread given its iconic status as Africa's first 4-level interchange.
As has been previously announced, the upgrade will involve an arch support and cost in the region of R2.5-billion. There's currently no timeframe on this project as various costing models are being considered, but it seems likely SANRAL will focus on this once the Umhlanga Interchange is completed (or hopefully sooner, given the major traffic jams and accidents that happen at this interchange). Regardless of when this will commence, this interchange will look amazing when done (hopefully before 2022)!!! :cheers:
Here's a 2014 media report quoting the SANRAL project manager attached to the project...
--------------
...Project manager, Ravi Ronny has added that plans to upgrade the EB-Cloete interchange, which is part of the N3, are also in place.
He says an arch-structure would be created over the four-level interchange to accommodate additional lanes.
Ronny says the structure alone will cost in the region of two to R2.4-billion, highlighting that funding remains an issue.
"Part of the whole N3, between Durban and Pietemaritzburg, as I said the initial coast for the phase one which is we need to do in the next five years, how we'll be able to fund this thing because the substantial capital will be required because of the type of projects they are.
"And we think government needs to make the decision whether we can get some funding from national treasury or all of the funding or no funding and whether the user pay principle, you know with the toll plazas, whether that's an option," he said.
Ronny has been speaking at a media round table discussion in Durban.
More here:
http://www.ecr.co.za/post/r15bn-needed-to-upgrade-n3/
And... here's some renders, from Ronny's presentation...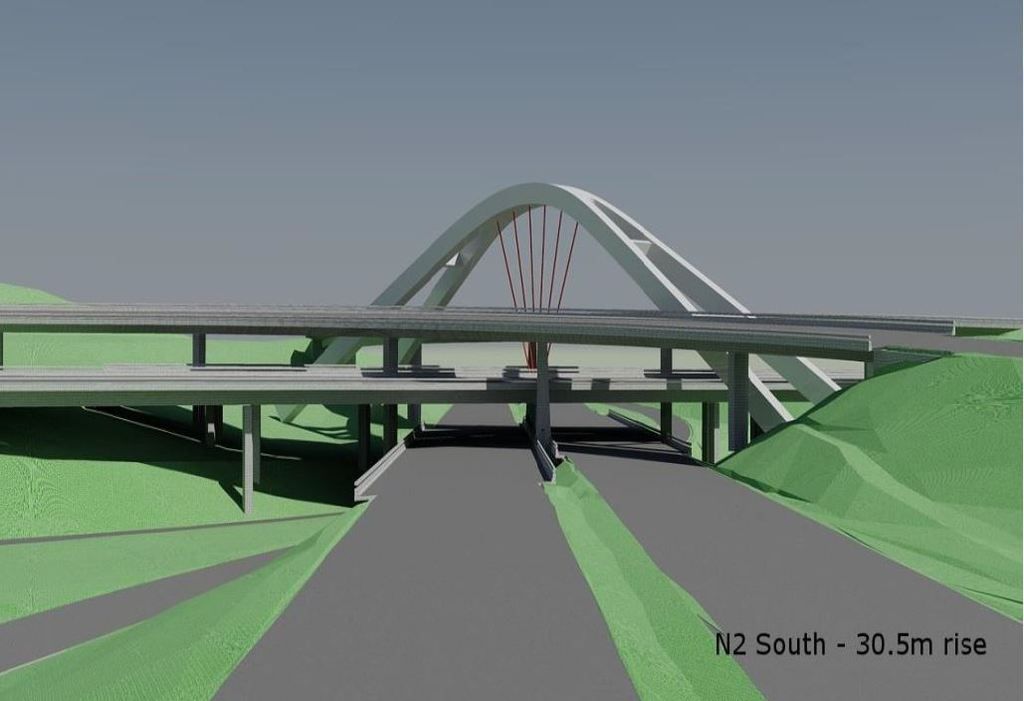 Source:
www.projectmanagement.org.za/resource/resmgr/ravi_ronny.pdf