Discussion Starter
·
#1
·
Nakhon Ratchasima
(often shortened to Khorat or Korat) is a town in the north-east of Thailand (Isan). It has a population of 427,492, an area around 855 sq.k.m., and is the third-biggest city in Thailand. Nakhon Ratchasima is also capital of the province Nakhon Ratchasima.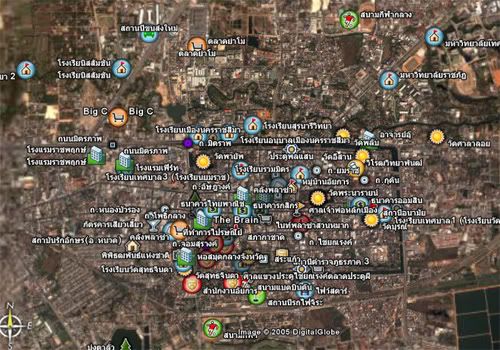 Beautification Korat project
Project Details - Translation by the Korat Post 29 April 2006
Municipality Project - Beautification of Thao Suranaree Park
Includes stage acting area, watercourse and falls pool
Construction contract 19.555 million Baht
Contact municipality at 044-242959
Construction contractor: Wongse Sin Thai Co. Ltd.
201 Mutraphap-Nong Khai ?Highway, Baan Koh
Meung District, Nakhonratchasima 30000 Tel. 044-276146-7
Contract signed on 29 March 2006, completion date 29 November 2006.
Total duration 240 days.
Actual date of construction began 20 April 2006.
Yianko Co., Ltd. Architects, Planners, Graphic Designers
New Stadium for the 2007 SEA Games project
On 24 February 2006, northeast Thailand's Nakkhonratchasima provincial authorities met to discuss the 2007 SEA Games schedule, and progress on the province's under-construction 77 $US Million sports complex. Presided over by governor Somboon Ngamlak, the meeting provided an overview of facilities, and ended with reassurances that facilities would be ready for SEA Games in 2007. Thus, Thailand will hold individual events in parts of the country other than just Bangkok. Two indoor stadiums - 5,000 seating and 2,000 seating - a 20,000 capacity outdoor stadium, 50 meter Olympic pool, bicycle race track, shooting range, and other facilities are being built.
On Monday 10 April 2006, Korat provincial governor Soomboon Ngamlak is scheduled to chair a meeting and reception for the International SEA Games Committee members at the Suranaree University of Technnology (SUT), at 09:30. The meeting is in preparation for the scheduled 5-10 December 2007 SEA Games to be hosted by Korat, and is intended to involve a hoped-to-be-completed (now in early construction phase) $735 million sports complex now under construction on Pakthongchai Highway, across and up a bit from the Pepsi Plant. Whether SAT (Sports Authority of Thailand).
The new sports stadium is currently under early construction. Piles have not all been driven yet, but foundations, underground drainage and other utility pipes have been laid, concrete bleachers are now in place, and a flurry of activity is underway as the schedule now faces early rains.
There is a great deal of organizational work to do, and little preparation has been made over the last few years to build a reasonable infrastructure that could efficiently host a large international standard sports event. Local sports organizers have almost never advertised events, even international level athletics, in English, and when prompted several times by this paper's management to kindly provide information in advance, gave assurances and that was the end of it. The Mall general manager, in particular, has repeatedly refused/'neglecte' to cooperate in providing advance notices, even in Thai, of any of the many athletic events at The Mall, Korat. Such official resistance, or lack of foresight, can only shortchange future endeavors.
See editorial: High-level perceived need to 'control' is also getting in the way of more efficient voluntary joint sports planning in Korat.
The Korat Post