Royal Navy
Worlds second biggest navy by displacement in NATO and its one of the only 3 blue water class navy's.
From the early 18th century to the middle of the 20th century it was the worlds most powerful navy. During the 2nd World War it operated almost 600 ships.
Present Navy consists of 91 ships and a large number of ships in Royal Fleet Auxiliary.
Invincible-class Aircraft carriers (2)
HMS Illustrious
HMS Ark Royal
HMS Invincible (In Reserve)
Type 42 destroyers (8)
HMS Exeter
HMS Southampton
HMS Nottingham
HMS Manchester
HMS Liverpool
HMS Gloucester
HMS Edinburgh
HMS York
Type 23 frigates (13)
HMS Argyll
HMS Lancaster
HMS Iron Duke
HMS Monmouth
HMS Montrose
HMS Westminster
HMS Northumberland
HMS Richmond
HMS Somerset
HMS Sutherland
HMS Kent
HMS Portland
HMS St Albans
Type 22 frigates (4)
HMS Cornwall
HMS Cumberland
HMS Campbeltown
HMS Chatham
Landing Platform Helicopter (1)
HMS Ocean
Albion-class landing platform docks (2)
HMS Albion
HMS Bulwark
Sandown-class mine countermeasures vessels (8)
Hunt-class mine countermeasures vessels (8)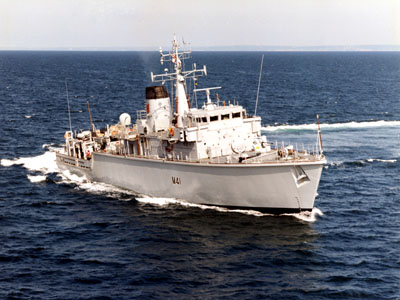 Antarctic patrol ship (1)
River-class patrol vessels (4)
Castle-class patrol vessels (1)
Archer or P2000-class fast patrol boats (14)
Scimitar-class fast patrol boats (Gibraltar Squadron) (2)
Archer or P2000-class fast patrol boats (Cyprus Squadron) (2)
Ocean survey vessel (1)
Coastal survey vessels (2)
Echo-class multi-purpose survey vessels (2)
Vanguard-class submarines (SSBNs) (4)
HMS Vanguard
HMS Victorious
HMS Vigilant
HMS Vengeance
Swiftsure-class submarines (SSNs) (2)
Trafalgar-class submarines (SSNs) (7)
HMS Trafalgar
HMS Turbulent
HMS Tireless
HMS Torbay
HMS Trenchant
HMS Talent
HMS Triumph
Royal Fleet Auxiliary
Tankers (8)
Replenishment (4)
Bay-class Landing Ships Dock (4)
Round Table-class Landing Ships Logistics (1)
Future Ships
Queen Elizabeth Class Aircraft Carriers(2) 65,000 tonnes
HMS Queen Elizabeth
HMS Prince of Wales
Type 45 Destroyer (6)
HMS Daring
HMS Dauntless
HMS Diamond
HMS Dragon
HMS Defender
HMS Duncan
Astute Class Submarine (7) possible 8
HMS Astute
HMS Ambush
HMS Artful
HMS Audacious
S123
S124
S125