New Orleans Louis Armstrong International Airport
http://www.flickr.com/photos/klingon65/
Louis Armstrong New Orleans International Airport (IATA: MSY, ICAO: KMSY, FAA LID: MSY) is a Class B public use international airport in Jefferson Parish, Louisiana, United States. It is owned by the city of New Orleans and is located 10 nautical miles (19 km) west of its central business district. The airport's address is 900 Airline Drive in Kenner, Louisiana. A small portion of Runway 10/28 is located in unincorporated St. Charles Parish. Armstrong International is the primary commercial airport for the New Orleans metropolitan area and southeast Louisiana. The airport was formerly known as Moisant Field, and it is also known as Louis Armstrong International Airport and New Orleans International Airport.
At an average of 4.5 feet (1.4 m) above sea level, MSY is the 2nd lowest-lying international airport in the world, behind only Amsterdam's Schiphol International Airport in the Netherlands, which lies eleven feet below sea level. Prior to Hurricane Katrina, MSY served 9.7 million passengers per year, nearly all of them non-connecting. In 2011, it served 8,382,236 passengers, an increase of 4.3% over 2010.
In February 2008, U.S. News & World Report ranked the travel experience at MSY 4th of the 47 busiest United States airports based upon the relatively small number of flight delays and frequently lower onboard flight loads. Louis Armstrong New Orleans International Airport was once a major gateway for Latin American travel from the United States. That travel now mostly goes through other cities which serve as hubs for international legacy airlines.
MSY opened after World War II, replacing the older New Orleans Lakefront Airport (which kept the NEW and KNEW airport codes and now serves general aviation) as the city's main airport. MSY was renamed in 2001 after Louis Armstrong, a famous jazz musician from New Orleans. The National Weather Service forecast office for the area was once located at MSY, but has moved to the suburb of Slidell, and now uses the non-airport codes LIX and KLIX.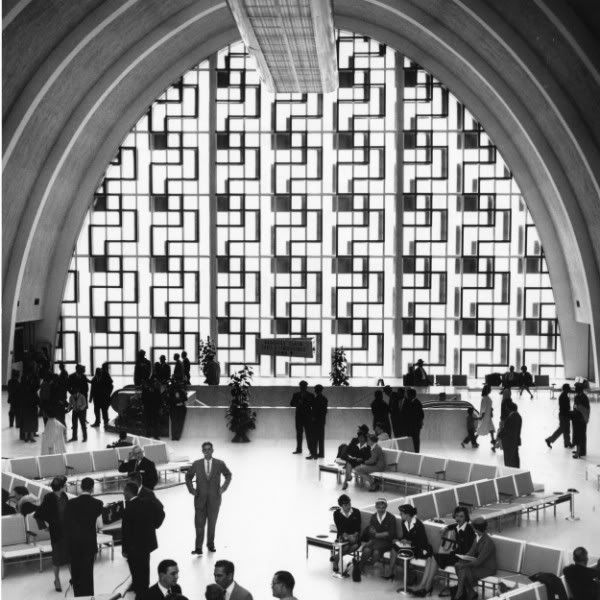 Main Terminal, Moisant Field 1960s
The airport was originally named after daredevil aviator John Moisant, who died in 1910 in an airplane crash on this land (which was devoted to farming at the time). Its IATA code MSY was derived from Moisant Stock Yards, as Lakefront Airport retained the "NEW" code.
Plans for Moisant Field were begun in 1940, as evidence mounted that New Orleans' older Shushan Airport (New Orleans Lakefront Airport) was in need of expansion or replacement. With the advent of World War II the land became a government air base. It was returned to civilian control after the war, and commercial service began at Moisant Field in May 1946. (On September 19, 1947, the airport was temporarily shut down as it was submerged under two feet of water in the wake of the 1947 Hurricane's impact.)
Starting in 1946, and for the next thirteen years, passengers arrived and departed from a large, hangar-like makeshift structure, until a new main terminal complex, designed by Goldstein Parham & Labouisse and Herbert A. Benson, George J. Riehl and built by J. A. Jones Company, debuted in 1959 towards the end of Mayor DeLesseps "Chep" Morrison's administration. The core of this structure forms much of the present-day facility. The Official Airline Guide for April 1957 shows 26 weekday departures on Delta, 25 Eastern, 11 National, 5 Capital, 4 Southern and 3 Braniff. Pan Am had six departures a week and TACA had four. On November 16, 1959 National Airlines Flight 967, a Douglas DC-7 flying from Tampa to New Orleans, crashed into the Gulf of Mexico.
During the administration of Morrison's successor, Vic Schiro, the government sponsored studies of the feasibility of relocating Louis Armstrong New Orleans International Airport to a new site, contemporaneous with similar efforts that were ultimately successful in Houston (George Bush Intercontinental Airport) and Dallas (Dallas-Fort Worth International Airport). This attempt got as far as recommending a site in New Orleans East; a man-made island was to be created south of I-10 and north of U.S. Route 90 in a bay of Lake Pontchartrain. In the early 1970s it was decided that the current airport should be expanded instead, leading to the construction of a lengthened main terminal ticketing area, an airport access road linking the terminal to I-10, and the present-day Concourses A and B. New Orleans Mayor Sidney Barthelemy, in office from 1986 to 1994, later reintroduced the idea of building a new international airport for the city, with consideration given to other sites in New Orleans East, as well as on the Northshore in suburban St. Tammany Parish. Only a couple months before Hurricane Katrina's landfall, Mayor Ray Nagin again proposed a new airport for New Orleans, this time to the west in Montz, Louisiana. These initiatives met with the same fate as 1960s-era efforts in new airport building for New Orleans.
Historically, Eastern Air Lines provided extensive service from MSY, including Boeing 727 Whisperjet service to Dallas, Tampa, and Miami, as well as to New York City and Atlanta. Using 727s, Douglas DC-8s, and DC-10s, National Airlines at different times served Miami, Amsterdam, Tampa, Houston, Las Vegas, Los Angeles, San Diego and San Francisco. Through 1979, Southern Airways Douglas DC-9s frequented Armstrong International, a busy stop on its regional short-haul network. Delta Air Lines was another leading carrier at MSY, and for years carried more passengers out of New Orleans than any other airline. Its nonstop jet service to New York, Chicago and Los Angeles from New Orleans was advertised for decades on a prominent billboard on Canal Street downtown. Southwest Airlines now carries the most passengers in and out of New Orleans.
MSY was also the hub for short-lived Pride Air, an airline which operated Boeing 727s for three months in 1985.
On July 11, 2001 the airport was renamed after jazz musician Louis Armstrong in honor of the centennial of his birth. -
Wikipedia
http://airchive.com/html/airplanes-and-airports/new-orleans-louis-armstrong-international-airport-photos-history-new-orleans-la-usa-/concourse-d-ramp-at-louis-armstrong-new-orleans-international-airport-2012-/25113