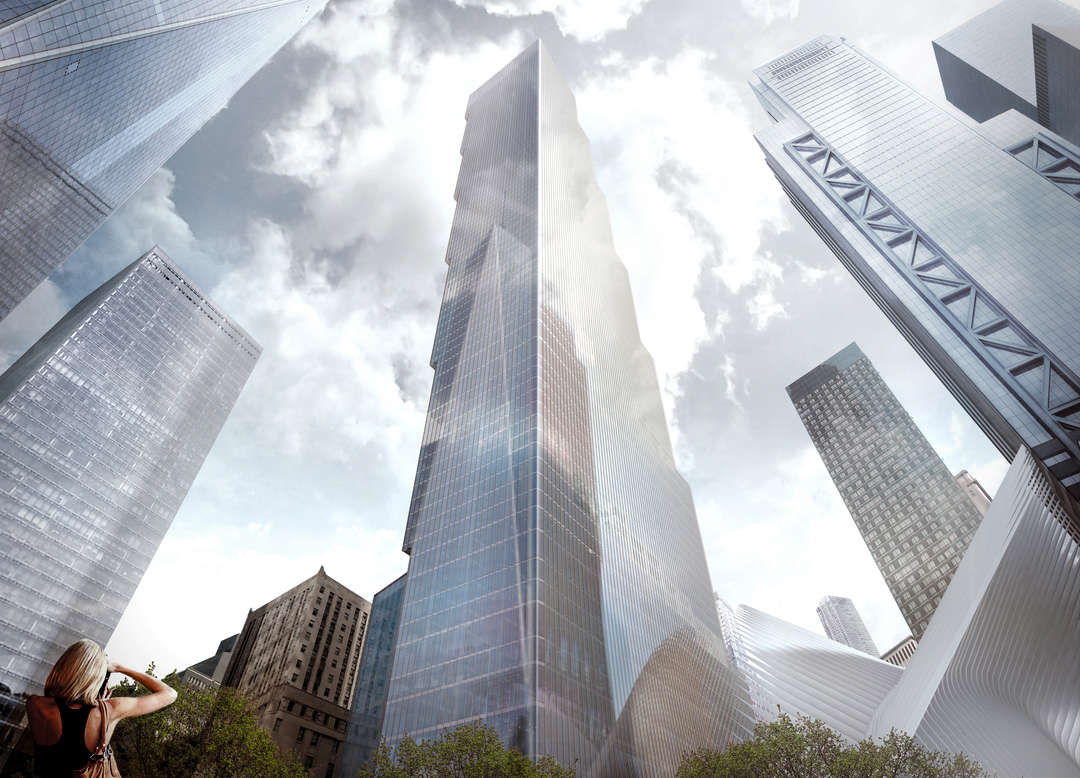 http://architizer.com/projects/2-world-trade-center/
--------------------------------------------------------------------------------------------------------------------------------------------------------------------------------------
Previously, as designed by Sir Norman Foster:
2 World Trade Center - 200 Greenwich Street​
Lord Foster's Tower 2, with a rooftop of four enormous diamonds steeply inclined toward the memorial below, would be as high as the Empire State Building. Tower 3 by Lord Rogers, framed boldly by an exoskeletal framework of diagonal beams, would reach a pinnacle of 1,255 feet at its corner antennas. Even the smallest and subtlest building among them, Mr. Maki's Tower 4, would be taller than the Citigroup Center in midtown
By virtue of its size and aesthetic bravura, Lord Foster's Tower 2 at 200 Greenwich Street, between Vesey and Fulton Streets, may draw the most public attention. The 1,265-foot building is to have 78 floors, 62 for offices, four trading floors and the rest for retail and mechanical space. The uppermost of the rooftop diamonds will be a tripod shaped antenna whose pinnacle is 1,350 feet above street level, just 18 feet shy of the Freedom Tower's parapet.
Construction of Tower 2 will require the removal of the Vesey Street staircase, also known as the survivors' stairway, which is the only aboveground remnant of the original trade center that is still in place. It served as an escape route for hundreds of people on 9/11.
The main shaft of Tower 2 is to be divided by notches into quadrants, culminating in diamond forms that are meant to lead the eye down to the memorial plaza. The surface of these structures will be a porous screen on which snow and ice are not expected to accumulate; always a hazard on a steeply pitched roof.
Earthcam:
http://www.earthcam.net/users2/interface.php?id=445&projectid=202&clientid=158
Link to the Old Thread:
http://www.skyscrapercity.com/showthread.php?t=471265
Renders:
The 2nd tower from the left:
------------------------------------------------------------------------------------------------------------------------------------------------------
Latest pics from the construction site: