there is already a thread for this building in the NASF Archives with one single post. so i decided to open a new thread here in the highrise section! the tower is located at 50 west 47th street, diamond district in midtown (47th street between 5th and 6th avenues). construction is well underway after a long stop.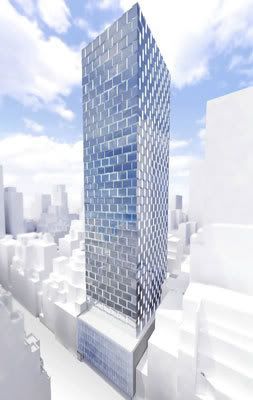 http://weblogs.amny.com/entertainment/urbanite/blog/2009/05/diamond_district_highrise_coul.html
Diamond district high-rise could be boon for New York's jewel biz
By Jason Fink
May 19, 2009
It may seem like an unusual time to spend money on the luxury jewelry industry but that's what city officials were touting Monday as they unveiled plans for a new 34-story office building in the heart of the diamond district.
Construction is about to begin on the International Gem Tower on West 47th Street, a high-rise that will house office space, vaults and retail for diamond dealers. The city plans to provide some $50 million in tax incentives for the project, being built by Extell Development.
"Diamonds are one of New York's best friends and one of our most enduring industries," said Mayor Michael Bloomberg.
Extell is also seeking "free trade zone" status, which would allow companies to import, cut, and then export stones without paying import duties.
The city tax breaks will come only if the building is 85 percent occupied by jewelry related businesses and if 50 percent of the businesses are either new or expanded from existing locations, rather than simply relocated.
Bloomberg said the city's diamond industry is facing increased competition from international cities such as Dubai. Giving tax incentives, he argued, will keep diamond dealers in the city and help anchor the industry during a period of economic distress.
The city said the new project, expected to be complete by 2011, will provide 3,000 jobs with some 250 businesses. Many of those will be taken by workers coming from oversees, Extell officials said.
___________________________________
http://www.jckonline.com/article/CA6659280.html
Bloomberg Launches 47th Street "Gem Tower"
By Rob Bates
5/19/2009
The proposed 34-storey "International Gem Tower" in the 47th Street "diamond district" got high-powered support Tuesday morning, with New York Michael Bloomberg attending its kick-off.
The tower, which is due to be completed mid-2011, will be a sleek building at 50 West 47th Street that will feature both jewelry and non-jewelry tenants in its "office condominiums," as well as entrances on both 46th and 47th Streets.
In an exclusive interview with JCK, Gary Barnett, CEO of building developer Extell Development Company, noted that the tower had yet to sign any big name tenants, since it hadn't begun marketing itself. But he said there was "already a lot of interest."
Barnett said his background in the industry got him involved in the project. He said that many 47th Street buildings were "behind the times" and that he hoped a modern structure could help New York compete with other diamond centers.
"The tower will be an incredible addition to 47th Street and the New York skyline," he told the crowd at the kick-off.
He also said the tower hoped to include a "free-trade zone" that would attract foreign buyers.
Speakers noted that, for the building to receive certain tax abatements, 85% of its tenants would have to be jewelry-related.
Bloomberg called the diamond industry "one of New York's best friends and one of New York's enduring industries."
He said the tower's construction casts "a strong vote of confidence in the city."
http://www.nationaljewelernetwork.c...ds/supply/e3ie134e4df1181c4800cbbc8a61b4cebbd
Crane rises on New York's International Gem Tower
September 01, 2009
New York--Construction on the International Gem Tower (IGT), a 34-story building designed as an exclusive property for the jewelry trade, got underway in New York City's famed Diamond District over the weekend, according to a press release from Extell Development Co.
A tower crane was erected at the development site for the IGT, located at 50 West 47th St. between Fifth and Sixth avenues in Manhattan.
The crane is now fully functional and mobilized, according to the release. Following inspection by New York City's Department of Buildings, slated to take place sometime this week, steel will be arriving on site and construction will move forward as planned, the release states.
The first phase of the project, expected to be completed by the end of 2009, includes three below-grade floors that will house retail space, a vault, valet parking facilities and underground loading docks.
According to the release, the tower is slated to be completed and open in the fall of 2011.
At the tower's official launch in May, Extell announced that it would have $300 million invested in the project at the completion of the first phase and was looking for further funding to continue.
Extell representatives did not respond to request for comment on Tuesday on the current state of funding for the project.
"We are excited about the industry response to this building," Raizy Haas, Extell senior vice president in charge of the project, said in the release. "With significant letters of interest in hand and construction moving ahead, we are committed to delivering a world-class international center for the gem and jewelry trades; a first for the United States and a stunning architectural and functional space for the city."
New York Mayor Michael Bloomberg was on hand for the launch of the tower in May and noted that the tower was needed to help the city remain competitive in the international jewelry trade.
Similar towers exist in Shanghai, China, and in Dubai, United Arab Emirates.