Gold standard meals in a silver anniversary year
Press release from Northumberland County Council @
https://www.northumberland.gov.uk/News/2018/Nov/Gold-standard-meals-in-a-silver-anniversary-year.aspx
Gold standard meals in a silver anniversary year
21 Nov 2018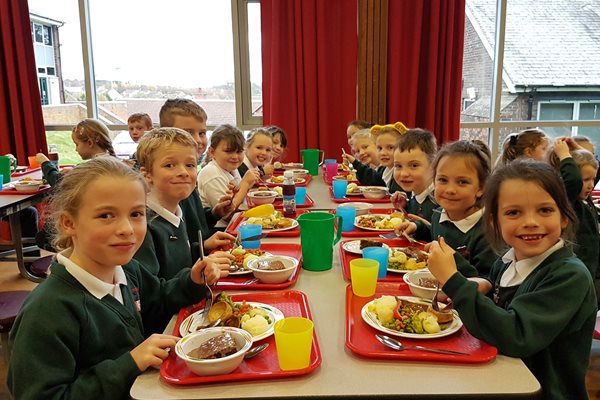 Schools across Northumberland have been celebrating their meals service in style, with a range of initiatives aimed at highlighting everything that is great about school catering.
This year marks the 25th anniversary of the Lead Association for Catering in Education (LACA)'s National School Meals Week (NSMW), which ran from 12th to 16th November.
This annual event is marked by schools up and down the country and serves to promote the quality and value of the hot, cooked meals delivered every school day by LACA's members.
National Roast Dinner Day, jointly promoted with the Soil Association's Food for Life campaign, takes place during the week, and at St Paul's Primary School in Alnwick catering manager Carol Riddell and her team served up a great spread featuring roast beef and yorkshire pudding.
St Paul's head teacher Maria Wilson said: "The school has been delighted to take part in National School Meals Week and National Roast Dinner Day. We have fantastic meals here every day - cooked by Carol and her team - and this week has been no exception. The value of a good quality school meals can't be underestimated - having a very significant effects on students' performance and health. This national week is a fantastic way of highlighting and celebrating great food."
Carol Riddell has already been recognised as one of the best school chefs in the region as she has been shortlisted for the LACA North East and Scotland regional school chef of the year competition. Watch out for news of the 'cook off' she will take part in to decide the overall winner.
Councillor Wayne Daley, cabinet member for children's services at Northumberland County Council said: "The council prides itself on running an extremely good school meals service. All of the menus produced are in line with the Government's food standards and the team uses software to analyse the ingredients' nutritional value before generating the menus. In this way we can ensure that we are serving a healthy, nutritious menu that keeps children fuelled throughout the day. Last week was about celebrating the people who provide our great school meals, and I congratulate all schools in Northumberland that have taken part in this week."
A poll this year by LACA found that curry followed by chocolate sponge was officially voted The Nation's Favourite School Meal and the campaign organisers hope that many kitchens will recognise this by adding it to their menu.
Northumberland County Council's first and primary school winter menu 2018 already features a curry, as well as chocolate surprise cake.
Another highlight of this year's NSMW was #cookeditmyselfie, in which caterers, teachers, parents or suppliers were encouraged to post photos of school meals on Twitter using this hashtag. A judging panel will choose the best one and the winning school will receive £500 of marketing support or equipment.
A NSMW Roadshow visited all ten LACA regions to engage members and pupils with its message championing the benefits of a nutritious, healthy school meal, which include: Education, Concentration, Attainment, Energy, and Nutrition.
To find out more about Northumberland County Council's school meals service visit
www.northumberland.gov.uk/Education/Schools/Meals
https://www.northumberland.gov.uk/News/2018/Nov/Gold-standard-meals-in-a-silver-anniversary-year.aspx