Discussion Starter
·
#1
·
http://nb.house.sina.com.cn/news/2010-01-07/09367262.html
http://m.db.house.qq.com/nb_40737
http://m.fang.com/xf/nb/2011828786.htm
http://m.winshang.com/news155063.html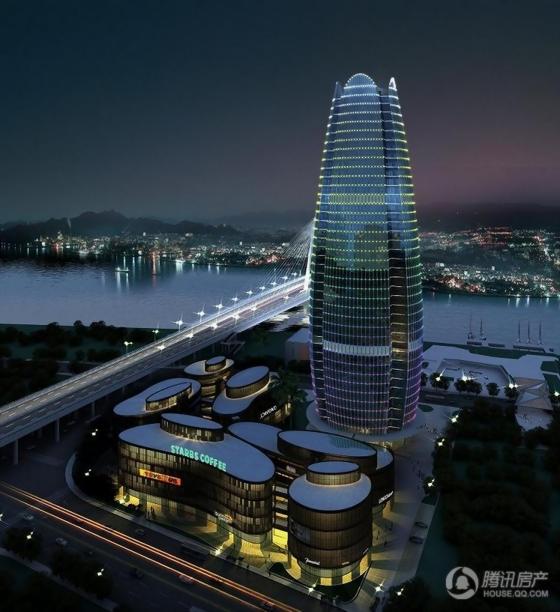 188 米
点击查看更多房产新闻图片
2009年12月30日,位于宁波三江口,总建筑高度为188米的宁波财富中心举行了盛大的开工仪式。这标志着三江口的建筑高度再次被刷新。由于其独特的地理位置及今后在城市天际轮廓线中的重要性,被列为宁波市中提升战略重点项目、市重点工程建设项目。

三江建筑群中的多个第一

据了解,宁波财富中心所在的位置地处甬江东岸,与东外滩、美术馆隔水相望,是宁波三江六岸版图中的上佳地段。项目总用地面积约2.5万平方米,设计总建筑面积地上约10万平方米,地下3.8万平方米,总层数地上38层,地下2层,建筑高度188米,是目前宁波三江口建筑群中单体规模最大、建筑高度最高的建筑。

此外宁波财富中心还创造了多个第一,项目在配置上同步国际标准,结构异型,形式采用全钢结构,是目前宁波市高层建筑中施工难度较大,单体体量最大的钢结构项目,幕墙采用单元式幕墙工艺,也是宁波首次。

"郁金香"设计将成新地标

宁波财富中心的设计也独具匠心,据相关负责人介绍,宁波财富中心在平面布局上主楼与裙房形体自由,多个单体像中国传统的"玉石"撒在地块内,蕴含着"大珠小珠落玉盘"的诗情画意;在立面造型上浪漫华丽,建筑像含苞待放的郁金香,也像捧着明珠的手掌,象征着人们对美好未来的渴望与追求,也体现了宁波城市文明发展的现代感与艺术感。宁波财富中心项目建成后将以它的高度和具有的建筑艺术性成为宁波核心区新的地标性建筑。

财富"磁场"带动片区发展

宁波财富中心的开工建设,将进一步推动城市空间发展,优化人居商业环境,提升城市国际品位,同时通过高层楼宇的"磁场"效应,聚集大量人流、物流、资金流和信息流,形成显著的"财富效应",带动项目自身和片区的产业发展。

业内人士认为,都市化建设与楼宇经济的发展有着密切的联系,1995年12月,38层的中农信国际商厦一下子把宁波的建筑高度拔高到138米,成为当时浙江省最高的大楼。2004年5月12日,179.2米高的凌江名庭正式结顶,成为宁波新高度,在过去的十多年时间里,宁波城市的海拔被不断地刷新。如今,宁波财富中心以188米的高度成为了三江口新地标,也为宁波的国际都市化进程添砖加瓦
google translation:
188 meters
December 30, 2009, is located in Ningbo Sanjiangkou total building height of 188 meters of Ningbo Fortune Center held a grand ceremony. This marks Sanjiangkou building height to be refreshed again. Due to its unique geographical location and importance in the future of the city skyline, is listed as the Ningbo to enhance the strategic focus of the project, the city of key construction projects.

Sanjiang buildings in the plurality of first

It is understood that the location where the center is located in Ningbo Yongjiang wealth east coast, with the East Bund, art galleries across the water, Ningbo Sanjiang six shore territory in a good location. The total land area of ​​about 25,000 square meters, with a total construction area of ​​the floor design about 100,000 square meters, 38,000 square meters underground, with a total 38 floors on the ground floor and 2 underground floors, the building height of 188 meters, is the Ningbo Sanjiangkou buildings the single largest building height tallest building.

Furthermore, Ningbo Fortune Center also created a number of first, the project configuration synchronization international standards, shaped structure, in the form of all-steel, is currently in Ningbo City high-rise building construction more difficult, the largest single volume of steel project , curtain walls using modular technology, is also the first time in Ningbo.

"Tulip" design will become a new landmark

Ningbo Wealth Design Center also distinctive, according to the relevant person in charge, Ningbo Fortune Center in the main building and layout podium physical freedom, more monomers like traditional Chinese "jade" spread within plots, contains a "large beads beads down, "the poetic; in the romantic style ornate facade, the building like a budding tulips, like Pearl holding hands, symbolizing the people's desire and pursuit of a better future, but also reflects the Ningbo urban civilization modern and artistic development. Ningbo Fortune Center after the project is completed it will be the height of artistic and architectural core area of ​​Ningbo has become the new landmark.

Fortune "magnetic" drive area development

Construction Ningbo Fortune Center, will further promote the development of urban space, optimizing the living business environment, enhance the city's international grade, through high-rise buildings of the "magnetic" effect, gathering large crowds of people, goods, capital and information flow, the formation of a significant "wealth effect", driving the project itself and industrial development Area.

The industry believes that urbanization construction and building economic development are closely linked, in December 1995, the Rural Credit sudden international commercial 38-story building height overstating the Ningbo to 138 meters, became the tallest building in Zhejiang Province. May 12, 2004, 179.2 meters high court official name Ling Jiang top knot and become Ningbo new heights in the past ten years time, the city of Ningbo altitude is constantly refreshed. Today, the center of Ningbo Fortune 188 meters in height became Sanjiangkou landmark, but also contribute to the Ningbo International urbanization.
Property Details
Opening time: October 2012 opening
Check-in time: the end of 2014 deliveries
Property Type: Office
Building Category: 38-story office building, commercial
Renovation status: rough
Number of households: 0
Plot Ratio: 0.00
Green: 0%
Parking: No Information
Property age: 40 years
Developer: Blum Property
Sale permit: Yong Xu word 2012 Pre-room No. 007
Property Company: No Information
Property Fee: 12.00 yuan / square meter month