here is a proposal I've been working on for a Northern HSR linking the main Northern cities which would effectively merge them and make them very commutable, which would encourage growth. and with HS2 to London it would make the new 'Nothern Conurbation' very attractive to businesses. much like the Rhein Ruhr area in Germany. aswell as making the main airport serving the north of the country (MAN) more accesible to the Northern cities by rail.
Route/Link
(Google Maps)
I dont know if the link is working to the google maps, so ive got some images here aswell as talkthoughs:
Whole Map-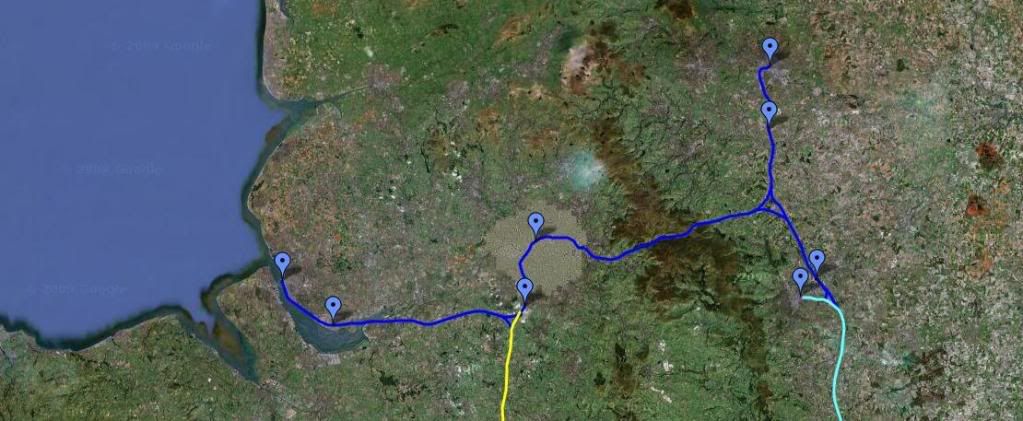 Liverpool-
the main station would be in Liverpool in the Liverpool waters Development there for cause minimum distruption and make travel to the city center very easy as the monorail planned could transport people quickly to the city center, line would follow the mersey estuary which would mean the minor demolition of some housing nearer to John Lennon Int'l.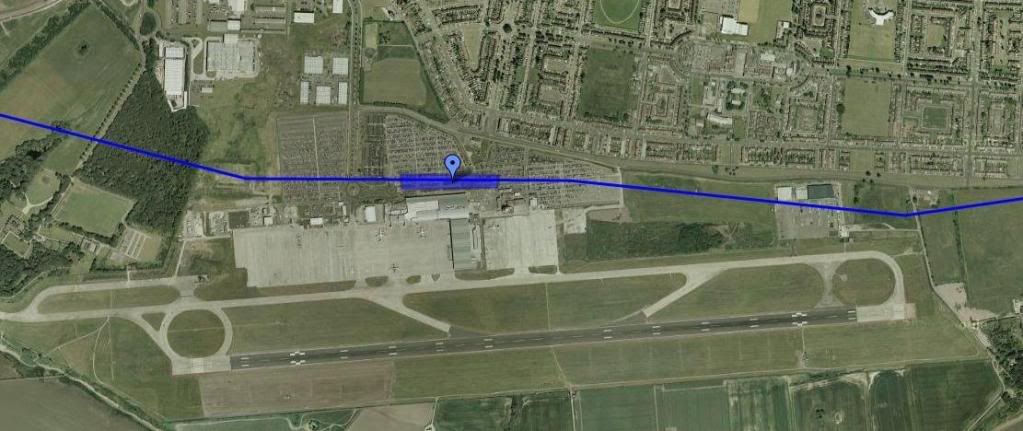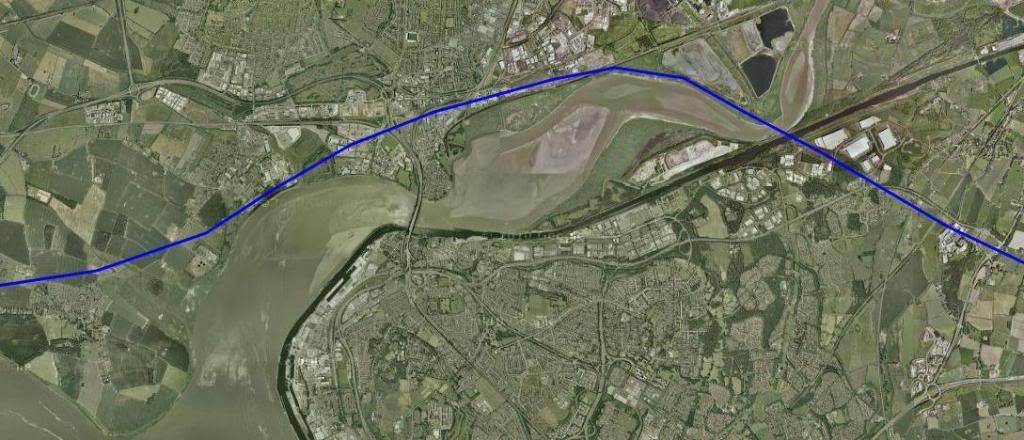 John Lennon Int'l-the station could be above or underground the carpark with a walkway to the terminal after the station the line would continue to follow the mersey cross near runcorn in a bridge the skirt around runcorn still following the mersey untill meeting the m56 at jct 10 a following untill manchester airport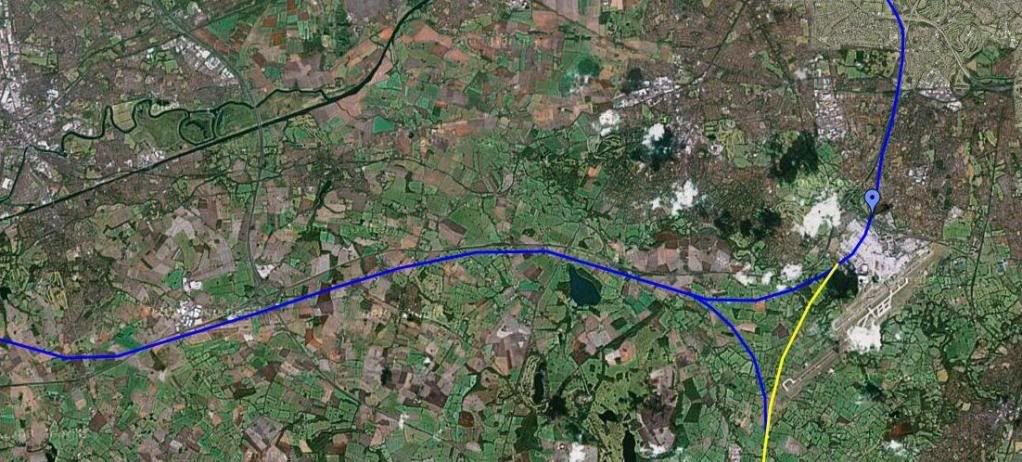 Manchester Airport- the station would be underground near woodhouse park, the station would have and ULTRA system linking it to the CTA, the line would continue unground untill ascending near old trafford cricket ground and continueing by the MET and railway lines to manchester Victoria
Manchester Victoria would have a massive extension built on the old exchange site, a large station capable of accomodating trains from hs2 and the new northern HSR network, manchester would be the core of the network all trains would stop here.
the Line would continue above ground to hadfield but using the current corridors out of the city but with some demolition in droylsden to allow the line to continue to guide bridge then follow a realigned woodhead route to allow for higher speeds, this would be the most expensive part at the tunnels would have to be rebored and bridges and viaducts would have to be built.
South Yorksire triangle junction, this junction would allow trains to travel between Liverpool/Manchester and Leeds/Wakefield/Sheffield and trains to travel between Sheffield Wakefield and Leeds the line would follow the M1 and use the
Parkway Corridor into Sheffield (though this would but running mainly on HS2 which will probably follow the M1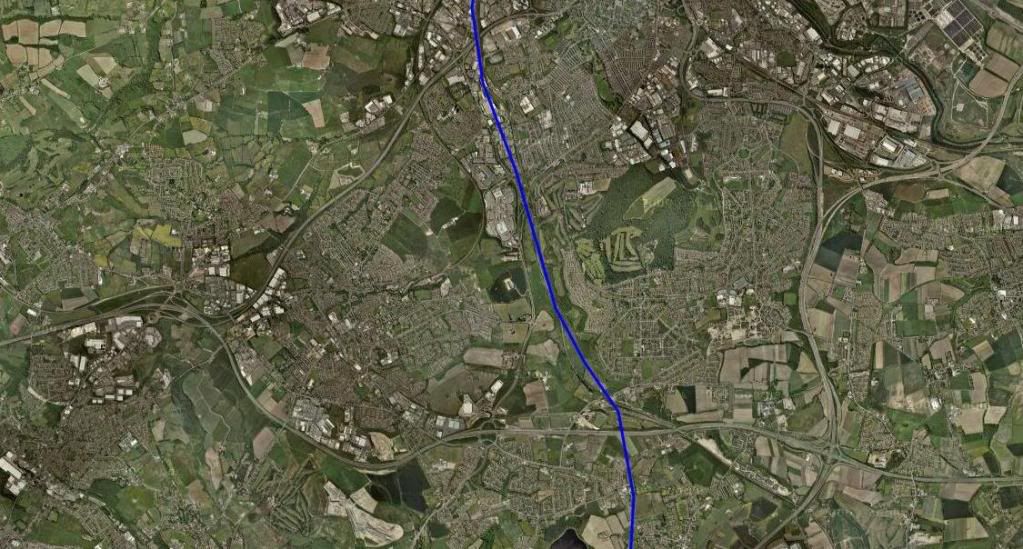 and the Beeston Corridor into Leeds.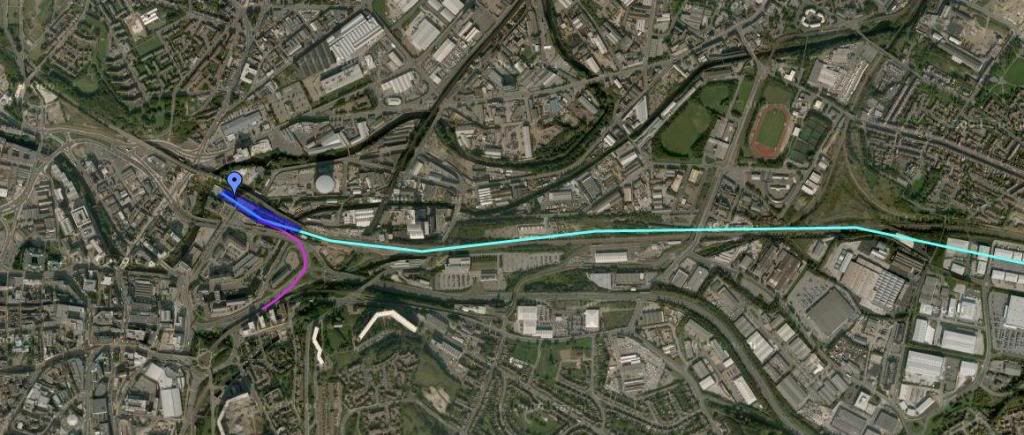 the station in sheffield would be at the old Victoria site with a tram extension to connect it to the city center
at leeds an extension would be built in the western carpark, with the new lines following the existing lines to the beeston corridor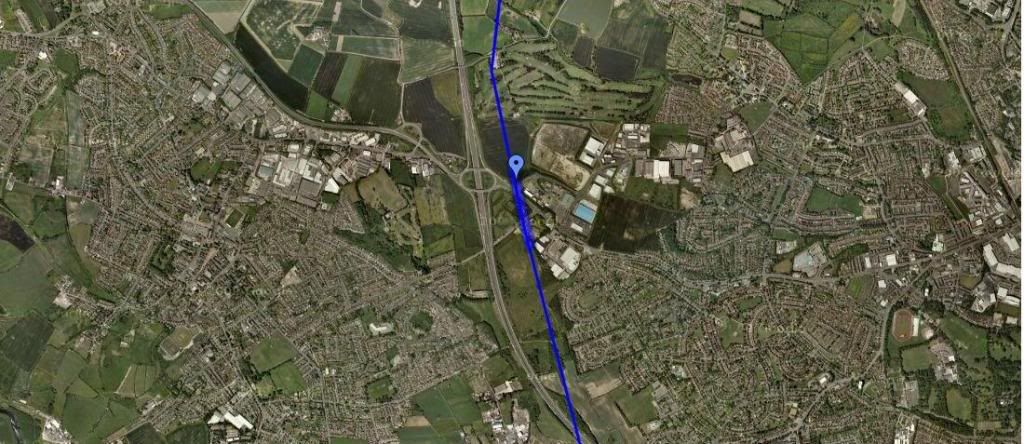 the wakefield parkway station would be built at junction 40 of the M1, the a638 allows easy access to wakefield, ossett and dewsbury, making the station accesible to over 100,000 people.
http://maps.google.co.uk/maps/ms?hl=en&ie=UTF8&msa=0&msid=105982349110269901077.000483e3440d74384accf&t=h&z=7
Journey Times
method of working
i have worked out some approximate journey times based on the average speed of trains travelling on the LGV EST in france the newest TGV line (173.6mph) i used the simple T=D/S formula so the journey times are very approximate. but here they are
all journey times are calculated as Non-stop services
:
Liverpool To...
Manchester Airport-18 minutes
Manchester Victoria-23 minutes
Wakefield Parkway-46 minutes
Leeds 50-minutes
Sheffield Victoria-50 minutes
Manchester To...
Wakefield Parkway-22 minutes
Sheffield Victoria-16 minutes
Liverpool John Lennon Int'l-18 minutes
Liverpool Waters-46 minutes
Leeds To...
Sheffield Victoria-19 minutes
Liverpool John Lennon Int'l-40 minutes
Liverpool Waters-50 minutes
Manchester Airport-32 minutes
Manchester Victoria-27 minutes
Sheffield Victoria To...
Liverpool John Lennon Int'l-40 minutes
Liverpool Waters-50 minutes
Manchester Airport-32 minutes
Manchester Victoria-27 minutes
Leeds-19 minutes
Wakefield Parkway-16 minutes
Wakefield Parkway To...
Sheffield Victoria-16 minutes
Liverpool John Lennon Int'l-42 minutes
Liverpool Waters-46 minutes
Manchester Airport-27 minutes
Manchester Victoria-22 minutes
Manchester Airport To...
Liverpool John Lennon Int'l-14 minutes
Liverpool Waters-18 minutes
Leeds-32 minutes
Wakefield Parkway-27 minutes
Sheffield Victoria-32 minutes
Liverpool John Lennon Int'l To...
Sheffield Victoria-40 minutes
Wakefield Parkway-42 minutes
Leeds-40 minutes
Manchester Airport-14 minutes
Manchester Victoria-18 minutes
possible journey times including stops...
all things considered: the possible journey time for a train from Leeds to Liver pool Via Manchester and Manchester Airport and Liverpool John Lennon Int'l could be 1 hour 5 minutes....with 3 stops. and less with just 1 stop in Manchester (55 minutes)
making travel between the cities very easy and quick, traveling between Liverpool and Leeds/Manchester and Sheffield and visa versa would be
quicker
than travelling from say Richmond to Bank/Monument at Peak time on the district Line which would effectively merge all the cities together.
land would be cheaper than in London with HS2 travel from the northern cities to London would be under 1hr30 mins which would encourage businesses, Telecommunications and government institutions to move out of London, like now the BBC are moving from white city to mediacity, whitehall is opening in Manchester, but even more so with the quick links to other northern cities.
Would also allow better accessibility to Manchester Airport which would take some strain off heathrow. as well as effectively merge Manchester and Liverpool Airports together. Liverpool John Lennon would effectively become Terminal 4 and runway 3 of Manchester Airport which would allow for more services to be run, Liverpool could become a mainly Longhaul Airport and Manchester become mainly shorthaul the airports could be renamed Manchester and/or Liverpool John Lennon International West and East. or just John lennon International West and East, or remain the same as they are.
basically what do you all think?
comments, dicussion and new/better ideas are welcome so i can keep on improving the route, any NAAONBs i dont know about or listed buildings or places bought for development.