NYC : A new Look for a 38 story art deco tower...Downtown Athletic Club, 534 ft tall
A new Look for a 38 story art deco tower...
The singer and Bassuk Organization has arranged a $92 million construction loan for 20 West Street, the former home of the Downtown Athletic club. This rendering shows new look for the 38 -story office tower after its conversion into luxery apartments by The Moinian Group.
Rendering...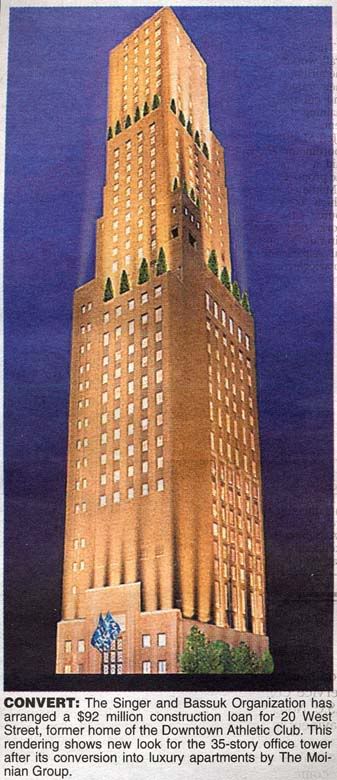 Current state:
Designated a NYC Landmark, November 14, 2000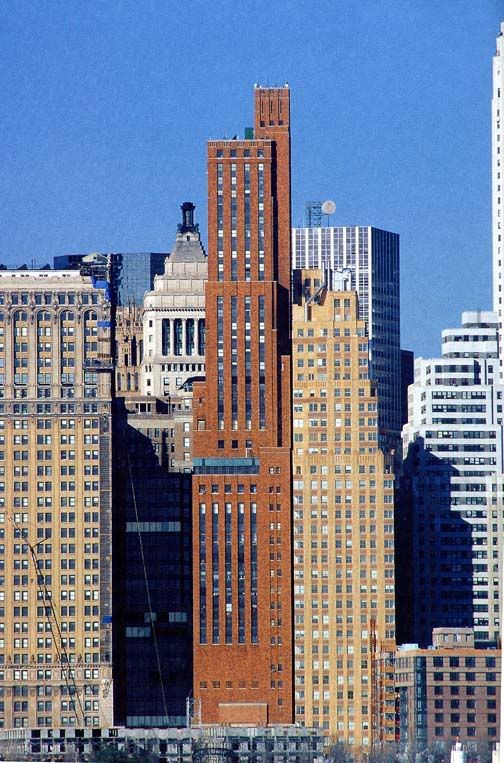 Brief history:
20 west Street-
Architects : Starret & Van Vleek, 1930
Extremely tall and narrow 38 story tower, 534 feet tall, this 38-story, Art Deco skyscraper opened in 1930 as the Downtown Athletic Club.
A membership association geared toward businessmen and lawyers who worked in lower Manhattan, the Downtown Athletic Club was founded in 1926. By 1927 it had purchased this site next to the Hudson River to construct its own building.
The high cost of land necessitated a tall building, and the relatively small lot size dictated that the different functions and facilities of the club, including swimming pool, gymnasium, miniature golf course, squash, and tennis courts, as well as dining rooms and living quarters, be accommodated on separate floors.
The Downtown Athletic Club became most famous as the home of the Heisman Trophy, given every year to the most outstanding college football player, and named after John Heisman, the club's first athletic director. The prolific architectural firm of Starrett & Van Vleck designed the building.
The same firm created the neighboring tower at 21 West Street (a designated New York City Landmark), with which the Club shares its Modernistic style and skillfully applied brickwork.
The boxy shape and variety of setbacks in the Downtown Athletic Club Building demonstrate the effects of the 1916 Building Zone Resolution, but also give some indication of the various purposes assigned to different sections of the building. The architects juxtaposed the simple massing of the building with stylized, theater-like entrance prosceniums on both facades and a dextrous use of flat and angled brick, creating a dramatic addition to the city's skyline.
The powerful chevron motifs in the rectangular areas over the entrances and in the spandrels between the windows of the upper stories are a variation of a common design theme of the period, reflective of the speed and energy of the Jazz Age.
the top 15 floors are dedicated to a 111 room hotel.