Discussion Starter
·
#1
·
Oslo (Norway) developments, projects and constructions
Oslo (Norway) is having a small project and development boom nowadays due to a gigantic waterfront project and need of many new apartments the next 10 years. Its construction activity is rated as one of the highest in Europe at the moment.
>> Price Waterhouse Coopers
Price Waterhouse Coopers will build its new 46m/ 12 stories tall headquarter in Bjørvika, Oslo. The agreement between PWC and the owner Oslo S Utvikling AS was signed on March 18th 2005. The building will be the first high-rise building to be built of the new high-rise clouster in Bjørvika, downtown oslo. Construction of the tower started in january 2006 and is scheduled completion is 2007. A-Lab is the architect firm and the main facade material will be glass, with a outside skin of sun shading elements.
>
Enlarge (1100x825)
__________
>> Visma Hovedkvarter
Visma is building their headquarter in this 17 floor tall/ 15 000sqm office building. The agreement was signed between Visma and Oslo S Utvikling AS on september 30th. Construction start in 3rd quarter of 2006, with completion in late 2008.
__________
>> MAD Tower, tallest in Norway
Imagine a 36 story/ 120m - 130m tall building next to Radisson SAS Plaza Hotel and Posthuset. MAD (Moderne Arkitektur og Design AS) Architects proposed in early 2006 to built this building, and it will become the tallest building in Oslo and Norway. It will contain offices, residentials, retail and public areas as a small green park on the roof of the tower. The project is still in a early stage development, and there is no detaild information about the project yet.
__________
>> Utsiktstoppen
Utsiktstoppen is a residential project in Grünerløkka, just north of downtown Oslo. The building will be 12 floors tall, or 33m (emporis.com). The current status is either approved or under construction. The tower is expected to be completed in the spring 2006.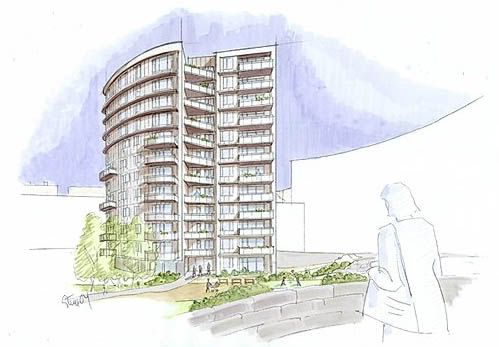 __________
>> Akerselva Atrium
NCC Property Development AS reports that the 11 story tall Akerselva Atrium has been approved by Oslo City Council. Construction of the 16 900 m² (BRA) office building is planned to start in the 3rd quarter of 2006, with completion in 2 quarter of 2008. Three architect companies is involved in the project; NBBJ, Pran Arkitekter and Asplan Viak AS.
The building was first proposed with 12 floors, but has apparently been reduced to 11 floors facing Akerselva, and 10 floors facing Christian Krohgs gate. The roof height will be cote 38.5m with structure height up to cote 43,5m.
>
Enlarge (1500x1083)
__________
>> Nye Major
Nye Major is a large residential projects near downtown Oslo. The project will contain 300 apartments, and construction is expected to start in 2006. The first phase of the new block will be completed in december 2007, while the entire project will be completed in 1st quarter of 2008. Total cost of will be 700 million NOK(89 million euro), and the tallest building will be 12 floors.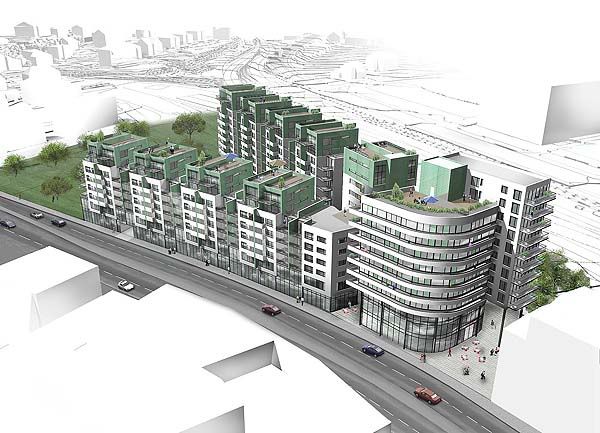 >
Enlarge (1100x793)
__________
>> Nesoddtangen Brygge
A 20 story/ 65m tall tower has been proposed in Nesoddtangen, a half island the middel of Oslofjorden. The proposer behind the project, Ketil Johansen say the building will contain a hotel, a conference center and senior apartments. He say he has been inspired from famous buildings like Rica Seilet in Molde, Burj Al Arab in Dubai and Opera House in Sydney.
The building is perfectly situated in the entrance to Oslo by sea, and this is a building all tourists will notice as a spectacular landmark.
__________
>> Fornebu Arena
HRTB Arkitekter AS has made this new proposal to Fornebu arena, which was presented in the end of November 2005. The stadium have a capacity of 15 000 spectators, and the stadium can also be used for concerts etc. The stadium will have a roof, which is inspired of Allianz Arena in Munich. The proposal will be treated by the city council in janiary and the developers and Stabæk AS is expecting construction start in june 2006, if approval.
__________
>> Oslo Opera House
The new Opera House in Oslo is currently under construction. The building will be 35m tall and have a area on 36 000sqm. Construction started in 2002, and its expected to be completed in september 2008. Total cost is 2.8 billion NOK (£356 463 017 EUR/$433 406 940 USD), and the architect is Snøhetta, which is also behind Bibliotheca Alexandrina and WTC Cultural Center.
__________
>> Grefsen Stasjonsby
85 000sqm with 900 apartments and some office is about to start construction. Grefsen Stasjonsby was first approved in 2001, and construction start is expected to take place in the first months of 2006. The first apartments will be out for salesment in january 2006. The project, one of Oslo's largest nowdays contains three 12 story high-rise buildings pluss a unknown number of lower buildings below 10 floors.
>
Enlarge (1078x828)
>
Enlarge (1200x900)
__________
>> Wexels plass
300 apartments will be built, in this quartal structure consisting of several buildings between 20-33 meters of height. 1st floor will be occupied by shops and retail, and there will be a underground parkinglot for 250 cars. Construction started in 4th quarter of 2005, and its expected to be completed in 2008.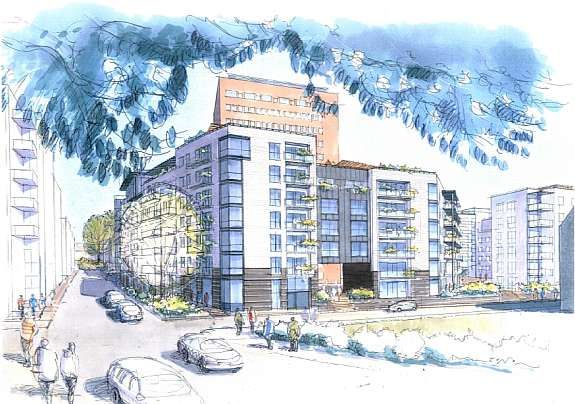 This was just some smaller single projects, ill handle the greater masterplanns in a moment!