·
Oh ma Lordee, lookee here
True film buffs be kind: this will be a VERY incomplete glimpse of the portrayal of our cities in films down the years.
With all the symbolism of bridges, it's not surprising that Sydney Harbour Bridge has become our most cinematically featured architectural icon.
The bridge was shown in 49 separate films in its first 50 years (1932-82), and many more since. It fact we could make it a round 50 because it was used in Paulette McDonagh's 1930 film
The Cheaters
before it was finished. The incomplete bridge was used to show the passage of time the main character Bill Masrsh (played by Arthur Greenaway) spent in jail, artists having filled in its span before the builders to show Bill's been away for a while when released.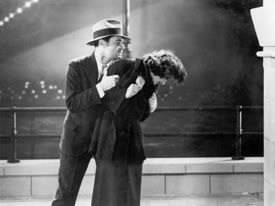 Artists had also actually painted the bridge backdrop (above) for this scene in Ken G. Hall's 1933 film
The Broken Melody
, when John Ainsworth (Lloyd Hughes) prevents Ann Brady (Diane Du Caine) from committing suicide by jumping from the
bottom
of the Bridge
Among many other credits, the Bridge also featured in Hall's
The Squatters Daughter
the same year.
When the old squatter (John Warwick) sails back into Sydney from London he looks at the bridge and says: "When I left here two years ago I never thought I would see that bridge finished."
The Bridge featured frequently in Leslie Norman's film
The Summer of the Seventeenth Doll
, with Ernest Borgnine, Ann Baxter, John Mills and Angela Lansbury as stars.
I also saw this one (above)Michael Powell's 1966
They're A Weird Mob
Urbane Italian journalist Nino Culotta (Walter Chiari) arrives to take up a job as a sports writer in King Cross, and ends working as a brickie's laborer.
After John O'Grady's spoof book, everyone in Australia was a bit apprehensive about how our country would be portrayed. We went patriotically looking for the stunning
shots of Sydney Harbour, but also got this:
Local stars were Ed Devereaux,John Mellion, and Chips Rafferty.
Clare Dunne played the romantic interest:
film poster:
Richard Chamberlain and David Gulpilil met up under the Bridge in Peter Weir's 1977 film
The Last Wave
. Also saw that:
But I've failed to catch Yahoo Serious's more recent film
Mr Accident
, which really gave it the treatment:
as it did the SOH:
I say this film (below) Harry Watts 1959
Thje Siege of Pinchgut
starring Hollywood tough-guy Aldo Ray and released in the US as
Four Desperate Men
deserves a remake
. Seen it.
The strong plot, in which four escaped convicts take over little Fort Denison (Pinchgut Island) in Sydney Harbour and threaten to turn its guns on an ammunition ship at Garden Island seems tailor-made made for the Terrorism Age.. Modern action movie treatment would work with this one. The film, recently re-released on DVD, has police sharpshooters up on the Bridge, btw.
But the setting around Pinchgut has become even more dramatic now, as I pointed out on another thread: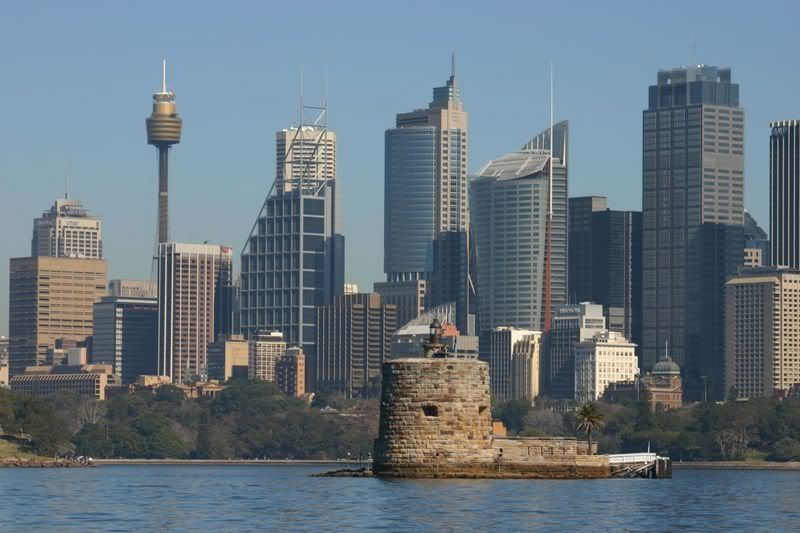 Nearby, The Rocks were the city setting for Leslie Norman's 1957 film
The Shiralee
, starring Peter Finch, Dana Wilson, Elizabeth Sellers, with appearances also by Charles Tingwell, Bill Kerr and Ed Devereaux. Seen it. Excellent. Oddly I think D'Arcy Niland's book sets the city partrs of this tale in Melbourne's Carlton - but Norman must have preferred the Sydney location.
George Ogilvie did an excellent telemovie remake of this film 30 years later, starring Bryan Brown - just right for the role - with Rebecca Smart and Noni Hazelhurst.
Melbourne got its first taste of Hollywood with Stanley Kramer's classic 1959 end of the world film
On The Beach
, starring Gregory Peck, Ava Gardner, Fred Astaire, and Anthony Perkins:
It's not
quite
true that Ava Gardner said Melbourne was a good place to make a film about the end of the world:
The Age's
film critic Colin Bennett pretty much confessed to making that quote up years later. But Gardner did pretty much feel that way.
In actor's persectives notes on the film Gardner later recalled that Melbourne was hit by a heatwave while it was being made. She likened Melbourne's 6 O'clock closing to Prohibition, found the locals friendly and gutsy, but overwhelmed by having a big film production going on around their city. When streets were blocked off on a Sunday morning filming one of the city's leading churchmnen lambasted Kramer for interfering with the freedom of worship.
Still, Ava was paid US$400,000 for her role - an incredible sum in those days.
The film opened simultaneously in 17 world capitals, and
became rallying point for the ban-the-bomb movement of the era, although it is now somewhat dated. A TV mini-series was made in the US of the story by Australian author Nevil Shute many years later.
Sydney was a bit more accustomed to movie stars: another film that started out in Sydney Harbour was John Farrow's 1955 Hollywood production
The Sea Chase
, which - with a nautical bent - I saw and liked a lot. It starred John Wayne, Lana Turner and Tab Hunter, and involved a German freighter breaking out of ASydney Harbour at the start of World War 11, and being chased by allied warships. A typical adventure pic of the postwar period.
The film that vaguely started me thinking about this thread however, was Donald Crombie's 1976
Caddie
,
starring Jacki Weaver, Helen Morse and Jack Thompson.
A Depression era story about a wealthy young woman who leaves an unfaithful husband and does it hard working as a barmaid and living in the backstreets of Woolomoloo I think. Anyway, I started thinking about this when I was putting together a nostalgia thread on the back streets of Sydney.
Fortunately for us, Melbourne has become a creative hub of the Australian film industry in more recent decades. Maybe it took off with this, George Miller's 1979
Mad Max
, which probably launched Mel Gibson's international career I guess.
Started out among the Westies of Melbourne as I recall, before the sequels with Tina Turner etc moved up to locations outside Broken Hill.
I may be the only kill-joy in Australia who found Rob Sitch's
The Castle
, starring Michael Caton and set around Melbourne, too simple and hick for my tastes.
But ...we're getting slicker all the time. Robert Connolly's
The Bank
(2001) - David Wenham, Anthony LaPaglia, Sibylla Budd and Michelle Roberts - gave Collins Street and its institutions some of the treatment they deserve
and actually, its a bit scarey to realize that it is seven years since I saw Andrew Dominick's
Chopper
, (2000)with Eric Bana and Vince Colosimo. It would be even scarier to meet Chopper Read:
I'm running out of steam here: back to Sydney. I thought Ray Lawrence's
Lantana
, with Anthony LaPaglia, Geoffrey Rush and Kerry Armstrong, was pretty good - but agree with a US review I read that found it dragging in places.
And, great as she is, the long lingering facials of Cate Blanchett in
Little Fish
, about drug dealing in Sydney, too indulgent.Why do Aussie moves over-reach for these effects so often. Our best TV dramas don't do it:
Mathew Saville's 2002
Roy Hollsdotter Live
was a low budget short comedy feature set around North Melbourne and Fitzroy - about a lovelorn performer stalking a lost girlfriend with a long lens camera. Starred Darren Casey and John Clarke
Obviously there's hundreds of location-specific films I've missed...
Crocodile Dundee
...
Death in Brunswick
...
Puberty Blues
to be continued if anyone shows interest. Let's know which ones you think should be included or have enjoyed. Maybe list 5-10 best Australian made (or located) movies.
some of the archival information here came from the Senses of Cinema site essay 'The Polysemous Coathanger:
The Sydney Harbour Bridge in Feature Film 1930-1982' by Lennart Jacobsen
for now, that's it. Bronte