Discussion Starter
·
#1
·
The Old Chateau
Back in 1623, Louis XIII - father of Louis XIV - built a 'hunting lodge, a little gentleman's chateau' of brick, stone, and slate at Versailles. The king liked it so much that he soon had it enlarged by his 'royal engineer and architect', Philibert Le Roy (this early chateau survives in the buildings that flank the Marble Courtyard). Then from 1661 to 1668 the young Louis XIV, known as the Sun King, had his own architect, Louis Le Vau, embellish the residence. Yet this little house of cards', as the memorialist Duc de Saint-Simon called it, remained too small. Extensions were deemed necessary.
The New Chateau
Le Vau was once again charged with carrying out the work. From 1668 to 1670 he built the 'envelope', which Saint-Simon severely criticized for contrasting with the old chateau: 'the beautiful and the ugly, the vast and the restricted, were stitched together'. Indeed, Le Vau's 'envelope' entailed wrapping the old chateau in a second building whose uniformly white stone facades served as a fine garden setting. Work on this building, whose central terrace was inspired by Italian baroque villas, was taken up by François d'Orbay on Le Vau's death in 1670. It houses the State Apartments.
Official Residence
In May 6, 1682, Versailles became the official residence of the Court of France, supplanting the palaces at the Louvre and Saint-Germain-en-Laye. From 1678 to 1684, meanwhile, the terrace of the new chateau was transformed into the Hall of Mirrors, symbolizing the power of the absolute monarch. Feverish building activity then gave birth to the North and South Wings, the Orangery, Stables, and Grand Lodgings; the vast construction site was headed by royal architect Jules Hardouin-Mansart. The last major feature built during the reign of Louis XIV, the Chapel Royal, was completed in 1710 by Robert de Cotte.
The Grand Reconstruction Project
Toward the end of the reign of Louis XV, around 1770, Jacques-Ange Gabriel built the Opera and began reworking all the facades on the chateau's town side. Only the right wing, which threatened to crumble, was executed. It strictly obeyed the rules of French classical architecture, as seen in its colonnaded pavilion. Inside, the grand staircase known as Grand Degré was begun in 1772, but only recently completed in 1985. A symmetrical pavilion on the other side of the courtyard, planned by Napoleon Ier, was finally erected in 1820.
Source :
http://www.chateauversailles.fr/en/110_Construction.php
Other Paris Threads
Part 1 : La Tour Eiffel
|
Part 2 : La Défense
|
Part 3 : Montmartre & Sacre Coeur
|
Part 4 : Notre Dame
|
Part 5 : Gare du Nord
|
Part 6 : Louvre
|
Part 7 : Gare de Lyon
|
Part 8 : Beautiful Street Scenes
Part 9 : Ile de la Cité
|
Part 10 : Plus de La Défense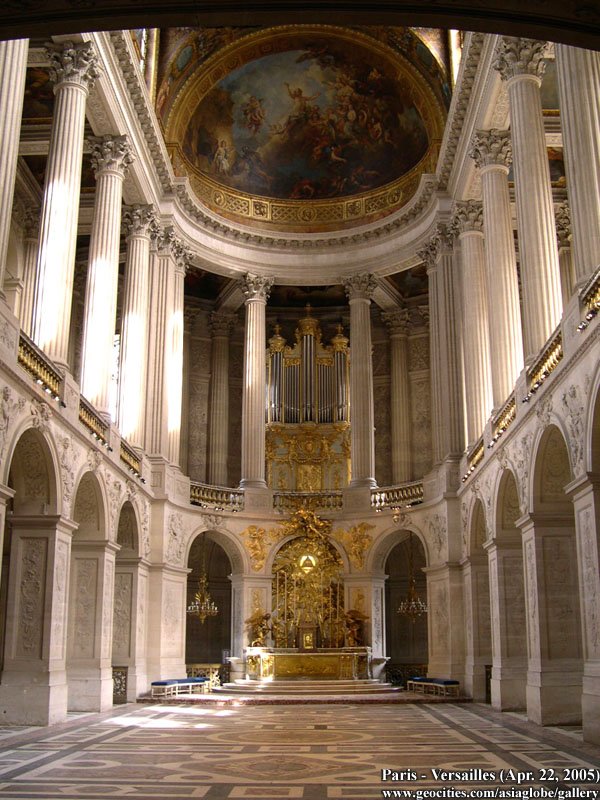 Back to Paris