SKYSCRAPERCITY CAMBODIA FORUM
Link :
http://www.skyscrapercity.com/forumdisplay.php?f=2517
Pic Source : wordtravels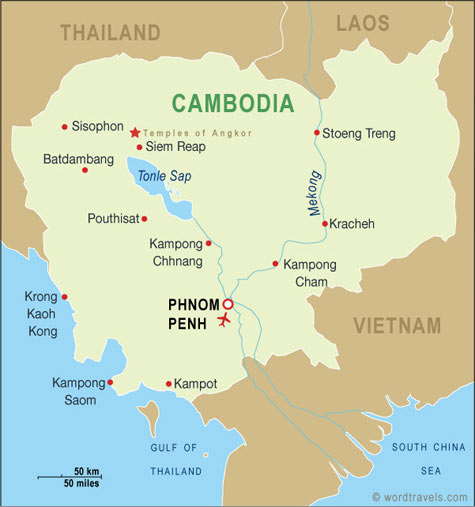 Source : Wikipedia
Phnom Penh (official Romanization: Phnum Pénh; pronounced [pʰnum peːɲ]) is the capital and largest city of Cambodia. It is also the capital of the Phnom Penh municipality. It is an economic, industrial, commercial, cultural, touristy and historical center.
Once known as the "Pearl of Asia" in the 1920s, Phnom Penh, along with Siem Reap, is a significant global and domestic tourist destination for Cambodia. Phnom Penh is known for its traditional Khmer and French influenced architecture.
Phnom Penh is the wealthiest and most populous city in Cambodia. It is also the commercial, political and cultural hub of Cambodia and is home to more than one million of Cambodia's population of over 13 million.
An overview of all the projects
Completed
OCIC Tower - 29 floors (2010)
Hotel InterContinental Phnom Penh - 15 floors
Pannasastra University - 10 floors
Buildings Under Construction
1) International Finance Centre Office Tower - 53 floors
2) The Star River Tower 1- 45 floors
3) The Star River Tower 2- 42 floors
4) The Star River Tower 3- 42 floors
5) Gold Tower 42 Tower 1 - 42 floors
6) Gold Tower 42 Tower 2 - 42 floors
7) Vattanak Bank - 38 floors
8) De Castle Royal Condominium - 33 floors
9) International Finance Centre Apartment Tower 1 - 32 floors
10) International Finance Centre Apartment Tower 2 - 32 floors
11) River Palace 31 - 31 floors
12) Rose Condominium Tower 1 - 28 floors
13) Rose Condominium Tower 2 - 28 floors
14) Rose Condominium Tower 3 - 28 floors
15) Rose Condominium Tower 4 - 28 floors
16) Project at Sangkat Chroy Changva Khan Roessei Kev Tower 1 - 25 floors
17) Project at Sangkat Chroy Changva Khan Roessei Kev Tower 2 - 25 floors
18) Project at Sangkat Chroy Changva Khan Roessei Kev Tower 3 - 25 floors
19) Phnom Penh Tower - 21 floors
20) Mekong View Apartment - 20 floors
21) De Castle Diamond - 18 floors
22) Mekong Condominium Tower 1 - 17 floors
23) Mekong Condominium Tower 2 - 17 floors
24) Sokha Phnom Penh Hotel - 16 floors
25) Bellevue Apartment - 16 floors
26) Camko City Apartment Tower 1 - 15 floors
27) Camko City Apartment Tower 2 - 15 floors
28) Camko City Apartment Tower 3 - 15 floors
29) Camko City Apartment Tower 4 - 15 floors
30) Camko City Apartment Tower 5 - 15 floors
31) Camko City Apartment Tower 6 - 15 floors
32) Camko City Apartment Tower 7 - 15 floors
33) Camko City Apartment Tower 8 - 15 floors
34) Camko City Apartment Tower 9 - 15 floors
35) Camko City Apartment Tower 10 - 15 floors
36) Camko City Apartment Tower 11 - 15 floors
37) Camko City Apartment Tower 12 - 15 floors
38) Camko City Apartment Tower 13 - 15 floors
39) Camko City Apartment Tower 14 - 15 floors
40) Camko City Apartment Tower 15 - 15 floors
41) Camko City Apartment Tower 16 - 15 floors
42) Oceana International Apartment - 15 floors
43) Phnom Penh International University - 15 floors
44) Richly Apartment - 15 floors
45) The Sky - 14 floors
46) Sofitel Phokeethra Resort and Spa - 13 floors
47) Studio BKK-I - 13 floors
48) Royal Phnom Penh Hospital - 6 floor