AcesHigh said:

Campos do Jordão (the real name of that city, the thread creator thought it was only Campos) is a fake city. Pomerode is a REAL city, where 95% of the population speaks german (or some german dialect, like Rühnsruck). If you want to find real german settled cities, you must look mainly in the 3 southernmost brazilian states.
Its HUNSRUECK. The "Hunsrueck" - literally "the back of a dog", because of its shape - are mountains in Western Germany. This used to be a very poor region in Germany (until the 1970ies). Today it is known for the Hahn airport, after Stansted the 2nd busiest low cost only airport in Europe (hub for the Irish airline Ryanair).
A map of Germany with the federal state of Rheinland-Pfalz: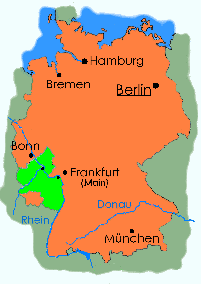 This shows the location of the Hunsrueck in RLP:
A typical village in the Hunsrueck:
View over the Hunsrueck:
Airport Hahn:
Nonstop destinations from Hahn Airport:
Alghero (Italy)
Bologna Forli (Italy)
Bratislava (Slovakia)
Budapest (Hungary)
Danzig (Poland)
Dublin (Ireland)
Gerona (Spain)
Glasgow Prestwick (UK)
Göteborg (Sweden)
Jerez de la Frontera (Spain)
Kattowitz (Poland)
Kerry (Ireland)
Klagenfurt (Austria)
London Stansted (UK)
Mailand Bergamo (Italy)
Montpellier (France)
Oslo Torp (Norway)
Pescara (Italy)
Pisa (Italy)
Porto (Portugal)
Reus (Spain)
Reykjavik (Iceland)
Riga (Latvia)
Rom Ciampino (Italy)
Rzeszów (Poland)
Santander (Spain)
Shannon (Irleland)
Stockholm Skavsta (Sweden)
Tampere (Finland)
Venedig Treviso (Italy)
Warschau (Poland)
It is interesting that German culture has been preserved in Brazil. However, these towns are far from being authentic. Unfortunately, the architects were not were sensitive when building those fake German buildings. Also they concentrate on one architectural period (Middle Age) - forgetting about all the other architectural styles in Germany. Also this kind of architecture is mainly prevalent in Central Germany. Thus, Pomerode (and all other imitations in the world) are historical and geographical snapshots of Germany.
Anyway, here are authentic German towns with architecture from the middle Ages - just that you see and feel the difference. This is just a small selection of towns and cities in Germany. Enjoy
.
Limburg (between Frankfurt/Main and Cologne):
Alsfeld NE of Frankfurt/Main:
Fritzlar NE of FFM:
Miltenberg SW of FFM:
Wertheim SW of FFM:
Meissen near Dresden (Saxony):
Rotenburg ob der Tauber (South Central Germany):
Oberursel 30 km N of Frankfurt:
Speyer SW of Frankfurt:
Nuernberg (200 km N of Munich):
Bamberg (300 km E of FFM):
Erfurt (in the center of Germany):