Discussion Starter
·
#1
·
time for new thread
volume 1>
http://www.skyscrapercity.com/showthread.php?t=358880
current projects in CBD uc
61 York st-17st/55m/office
Skyvue-14st/52m/office
299 sussex street-10st/55m/office
Dakota-15st/52m/resi
Museum Ext-7st/38m
http://www.amonline.net.au/revitalisation/images/building.jpg]
skyvue and 77king st can be seen in this pic
http://img338.imageshack.us/img338/1546/hiltonvewnorthza4.jpg
Merchant Court-15st/55m/resi
http://img152.imageshack.us/img152/3113/merchantcourtvt6.jpg
2 new projects under construction on Sydney University's campus.
First is
The Faculty of Law Building
, designed by FJMT Architects (of John Boyd Tower infamy) & being built by Baulderstone Hornibrook. Set back from Eastern Avenue & next to The Fisher Library Building, it's two 7-level blocks joined by a multi-storey glass-enclosed bridge & canopies atop. The project, worth $84m, is due for completion in December 2008.
More info
HERE
A very sculptural forecourt:
The other is
The USYD Central Building
by John Wardle Architects. It will front City Road & is adjacent to The Wentworth Building. Being constructed by The Abi Group, it is already 1 level above ground.
Information on its useage, can be read
HERE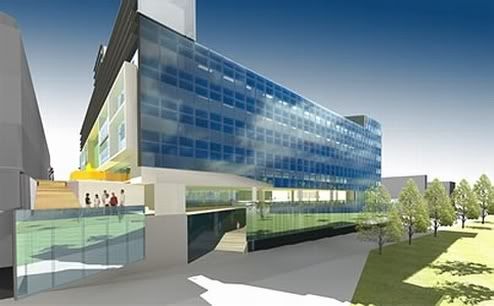 This map shows the exact locations of the sites. The construction zone outlined in white & next to Victoria Park, is The Faculty of Law Building site. The one a little further towards the bottom right-hand corner is where The USYD Central Building is rising: