Live beyond the limits at The Capital Towers - Federal Land's newest development right at the heart of Quezon City's premeire area. Its masterplanned community is composed of three residential condominiums and a commercial arcade that highlights an ideal urban living for young professionals and starting families.
In The Capital Towers, you get to experience prestigious lifestyle because of its modern, bright and efficient design and upscale ambiance. The Capital Towers also give its resident the luxury of space because its units come in bigger sizes, higher ceilings and more breathing space than other developments.
LOCATION
The Capital Towersis strategically located along E. Rodriguez Avenue, Quezon City. It is very accessible to various major points linking Metro Manila's two capital cities - Quezon City and Manila, and the progressive municipality of San Juan. The site is near St. Luke's Medical Center, a first-class and world-recognized health institutuion; the New Manila community, Quezon City's first premiere subdivision development; and they lively Tomas Morato commercial strip.
AMENITIES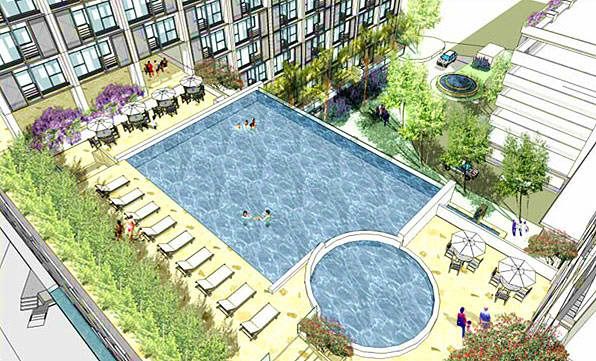 Fitness / Wellness Center
Daycare / Children's area
Swimming Pool
Reflecting Pool
Jogging Path
Multi-Purpose Hall
Podium View deck
Individual Lobby per Tower
Storage Space for Big Units
Service Ledge for Each Unit
2 Hi-Speed Elevators and 1 Service Elevator
Audio-Video Security System
Ample Parking Space
24-hour Standby Generator

PROJECT FINISHES
Unit Floor Finishes
Living / Dining: Wood flooring
Bedrooms: Wood flooring
Kitchen: Ceramic Tiles
Utility Room: Colored cement finish
Maid's Room: Colored cement finish
Toilet & Bath: Ceramic Tiles
Wall Finishes
Living / Dining: Plastered painted
Bedroom: Plastered painted cement
Kitchen: Ceramic tiles
Utility Room: Plastered painted cement
Maid's Room: Plastered painted cement
Toilet & Bath: Ceramic Tiles
Ceiling Finishes
Living / Dining: Painted rubbed concrete
Bedroom: Combination of painted gypsum board and painted rubbed concrete
Utility Room: Painted rubbed concrete
Maid's Room: Painted rubbed concrete
Toilet & Bath: Painted moisture resistant gypsum board
Elevator Lobby
Floor: Homogenous tiles
Wall: Plastered painted cement
Ceiling: Painted gypsum board
Hallway / Corridor
Floor: Homogenous tiles
Wall: Plastered painted cement
Ceiling: Painted gypsum board
Function Room
Floor: Carpet
Wall: Plastered painted cement
Ceiling: Painted gypsum board
Unit Height
Unit Floor to Floor Height: 3.00 m
Unit Floor to Ceiling Height: 2.75 m
Power Supply / Generator
Common areas: 100% power supply back-up
Residential unit: min. of 30% power supply back-up
Communication
- Provision for Cable TV
- Provision forTelephone lines
Mechanical
Elevator: 2 passenger elevators, 1 passenger/ service elevator
Load Capacity: 900 kilos lift capacity (ave. 14-15 persons)
No. of Passengers: Transports average of 43 persons every 5 minutes
Speed: About 32 sec. waiting time only
Fire Protection / Alarm
- Water sprinkler system
- Fire alarm and detection system
UNIT LAYOUT ​
1-Bedroom
2-Bedroom
3-Bedroom
FLOOR PLAN​