Ramat Gan | Bursa Triangle | 60 fl + 2x 45 fl | Approved
הופקדה תוכנית "משולש הבורסה" שביוזמת החברה הממשלתית דירה להשכיר
התוכנית כוללת מגדלי תעסוקה ומסחר בשילוב של מגורים להשכרה ומעונות לסטודנטים במשולש הבורסה ברמת גן
הוועדה המחוזית לתכנון ולבנייה תל אביב שבמינהל התכנון, החליטה אתמול (שני) להפקיד תוכנית למגדלי תעסוקה
ומגורים להשכרה ארוכת טווח בחלקו הצפון מערבי של מתחם הבורסה ברמת גן. התוכנית על שטח 13 דונם וממוקמת
בין רחוב בגין ממזרח ונתיבי איילון ממערב וכוללת הקמת
שני מגדלי תעסוקה בני 45 קומות
ומבני 8 קומות
80,000 מ"ר
ועוד 5,000 שטחי מסחר, הפרוסים לאורך נתיבי איילון בהמשך למגדלים הקיימים. בחלקו המזרחי של המתחם לאורך רחוב
בגין
ייבנה מגדל בן 60 קומות
עם שימושים מעורבים של מסחר, שטחי ציבור, מעונות סטודנטים עם 350 חדרים ומגורים
להשכרה עם 400 יח"ד בשטח ממוצע של 65 מ"ר ליחידת דיור לשכירות ארוכת טווח לתקופה של עד 20 שנים.
המתחם המיועד להשכרה ארוכת טווח בייזום חברת דירה להשכיר לפיו יושכרו הדירות לתקופה מקסימלית של 20 שנה,
כאשר 25% מהדירות מיועדות להשכרה לזכאי משרד הבינוי והשיכון בהנחה של 20%. בין מבני התעסוקה למגדל
השימושים המעורבים, תוקם שדרה ציבורית שתתחבר לכיכר ואליה יופנו חזיתות מסחריות. התוכנית כוללת מרתפי חנייה
עבור 900 מקומות חנייה, כחניון ציבורי. שטחים לצרכי ציבור בהיקף 10,000 מ"ר מתוך כוונה שאלו יהיו למוסד חינוכי
על מנת לאפשר העתקת מכללת שנקר מרחוב ידע עם, למקום זה כדי לפנות מקום לבית ספר עבור שכונת חרוזים.
RAMAT GAN
New mixed use plan with 3 skyscrapers along Menachem Begin Road
"northern triangle" zone of the Diamond Exchange District (HaBursa) CBD
Two 45 fl office towers
60 fl mixed use, 350 students dormitories + 400 apts of long term rent (25% affordable housing)
8 fl wings for Shenkar college, commercial, entertainment and retail.
Fire station in south office tower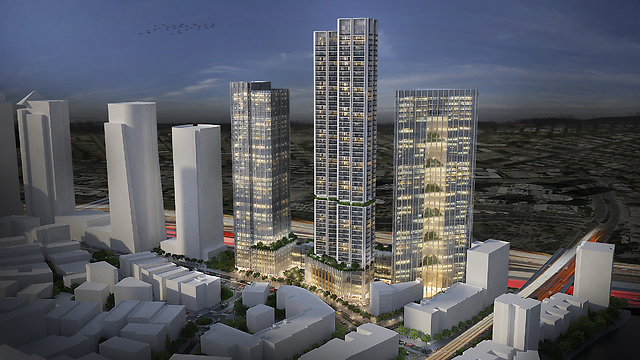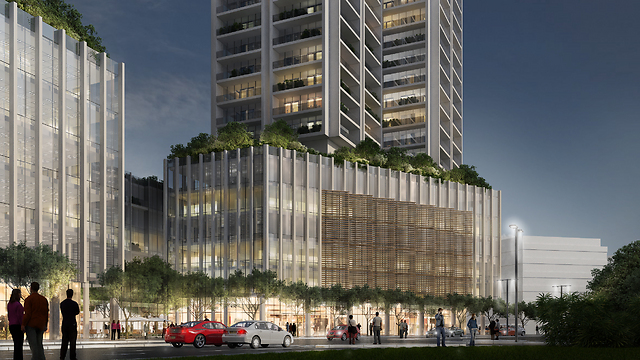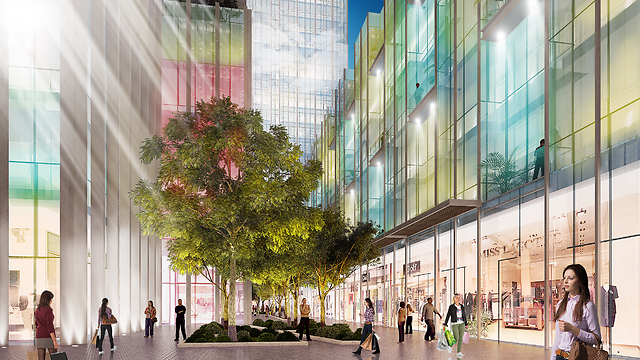 [